This post may contain affiliate links, which means I may receive a small commission, at no cost to you, if you make a purchase.
Yet another Buxom product dances into my heart
photos: we heart this
Regular readers of we heart this know I pretty much love everything Bare Escentuals
. The reason why I've been such a big BE fan these many years is because it makes my face look as much like an air-brushed pin-up girl's as is humanly possible sans an Instagram filter.
Buff, polish, blend…this is the mantra of fans of the original BE foundation and eye and cheek colors, as well as their super-bold, super-silky, super-blendable Buxom
line.
For years, Buxom has been my go-to brand for amazing plump-up-the-volume lips (Big and Healthy Lip Polish) and eyes lined like Brigitte Bardot (Waterproof Smoky Eye Stick). That said, it's about time I got on board with their amazing five shade Color Choreography Eye Palettes
($36).
Buxom has introduced six choreographed palettes, each named for a dance style and the we heart this team had the chance to get in step with four of them. The colors in each of these palettes seem to bridge the gap between outrageous and ho-hum, as if Mary Tyler Moore lived in the same building as Gorgeous George. It works. Outrageous gets old and boring gets bored; we all meet in the middle sometime.
Hip Hop — It's the sea, it's the sand, it's as neutral as blues can be, and as bold.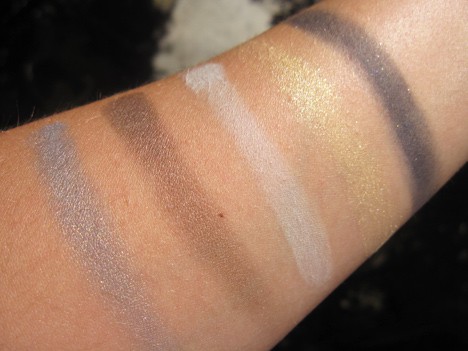 Hip Hop – blue grey shimmer, chocolate brown shimmer, matte baby blue, yellow gold shimmer, navy with silver shimmer
Burlesque — an orchid-like mix of purple-pinks and smoky grays
Burlesque – hot pink shimmer, dark grey with silver shimmer, matte dove grey, light pink shimmer, black with multi-color shimmer
Belly Dance — Dark mustard with gray-based plums
Belly Dance – orangey bronze shimmer, purple shimmer, matte lavender gray, light lilac, dark grey with blue shimmer
Lambada — vibrant lavenders, blackened smoky plum and a peachy middle
Lambada – light pink, grape shimmer, peach shimmer, light orchid pink shimmer, dark purple-brown shimmer
My palette was Lambada, filled with colors I rarely wear anymore, but should. I have brown eyes and hair and, therefore, purples and plums provide perfect "pop." The summer stone fruit peach and plum combination is a perfect everyday neutral, while the other shades of purple provide brighter, more daring options like the dance for which the palette is named. The great thing about the palette is that there are so many possible combinations ranging from south-of-the-border bright to north-of-Dixie subtle.
It's not just the colors that are perfect here, it's also the texture. These shadows are silky, creamy and richly pigmented. As buttery-soft as 1000 thread count Egyptian cotton sheets, these colors last a long time, too.
Pros:
• Color combinations are rich and complementary with a touch of the modern and unexpected
• Smooth, silky, finely milled and highly pigmented
Cons:
• The brushes are small and pretty useless
• The base/highlighting color is a relatively skinny strip in the middle that makes applying with a larger brush difficult
All in all, I love the staying power and blendability of the entire Buxom line; so too do I love the company, Bare Escentuals, that made it all happen. These palettes will make anyone a pin-up queen. Betty Page ain't got nothin' on today's Buxom girls.
Ladies, are you all ready to du-wop into the night like a calendar girl with Color Choreography Eye Palettes?
Disclosure: This review includes products that were provided by the manufacturer/PR firm for our consideration. It also contains an affiliate link, a link that gives us a small commission if you purchase the item. For more info, or any questions, please see our disclosure policy.
Latest posts by sherrishera
(see all)