This post may contain affiliate links, which means I may receive a small commission, at no cost to you, if you make a purchase.
Get your glow on with Buxom's latest (and greatest) luminizer!
photos: we heart this
So we're in the midst of the winter season, and if you're like me, your face could use a little pick-me-up. While I'm not quite ready for a full on glow, or high shimmer shadows and glosses, I have been in desperate need of something to take away the drab, dull look my face inevitably gets in the winter. With that said, I've never been a huge fan of luminizers.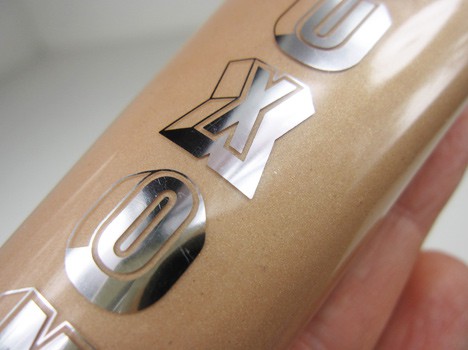 While the idea of a luminizer has always intrigued me – and yes I would like to glow like a goddess – with my combination/oily skin, any effort to "luminize" typically results in a hot mess. With the few I've tried, the result is always the same – I look ultra-oily or shimmer like a disco ball. I wasn't expecting much different with Buxom's Divine Goddess Luminizer
, but after using it for a couple of weeks, I am happy to report I found a luminizer I like… a lot!
Buxom's answer to my winter doldrums, the Divine Goddess Luminizer ($28) is a 2 oz. tube of miracle cream in the shade of Venus, a beautiful nude shimmer, and indeed worthy of the Greek Goddess' name. It's a multi-tasker and can be used on both the face and body, applied either under or over foundation, or alone.
I use this luminizer under foundation – and dab just a bit more on top, on my cheekbones and around my temples, in the typical "highlighter" spots. (You can dab some on your decollete' too.) It gives me a fresh, subtle glow and a slight dewy complexion. It's the first highlighter I've tried that looks like true, natural radiance. I promise ladies, if you want to look fresh and have that well-rested appearance, this is the highlighter for you.
The Divine Goddess Luminizer
is not overpowering and you will really like the soft, creamy formula. 'Venus' is extremely lightweight and absorbs right into the skin. There's no residue and no shimmery mess. Made without, parabens, sulfates and pththalates, it's also a great choice for sensitive skin. I saw no breakouts when using this highlighter.
The large tube is well worth the price, as one small dab gives you a lot of coverage. I also think the lightweight formula will be great in the summer months, combined with some bronzer for a more full on glow.
A 'swatch' of the Divine Goddess Luminzer
Divine Goddess Luminzer dabbed into skin, subtle right?
Pros:
• Great size for the price
• Lightweight, subtle formula
• Paraben, sulfate and pththalate free
Cons:
• Not packed with shimmer (if you're looking for something more intense)
Overall impressions, Buxom hits it out of the park with this luminizer. If your complexion needs a quick pick-me-up, give Buxom's Divine Goddess Luminizer a try… you'll be glowing in no time.
we heartsters – how do you add some glow to a dull winter complexion?
Disclosure: This review includes products that were provided by the manufacturer/PR firm for our consideration. It also contains an affiliate link, a link that gives us a small commission if you purchase the item. For more info, or any questions, please see our disclosure policy.
Latest posts by spitfire77
(see all)