This post may contain affiliate links, which means I may receive a small commission, at no cost to you, if you make a purchase.
Heating up the summer with a soft, subtle glow
It's that time of year, where I kick up my bronzer use and look for the best summer glow. Of course I have my old stand by's, but that doesn't stop me from trying some new ones, always searching for a hot new shimmer.
One of our favorite brands has definitely answered that call with its latest and greatest, Buxom Hot Escapes Bronzer. If you're on the hunt for a bronzer too, look no further, because this one literally has it all!
The first thing you'll notice with this bronzer is the sleek, shiny, black compact it's housed it – I really love it! The nicely sized compact is very sturdy and best of all it has a full-sized, nice quality mirror inside. It's nice enough to be the mirror you use when doing your makeup on the fly.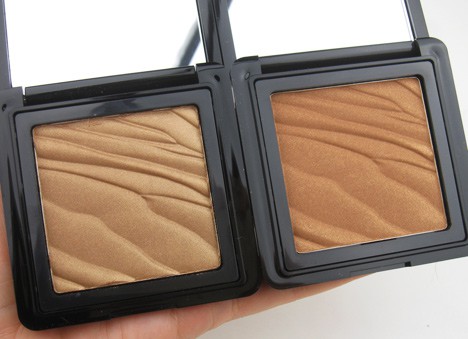 Available only at Sephora, Hot Escapes ($28) is available in two colors and we tested both hues:
Tahiti – a golden bronze
Maldives – a more rustic and darker bronze
I tested and really liked Tahiti, it gave me some nice color, without a hint of orange, and it was subtle enough that you could create buildable coverage, for a more dramatic look. I used a bronzer brush and found it gave me a nice subtle glow when applied to parts of my face and decollete. It also has a very sheer shimmer, that will give you an little pop, if you're looking for that little something special.
Hot Escapes Bronzers – Tahiti, Maldives
The formula was probably the most striking difference to other bronzers I use. It's a very creamy powder formula due to the rice lipids it contains, allowing it to go on ultra smooth. Another surprise you'll find is Buxom's Hot Escapes has a light island scent…that's right, it smells like coconut!
I have to admit I wasn't really sure how I felt about my face makeup having a scent. I didn't want to worry about smelling coconut the whole day, especially when I was eating. But I can honestly say the only time I could smell it was when first applied. After that, I never caught a whiff of it again, and I have a very sensitive nose. So, if you're worried that it might bother you, just know, it's not something that lasts throughout the day. I now, think it's kind of cool to open up my compact and be transported to a relaxing island getaway!
Pros:
• Price is comparable to most other bronzers
• Contains rice lipids for creamy, smooth application
• Contains coconut oil to hydrate skin
• Sheer, buildable coverage
Cons:
• Scent might bother some (Although it could be a pro if you like the scent!)
If you're looking for a new summer glow, give Buxom's Hot Escapes a try. I promise you'll be sitting on a beach, sipping fruity drinks in no time!
we heartsters – are you ready to escape to an island with Buxom's Hot Escape Bronzers?
photos: we heart this, swatches shown on NC 25/30 skintone
Disclosure: This review includes products that were provided by the manufacturer/PR firm for our consideration. It also contains an affiliate link, a link that gives us a small commission if you purchase the item. For more info, or any questions, please see our disclosure policy.
Latest posts by spitfire77
(see all)