This post may contain affiliate links, which means I may receive a small commission, at no cost to you, if you make a purchase.
Want sweet, sexy, smokin' eyes? The answer is in the stick!
photos: we heart this
Chrissy Hynde. Joan Jett. Brigitte Bardot. Elizabeth Taylor. Tough. Sweet. Sexy as hell. Smoky eyes are the secret weapon of any sexual being – lion or kitten, rock star or goddess. However with the wrong arsenal, some attempts to create that smoky-eyed look can look more Bride of Frankenstein than Brigitte Bardot.
To create the perfect smoky eye one needs a precise instrument capable of bold sweeps and meticulous lines. Bold is Buxom's middle name and they've got new Waterproof Smoky Eye Sticks
that do it all – shadow, line and smoke – with precision.
Bare Escentuals
made a name for themselves with Bare Minerals. Their foundations made us all strive for that "natural" perfect skin-look, that you-only-better-look of which we all hear so much. Everyday pretty made simple.
While I love, love, love that natural look (especially for foundation), I also love to experiment with the darker and the bolder. Usually, that means having to go to a makeup counter on the other side of pretty, but Bare Minerals has an alter ego – a femme fatale named Buxom.
The Buxom line by Bare Escentuals is darker and bolder than the collection that made them famous. I'm already a fan of the Buxom Lip Polish
and the Big & Healthy Lip Stick
(both lip products that plump up the volume in a bold, minty way) and it seems logical that Buxom also supplies the smoky eye to balance that healthy pout.
The Waterproof Smoky Eye Sticks
($18), available only at Sephora, can help anyone get that sultry, smoky look! Housed in silver metallic casing the Eye Stick (seen in Smokin' Pistol above, with the Buxom Smoky Eye Brush
) is a thick crayon with a tapered tip that screws up from its case.
To keep the tip pointy and precise there is a built in sharpener on the bottom of the tube (disguised as the color identifying cap) that pulls off rather easily for use. The sharpener itself is a little difficult to use – I found myself pulling off a chunk of shadow stick as I sharpened. Use a delicate touch, not pushing down on the stick with the sharpener.
Speaking of secret weapons, the colors are a sexy-sounding and even sexier looking bunch!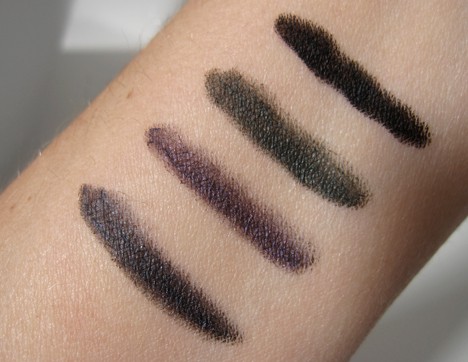 Shown above, from left:
Nunchucks: blackened blue with metallic blue flecks
5″ Stiletto: shimmering dark plum
Bow & Arrow: shimmering dark khaki
Smokin' Pistol: sooty black creme
I tried the Smokin' Pistol and found it to be a primo liner. I especially like this for lining my top lid a – la Marilyn Monroe. The tapered crayon makes it really easy to go from a thin line to a fat one, from lining the bottom and the corners without mess, to making that cat-eye wing. A steady hand and a stiff brush can produce a nice smudge. Stef, our resident MAC expert, likens these to their greasepaint sticks and claims the deep pigment of the Buxom Smoky Eye Stick makes the perfect smoky eye base for a night on the town.
Buxom Waterproof Eye Stick stays put until you take it off. I might as well have put Sharpie on my face – you will need some makeup remover and a good rub to remove this effectively. I do, however, love that this means there is no transfer from lash line to lid. Having received the black coal color, I can't say I used this as an all-over eye color. And considering how well this stuff sticks, I don't plan on doing so. I can't wait to see how my fellow testers with other hues fared! (Check the comments for their thoughts.) It's official, Buxom Babe is hot stuff.
we heartsters and testers – do Buxom Waterproof Eye Sticks whisper sweet nothings to your sultry, sexy bombshell side?
Shop Buxom at Sephora and get 3 Free Bare Escentuals best sellers!
Enter code BEBARETRIO for the original formula or BEMATTETRIO for matte.
Sherri is co-author of What Would You Do With This Room?
My 10 Foolproof Commandments to Great Interior Design, and of course, a wht writer!
Disclosure: This review includes products that were provided by the manufacturer/PR firm for our consideration. It also contains an affiliate link, a link that gives us a small commission if you purchase the item. For more info, or any questions, please see our disclosure policy.
Latest posts by sherrishera
(see all)