This post may contain affiliate links, which means I may receive a small commission, at no cost to you, if you make a purchase.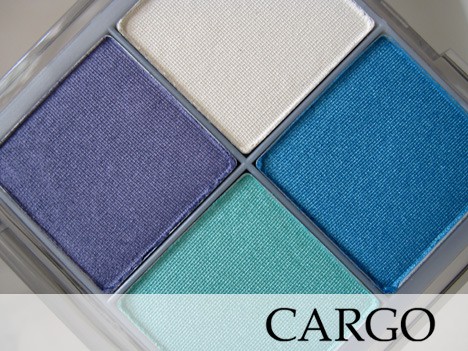 You may remember that I've got a thing for CARGO. Always have, always will! Give me one of their huge tins of blush, or a product from their uber-fabulous blu_ray high definition line and I am a happy girl. But recently, I discovered a new (perhaps even deeper) love in their line; their eyeshadow palettes. They're perfect; generously sized, finely milled and beautifully packaged.
My favorite is Tahiti
, filled with bright, shimmery blues and greens that you'd find on a tropical island. Surprisingly wearable for colors so vibrant. It's with that existing love of Tahiti that I gazed upon the Los Angeles Palette (that's it in all it's glory above) in their new Pro Picks Collection
($39) and literally cooed. I couldn't wait to get this on my eyes! More on the results later…
The 4-piece Pro Picks Collection is a steal at only $39. If you consider that the palettes are $28, you are getting three additional, full sized products for only $11 bucks (less than the cost of one product!) It includes:
• Reverse Lipliner
– I've owned this little gem for years. You apply the nude shade to the outside of your lip line, keeping all of your color inside by preventing feathering.
• blu_ray Mascara
– Rather than a brush, this has a tiny comb which is said to separate your lashes better. Clump free lashes, for real? If anyone can do it, I'd place my bet on the blu_ray line!
• Classic Lip Gloss with Timestrip Technology
– what's that, you ask? It shows you when your gloss needs to be replaced (via a little strip you place in the cap upon first usage). Techie bells and whistles aside, it's a beautiful, shimmery melon pink.
And then there's the Los Angeles Palette.
Exclusive to this collection, this palette is all that Tahiti is and more. A similar (but different!) shimmering blue and green, plus a bright purple and a lemony-white highlighter. At first glance, I wasn't sure I'd be able to pull it off. You see, I always thought purple and I weren't very good friends, despite my desperate attempts. I always feel it makes me look a bit sickly. But Los Angeles has made me realize it's plum that I don't get along with. Bright, fun grape? Why we're new besties, see for yourself!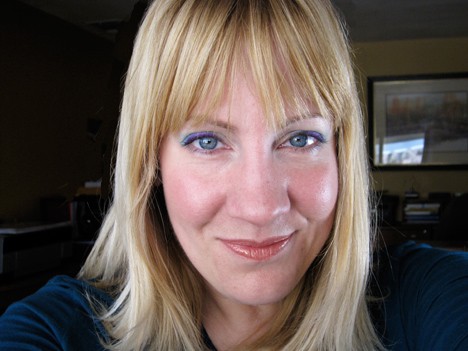 I'm so pleased I snagged this palette. But I decided to share the joy and send the other items to three review team members. They'll be along in the comments to let you know their thoughts. But you? If you buy this you don't have to share with anyone, I won't tell!
The Pro Picks Collection
is available now, exclusively at Ulta.
Disclosure: This post contains an affiliate link, a link that gives us a small commission if you purchase the item. For more info, or any questions, please see our disclosure policy.