This post may contain affiliate links, which means I may receive a small commission, at no cost to you, if you make a purchase.
These are my very first Charlotte Tilbury products. Proceed with your shock and awe, it's well deserved. Because anyone who knows makeup, knows that having at least a few Charlotte Tilbury products is essential for your kit. I've admired from afar, sure. Swatched and oohed at counters, of course. But this is my first plunge. And oh, I have gone deep.
The Charlotte Tilbury Quick 'N' Easy Makeup kits are a perfect introduction. They're billed as "The Five Minute Makeup Revolution" – 4 to 5 products packaged in a signature lipstick kiss bag. These are grab and go looks, designed to get you where you need to be, fast. There are 4 kits in all:
Natural Glowing Look – for a beachy glow and radiance
Daytime Chic Look – for polished class
Red Carpet Party Look – for red lip glamour
Smokey Eye Evening Look – for up all night, rocker cool (the kit featured in this post)
The Charlotte Tilbury Quick 'N' Easy Smokey Eye Evening Look comes with 4 products: a mini Black Vinyl Legendary Lashes mascara, Rock 'N" Kohl eyeliner in Bedroom Black, Colour Chameleon in Black Diamonds and K.I.S.S.I.N.G. lipstick in Penelope Pink.
Rock 'N" Kohl eyeliner is a stellar liner; smooth and long lasting. It's billed as a "liquid eye pencil" with the glide of a liquid and the sooty pigment of kohl pencil. This is a solid choice if you're in the market for a new kohl liner.
Legendary Lashes has a lot going for it as well. It contains tamanu oil to nourish the lashes, but I also think it gives it an extra inky black, glossy look. At first, I thought the formula had fibers in it. But it's actually made from a blend of waxes that gives it an elastic quality (you'll see little wisps of mascara peaks between the bristles).
This elasticity gives you impressive length and volume. They say you can build upon it, but I liked this mascara best when I applied it quickly and didn't mess with it too much.
But my two favorite products in the kit are the K.I.S.S.I.N.G. lipstick and the Colour Chameleon. Favorite as in, I want them in EVERY shade.
The Colour Chameleon is the key to this smokey eye look, the necessary piece for any smokey eye look, really. It's a chubby pencil, infused with a synthetic sapphire mineral (the shimmering flecks that makes these so dazzling). They're designed to enhance your specific eye color, and I have to say, Black Diamonds really did make my blue eyes pop.
But what was so impressive about Colour Chameleon is the formula. It's amazingly soft and super easy to blend. And once it's set, it's not going anywhere until you want it to. I applied this directly to my lid, then blended it with my finger; smudging it in the crease and leaving it dark near the lashes. It was the easiest smokey eye I've ever done.
Equally impressive is K.I.S.S.I.N.G. Lipstick in Penelope Pink. If you're nude lip fanatic, like me, this is a must have. It has just enough pink in it to keep it from going too mod, and just enough color to keep it from being too pale.
The formula is lipstick perfection, thanks to a mysterious and made up sounding (but, totally real) Lip Stick Tree extract that moisturizes and protects lips. That's combined with a wax blend that hugs lips so it doesn't bleed and light diffusing pigments to make them look full and shiny.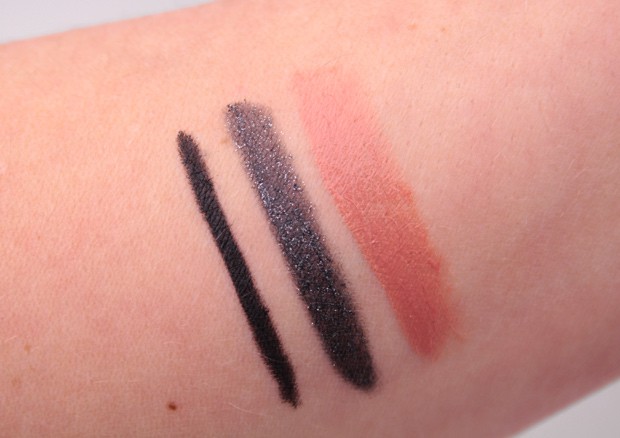 Quite honestly, this might be my favorite lipstick formula I've ever tried.
Now, about that 5 minute claim…that wasn't quite true for me. I was at 5 minutes with just my base (foundation, powder, blush and eye brow pencil). But if you skipped that (or had really great skin) I think you could get out the door in 5 minutes, with some practice. The products are rather foolproof and user friendly.
I channeled my favorite rock chick for my look; Tommy Lee era Heather Locklear.
The Quick 'N' Easy Makeup kits sell for $75 (a good deal since the three full size products retail for $88) and are available everywhere Charlotte Tilbury is sold, like Beautylish and Nordstrom.
we heartsters, have you fallen down the Charlotte Tilbury rabbit hole too? Share your favorite product in the comments!
Stef is many things. Amongst them: editor-in-chief of we heart this, photographer, condiment connoisseur, Philly girl in the California desert, borderline hoarder and a hardcore beauty junkie.
skin tone: NC 25/30
skin type: oily with a fear of rosacea
favorite beauty product: high end skincare and lip products