This post may contain affiliate links, which means I may receive a small commission, at no cost to you, if you make a purchase.
Get cracking this summer with the latest nail trend from China Glaze
photos: stef and marilyn for we heart this
I love doing my nails. It's just plain old good for a gal's soul to treat herself to a manicure, a glass of wine and her favorite TV show, every week or so. Plus, changing your shade of polish is one of the least expensive and easiest ways to change up your look! Right now, one of the hottest trends is crackle/shatter nail polish, and though there are several brands of crackles, China Glaze's newish Crackle Glaze line, gets my vote for being the best.
I had been wanting to buy some crackle polish for weeks, but was disappointed because I couldn't find any in stock. Stef and Tyna must have been reading my mind, because they sent me two Crackle shades from China Glaze to review! Currently, the brand has two crackin' good lines – Crackle Metals (six metallic hues for Summer 2011) and the original Crackle line (six colorful, shattering shades) all for about $8 per bottle.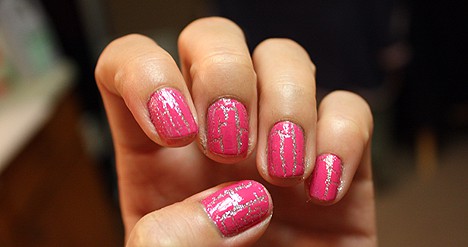 Brokenhearted
I immediately started applying Brokenhearted, a hot pink creme over a completely dry base coat of black polish. After 3-5 minutes of waiting for the Crackle Glaze to finish doing its magic, I followed the directions to apply a topcoat. Even though my nails take a beating, my manicure lasted an entire week, with only a slight bit of tip wear and chipping at the end.
I can hardly wait to try new color combinations! My favorite so far? Brokenhearted with a silver glitter base coat as seen above.
Applying the Crackle polish is just like any other nail lacquer. I've discovered through experimenting that thicker coats of Crackle Glaze will result in bigger cracks, but fewer of them in number. On the other hand, thinner coats of the polish creates numerous small cracks.
I played around with Cracked Concrete, a gray creme crackle (at left) which has so many possibilities! I tried out Cracked Concrete with blue and magenta glitter (not enough contrast), as well as with a blackened plum base coat (very dramatic). I'm dying to go to the store and buy the other four shades of Crackle Glaze, along with some bright colors to use underneath!
Lightning Bolt
Other shades in the Crackle Glaze line include Lightning Bolt (white creme), Black Mesh (black creme), Crushed Candy (teal creme) and Fault Line (purple shimmer).
Pros:
• It's so "in" right now!
• Fun and easy to use
• Inexpensive
• DBP, Toulene and Formaldehyde free
• Chip-resistant
• Nice color selection
Cons:
• May take a little longer than a regular manicure
• Might be a little too edgy for the office
What do you think, ladies: are you loving the Crackle lacquers from China Glaze? And is the shatter polish trend all that it's cracked up to be?
Marilyn is a makeup maniac and slow but stubborn runner. She loves color coding her day planner, reading celebrity gossip and drinking good wine. Marilyn blogs about makeup and fitness over at her blog, Lipgloss and Spandex.
Disclosure: This review includes products that were provided by the manufacturer/PR firm for our consideration. It also contains an affiliate link, a link that gives us a small commission if you purchase the item. For more info, or any questions, please see our disclosure policy.
Latest posts by lipglossandspandex
(see all)