This post may contain affiliate links, which means I may receive a small commission, at no cost to you, if you make a purchase.
City Lips Advanced Clear Lip Plumping Treatment Review
plump adjective, plump·er, plump·est.
1. well filled out or rounded in form; somewhat fleshy or fat.
"Plump" is not something most women like to be called. The word itself even sounds squatty and rotund and not very appealing. However, most women do want a plump lip. That pillow-y, bee-stung full lip that disappears as we age is coveted my many.
There are thousands of products on the shelves that try to plump our lips, and let's not get started on the injectable fillers which can make you look like you have a full on trout pout if you take it too far. I have tried many lip plumpers and I have to admit, I am not really after a fuller lip, I just really enjoy the tingle! So I was excited when I was asked to try a lip plumper that I had never heard of before, City Lips Advanced Treatment by City Cosmetics.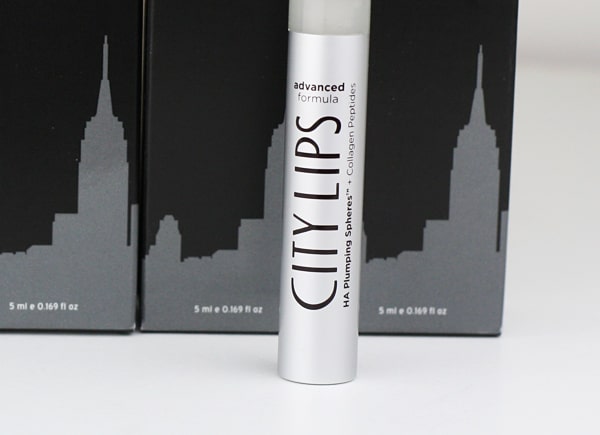 City Cosmetics was started 10 years ago with the mission of discovering long-term solutions to common beauty issues (like thinning lips) without injections, surgery, or irritants. This company is dedicated to helping their customers look their absolute best, without subjecting themselves to painful, costly procedures.
With that mission, City Lips Advanced Clear ($35) was crafted to make lips fuller with the help of Hyaluronic Acid Plumping Spheres which are 'moisture sponges' which attract and bind moisture causing fullness. It offers instant plumping, as well as promoting new collagen development for long-term results.
I tried City Lips for the first time last week and was thrilled to have fuller lips in 10 days as the website promises. The City Cosmetics site even offers a money back guarantee if you are not fully satisfied and a day by day pictorial evolution of the plumpness awaiting you.
The outer box is big and encouraging that some serious plumping is about to take place. The tube is silver and clear and quite unassuming – "this is looking good" I thought.
The product goes on with a hint of shine and feels like a regular, albeit sticky, gloss. I applied and then I waited…and waited for the "tingle". The tingle that borders on pain that I look for in a plumper to let me know, "hey lips, get ready, cuz you are being seriously plumped right now!", but there was no tingle. I was somewhat disappointed.
Interestingly, this plumper seems to effect individual lips differently. Other testers like Stef felt a slight tingle, while Tyna claims a more intense, but not painful, warmness.
I felt as though City Lips does smooth out the fine lines I had on my lips, but did not give me the immediate, yet temporary bee-stung lips. Meanwhile, Stef believes her lips feel a bit plumper right after use, and Tyna can see a visible increase in her lips. (See we really are beauty scientists here at we heart this!)
So while some can expect immediate results, others may expect a gradual plumping effect. And while you wait, enjoy the moisturizing (and sometimes tingle-less) lip treatment.
we heartsters – Do you love or hate the tingle of a lip plumper?
photos: we heart this
Latest posts by glamazon56
(see all)