This post may contain affiliate links, which means I may receive a small commission, at no cost to you, if you make a purchase.

Sometimes a collection absolutely nails a season. You look at it and there is no mistaking when it was released. Such is the case with the Clarins Summer 2017 collection. The tropical packaging, bronzy hues, that summery orange…it's a launch that couldn't be anything but summer.
And let's talk about the packaging for a second. It's beyond gorgeous. An orange plexi top, printed with palm fronds and hibiscus flowers, covers a metallic base printed with more leaves; creating two layers of balmy depth. Packaging doesn't get much more high-end than this, folks.
The palettes are limited edition. So if you want to feel the sand beneath your toes and the warm breeze in your hair (figuratively, via makeup), you better grab them quick.
Let's take a closer look…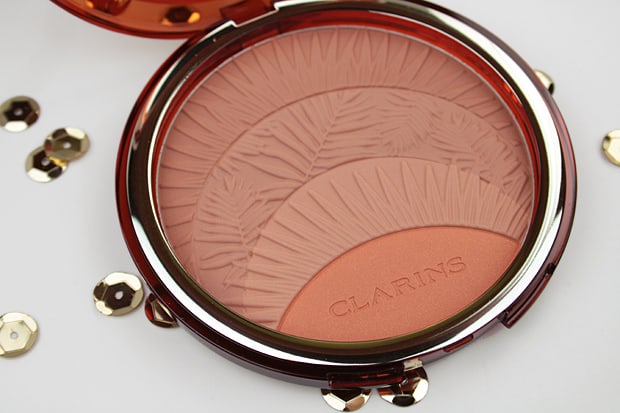 The Clarins Sunkissed Summer Bronzer Compact ($40) is the most beautiful bronzer I have ever seen. On top of the divine compact, the bronzer itself is three sections of slightly varied shades of matte, milky bronze embossed with leaves and sun rays. If that weren't enough, there's also a light coral-orange blush with a fine gold overspray. Oh yeah, and it's scented. Like violets. Swoon.
And it's HUGE, almost 4 inches across.
There's some "good for you" things going on with the formula. A "Light-Optimizing Complex" blurs imperfections. Plus it has ingredients that both provide hydration and protect skin against environmental pollution. But honestly, with a product this pretty that is all like sprinkles to me: good, but I don't really need it!
I'm also loving the Clarins Sunkissed Summer Eyeshadow Palette ($43). Inside you'll find a satin pale nude, a glittery buttery gold, a shimmery deep chocolate bronze and a pop of tropical orange. Oh, that pop of tropical orange!
The buttery formula can be worn wet or dry and blends beautifully. The pale nude is a bit underwhelming to me, as it really doesn't even register on my skin. But mixing the other three shades creates such a lovely summer sunset eye!
And really, that orange is EVERYTHING.
I got to check out two other non-limited releases, too….
The Clarins Sunkissed Summer Waterproof Eye Pencil in 07/Copper ($26.50) is a perfect waterproof lower-line counter part to the eye shadow palette. Plus, I'm a sucker for an eyeliner with a smudger on the end.
And a new edition to the Instant Lip Oil line; Clarins Instant Light Lip Comfort Oil in Honey Glam ($26). If you haven't tried these yet, what are you waiting for? The gloss/treatment hybrid moisturizes lips with a nourishing cocktail of oils, providing a shiny finish and ends up utterly addictive. Honey Glam is the same yellow shade as the original Honey (which goes on sheer with just a hint of warmth), with the addition of fine gold shimmer.
Fun fact, the supersized doe-footed applicator is meant to replicate a fingertip!
Clarins Sunkissed Summer 2017 collection swatches
Summer's almost over, but you can be living the dream forever thanks to Clarins. And did I mention that orange….
we heartsters, are you swayed by a pretty package? What do you think of Clarins Sunkissed Summer 2017 collection?
Stef is many things. Amongst them: editor-in-chief of we heart this, photographer, condiment connoisseur, Philly girl in the California desert, borderline hoarder and a hardcore beauty junkie. She's also got a touch of wanderlust…
skin tone: NC 25/30
skin type: oily with a fear of rosacea
favorite beauty product: high end skincare and lip products