This post may contain affiliate links, which means I may receive a small commission, at no cost to you, if you make a purchase.
Glowing With The Flow

I sure do love summertime makeup looks! The colors in nature are so much more vibrant, healthy and glow-y in summer than the colors of other seasons. While I do love that natural, summertime makeup look, I can't say I always do the best at practically recreating it on me. After all, we can't all be mermaids for a day, looking every bit of ichthyic perfection in shimmering shades of watery blues like Stef did (as shown above at a recent Clinique event.) But at least Piscine Princess Stef saw fit to pass along a little perfection to me in the form of the Clinique Sun-kissed Face Gelee Complexion Multitasker ($26.50). This is the most natural bronzer I've used yet!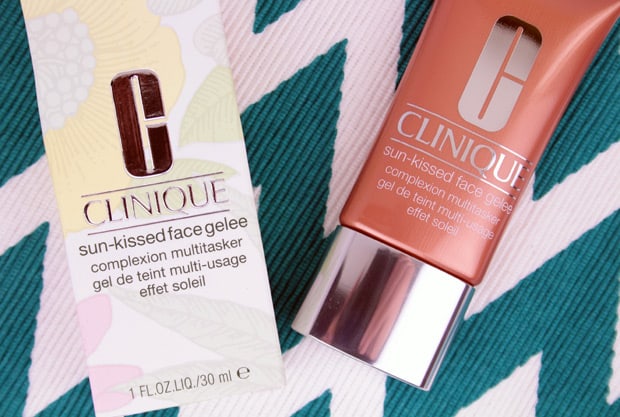 I most often use a powder bronzer on my face in the summer. While there are some really good powders that are great for sculpting or shimmering, there are none that are good for a day at the beach. Aside from the not-so-natural matte look, or the sparkly/shimmery one, getting one's face wet with powdered bronzer is a big, streaky no-no. Woe is me, my arms and legs are always golden with self-tanner but my beach face is usually pale. Until now, that is.
Clinique's Sun-Kissed Face Gelee comes out of its flat tube as a dark brown gel, looking more like a self-tanner than a facial bronzer. It's suggested use is as an additive to your regular moisturizer or liquid foundation. Part of this suggestion is no doubt due to its quick-dry, stain-like tendency. A small squirt in my tinted moisturizer brought my shade up a notch overall, as well as extended its workability. The difference was subtle and natural, not at all streaky. What a great way to keep your lighter foundation from going to waste when your natural skin tone darkens in the summer months!
But early on in the season, I don't necessarily want to darken the whole of my makeup shade…so I tried this as a bronzer on its own. I started with a well- moisturized face so the bronzer wouldn't set right away. Still, I acted quickly, applying it in sections to only those places I normally put my powder bronzer. I blended some under my cheekbones, one at a time, then to my forehead, the tip of my nose and bottom of my chin, making sure to finish blending one area before applying to the next.
The result is quite natural looking and long lasting—far more so than any of my favorite powders. The big plus? This won't streak when sweat is running down your face or when you dunk your head under water for a quick cool-down.
Honestly, this gelee isn't even billed as waterproof so I don't know how it would hold up to heavy duty stuff like surfing or scuba diving…or living in a giant clam shell under the sea…but it's great for mortal landlubbers like me who favor more that quick dip.
Ladies and mermaids, what do you use at the beach for a natural glow?
Latest posts by sherrishera
(see all)