It's almost Valentine's Day and we have a sweet treat that everyone will love. Whip up a batch or two of these Coconut and Vanilla Sugar Cookies, cut into hearts, of course, to spread a little love this year. And don't worry picky eaters; we have a coconut free version as well!
These cookies are a bit more of a challenge then your basic drop cookies, but well worth the effort. If you have kids around, get them to work with the cookie cutter or load them up with sprinkles and sugar for decorating fun. I like the idea of giving some treats to the nice people in my life; like the crew at the coffee shop that knows me (and my drink) by name or the neighbor that picks up the trash and rakes the leaves along the whole street.
I can't give you any cookies but I will share the secret of Vanilla Infused Baking Sugar. I've added instructions for making your own for all your baking needs!
Coconut and Vanilla Sugar Cookies
Ingredients:
1 1/2 sticks of room temperature butter
1/2 cup of Vanilla infused baking sugar (see recipe below)

1/2 cup of coconut powder
1 large egg
1/4 teaspoon salt
1 1/4 teaspoons of vanilla extract
2 cups flour
(Tip: splurge on King Arthur Baking Flour, it's a few dollars more but worth it!
Not a coconut fan? This recipe can be easily made without it. Just decrease the butter to 1 1/4 sticks and skip the coconut powder. Presto – delicious vanilla sugar cookies!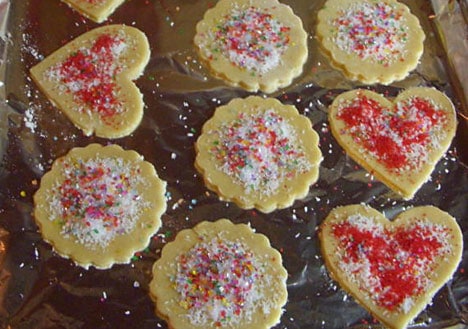 Decoration:(optional)
Red sugar sprinkles and coconut powder
Preparation:
– With an electric mixer (if you own a Kitchen Aid mixer, this is a cinch!) beat butter in a large bowl at medium until smooth and creamy. It is very important that the butter be room temperature to get the perfect fluffy consistency.
– Add sugar and salt, blend for another 2 minutes.
– Add egg, mix until blended and add in vanilla.
– Add flour one cup at a time, beat on low just to blend.
-Gather dough into ball and divide in half.
– Roll into another ball and flatten slightly.
– Wrap in wax paper and chill for at least 4 hours.
(Dough can be done up to 2 days in advance but I would recommend either doing it the morning of or night before. When you are ready to use, take out of refrigerator at least a half hour prior to working with the dough.)
-Preheat oven to 350 degrees.
– Sprinkle a flat surface with flour so the dough does not stick and roll out with a rolling pin. The thickness depends on what you prefer but I keep them pretty thin for a more traditional sugar cookie.
– Using a heart shaped cookie cutter (you can use any shape you'd like but I recommend always using a metal cutter for a more precise cut), cut out cookies and place on baking sheet.
– Once on the sheet sprinkle coconut powder first then top with red sprinkles.
– Place in oven for about 10-12 minutes (depends on thickness of cookie) or until golden brown along the edges.
-Remove from oven and place cookies on a cooling rack.
-After cooling completely, cookies should be separated between waxed paper and placed in airtight containers.
Vanilla infused baking sugar:
2 cups of baking sugar
1 Vanilla Bean
This can be made way ahead of time. In fact, the longer you let it sit the better. Take two cups of baking sugar and put in either an air tight container or large Ziploc bag. Then, take your vanilla bean and with a sharp knife cut along the seam of the bean to open it up. With your knife scrape out the beans and put into the sugar. They are wet and sticky but try to get as many out as possible. When finished, take the actual bean and turn it inside out, leaving it whole. Drop into the sugar, close bag, getting rid of any excess air, mix with sugar and the beans together. Really mix it in. Store in your closet/pantry and use for all of your baking to add a little extra oomph!
Bronwen (Winnie) lives in Los Angeles with her husband and three dogs. She is an avid volunteer for The Rescue Train and co-owns The Spice Station with husband, Peter.
Stef is a plethora of things. Amongst them: co-founder of we heart this, photographer, condiment connoisseur, Philly girl in the California desert, borderline hoarder and a hardcore beauty junkie. She also has a touch of wanderlust and, arguably,
the cutest dog in the whole world
...
skin tone:
NC 25/30
skin type:
oily with a fear of rosacea
favorite beauty product:
high end skincare and lip products