Am I warm or cool toned? Seriously, can you tell me?!
In part one of this series, you learned the definition of color theory, met the the Itten Color Wheel and discussed different levels of colors. We also touched on warm versus cool. In this post we'll take it a step further and talk about a rather controversial topic – your undertone.
The Controversy
I'm sure all of you have wondered to yourselves at some point in your lives, "Am I warm, neutral, or cool-toned?" When you Googled this question to find an answer, you became frustrated.
Why? Because every person in the world seems to have a different answer to this question. Some say check your wrists, others say your eye and hair color will determine it, and yet another will say put gold and silver jewelry next to your face and whichever looks best will determine your undertone. But what happens when you get one answer from one test and another answer from another?
This series revolves around color theory and how you can apply it to cosmetics. Therefore, I am going to teach you how to find your undertone using color theory. This makes the most sense to me, is taught by Pixiwoo (shown above, she gets to it around 2:15) and is used by MAC. However, most makeup companies think the opposite way, so keep that in mind (especially when shopping).
An UPDATED easy guide to understanding MAC's system:
Many people believe that MAC approaches tone with a counteracting system; that their warm shades are for cool tone skin because the warm shades neutralize the tones in cool skin (and vice versa for their cool shades). NOT the case! MAC's Senior Artist Louise Zizzo told us this:
"MAC warm shades (NW & W) have a red/pink undertone to them as we consider pink to be warm, and MAC cool tones (NC & C) have a green/olive undertone to them as we consider these to be cool. Yellow exists in both warm and cool shades as we consider this a neutral tone."
Determining Undertone
Do you remember that little assignment I gave you in the last post? Choosing which field of flowers you were attracted to was a psychological way of determining undertone. Your brain is naturally attuned to what best flatters you.
One field was warm-toned (poppies); the other cool-toned (bluebells.) If your brain chose the poppies, you're most likely warm. If you chose the bluebells, you're cool. It's a bit of a phenomenon.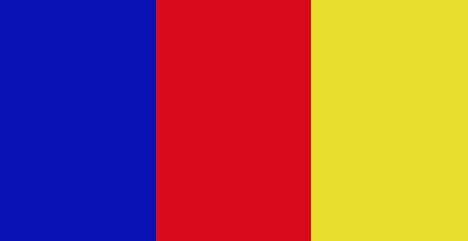 My test
When determining your skin tone using this method (a little method I made up), make sure you're wearing a neutral color shirt (tan or white), that you're not wearing any makeup and you're using natural, clear light. Lights in our homes and in malls tend to have a soft white cast that's unsuitable for determining undertone. I also suggest buying a primary toned blue, red, and yellow poster board as they're cheaper than t-shirts in the same colors.
Tape one color on a solid surface away from the light. Step in front of the color and look in a mirror. I normally use red first. Red is a warm color in color theory. If this color pulls out all the yellow or red in your skin, you're seriously not warm-toned. If it makes you look better, you're undertone is warm.
To make sure, take down the red and tape up the blue. If you look awful in blue but great with the red, you're warm-toned. If you find you look great in blue and want to make sure you're cool-toned, take down the blue and pull up the yellow. Cool-toned people look jaundiced in yellow, even primary yellow, because they're undertone is yellow! It doesn't matter how pink or red your cheeks are, cool-toned people have yellow undertones (blue in dark skinned women); warm gals have red or pink (green in dark skinned women.)
Remember, color theory revolves around the idea of warm and cool, fire and ice, poppies and bluebells, whichever way helps you. If this way doesn't suit your way of thinking, feel free to think the opposite way. This is just one side of the controversy.
we heartsters – has this post helped you determine your undertone? Meet me in the comments to talk all about it!
Guest author Kate guides us through the mystery of color in this post series.