This post may contain affiliate links, which means I may receive a small commission, at no cost to you, if you make a purchase.
Celebrated for their ability to cover imperfections and create a flawless look, concealers have become essential tools in the world of beauty.
But did you know that concealer can also work its magic on your eyebrows?
In this article, we'll share step-by-step techniques on how to use concealer on eyebrows, some dos and don'ts, and our favorite top-notch concealer products.
Continue reading to discover the secrets to achieving picture-perfect brows that turn heads and spark envy!
What Are Concealers?
Concealers are like magic wands for your skin. These nifty makeup products are designed to cover up blemishes, dark circles, and red spots.
Think of them as your secret weapon for achieving a smooth and flawless complexion.
Available in various forms like creams or liquids, concealers come in different shades to match your skin tone.
While they're great for your face, they're not limited to it. You can also use concealer on eyebrows to give them a little definition.
Applying concealer around your brows is like a mini makeover. It makes your arches stand out and look more fab than ever!
Can You Put Concealer on Your Eyebrows?
Concealer isn't just for your face, it can work wonders for your brows too.
If you apply concealer around your eyebrows, you will create a clean and defined look that makes your brows pop.
So why use concealer on brows?
It's all about enhancing those beautiful arches and adding a touch of glamor to your overall makeup game.
Using concealer on your eyebrows is like adding the perfect finishing touch to a masterpiece. It's not just about hiding flaws, it's about elevating your brow game to a whole new level.
Concealer works its magic by creating a striking contrast between your brow bone and your eyebrows. It's like highlighting your best features and giving your brows a mini facelift.
Additionally, concealers can tidy up any stray hairs or uneven lines from grooming, giving you those clean, sharp edges you've always dreamed of.
Things To Consider Before Applying Concealer on Eyebrows
Before we proceed to the steps of putting concealer on eyebrows, there are a few essential things to keep in mind to ensure you get the best results.
Find Your Concealer Shade
Just like finding the perfect foundation match, choosing the right concealer shade is key.
Opt for a concealer that's one shade lighter than your natural skin tone. This will create a beautiful highlight and make your eyebrows pop.
Use a Suitable Eyebrow Shade
Your eyebrows deserve the right shade too! Pick an eyebrow product that matches your hair color and skin tone.
This ensures a harmonious and natural look so your brows blend seamlessly with your overall appearance.
Pick the Best Eyebrow Concealer Product
Not all concealers are created equal when it comes to eyebrows.
Look for a concealer with a creamy texture that's easy to blend. A matte finish works like a charm for that natural, flawless look.
Choosing the right concealer can make all the difference in achieving those stunning, accentuated brows you'll surely love.
How To Apply Concealer on Eyebrows for Beginners
If you want to know how to highlight eyebrows with concealer, let's now walk you through the steps:
Step 1: Shape Your Eyebrows
Just like a well-framed picture, perfectly shaped brows enhance your entire face.
Define your desired shape and keep your facial features in mind. A well-shaped brow looks clean and polished. It also provides a smoother canvas for applying concealer later.
To further refine or shape your brows, you can carefully pluck stray hairs with clean tweezers or trim any overgrown hairs with small scissors to ensure they stay in line.
You can also wax your brows to get the best shape for your face.
By sculpting your brows to perfection, you're laying the groundwork for a stunning finish that turn heads and leaves you feeling fabulous.
Step 2: Apply Eyebrow Product
With your eyebrows now perfectly shaped, it's time to fill them in with your preferred eyebrow product.
This step adds depth and definition, taking your brows from good to gorgeous.
Your chosen eyebrow product is your artistic tool for this step — be it a pencil, a sleek pomade, or a brow gel.
When using a pencil, follow the natural growth pattern of your brow hairs. Begin at the inner corner, delicately sketching tiny hair-like strokes.
As you move outward, use upward motions and gentle shading to create a beautifully textured appearance that seamlessly blends with your natural brows.
Should you opt for a brow pomade or shadow, focus on enhancing the brow's length. Softly feather the inner corner to maintain a soft, well-blended effect.
For those who prefer the ease of brow gel, use a spoolie brush to expertly tame your brow hairs. Ensure even distribution of the gel starting from the midpoint and extending outward.
Saving the inner corners for last, this technique prevents an overly intense appearance and lets you achieve the perfect balance.
Step 3: Put on Eye Makeup
This is your chance to let your creativity run wild and craft the perfect eye makeup look that suits your mood.
If you're aiming for an alluring smoky eye that commands attention or a gentle palette of soft shades for an effortlessly chic everyday style, this step is where your artistry comes into play.
Here's a little secret to enhance your final look: when applying your eye makeup, skip the shimmery shadow beneath your brow bone.
Instead, leave this area untouched. Why? Because it's about to become the prime canvas for your concealer magic later!
To sweep on those captivating eyeshadows, experiment with liners that make your eyes pop and give your lashes a fluttery boost with mascara.
Step 4: Highlight Your Brows With Concealer
Now that you're done with your stunning eye makeup, it's time to infuse your brows with a touch of allure using concealer.
A subtle touch of concealer beneath your brow can work wonders in sculpting and defining your arches. Grab a brush or simply use your product's wand to apply a gentle layer of concealer.
Gently tap your brush into the concealer, then sweep the concealer under the eyebrows and above the eyebrows. Watch as this simple trick instantly brings out the structure of your brows.
If you like precision, opt for a thin, angled brush to trace a delicate line. Or choose a flatter brush to expertly line and blend out the concealer.
Once you learn how to shape eyebrows with concealer, you'll always have that polished look that seems like a spotlight for your arches!
If you want a visual guide on how to define eyebrows with concealer, check out this full eyebrow tutorial:
Dos and Don'ts in Using Concealer for Eyebrows
When it comes to using concealer for your eyebrows, a little guidance goes a long way.
Here are some dos and don'ts to keep in mind for a flawless finish:
Do Blend Like a Pro
Learning how to blend concealer on eyebrows is your secret weapon.
Use a makeup sponge or your fingertip to seamlessly merge the concealer with your skin and eyebrow makeup.
This ensures a natural, polished look that's oh-so-chic!
Do Set With Translucent Powder
Lock in your concealer artistry by lightly dusting translucent setting powder over the concealed area.
This helps prevent creasing and ensures your brow spotlight lasts all day long.
Don't Over-Apply
Less is more when applying concealer to eyebrows.
Applying too much can lead to a cakey, unnatural appearance. A gentle touch is all you need to achieve that subtle highlight.
Don't Use Mismatched Shades
Opt for a concealer shade that complements your skin tone. Choosing a shade that's drastically lighter or darker can result in a less harmonious look.
Aim for an elegant enhancement, not an awkward contrast.
How To Choose the Best Concealer on Eyebrows
Selecting the perfect concealer for your eyebrows is like finding the ideal shade of lipstick. It's all about enhancing your natural beauty.
Here's a simple guide to help you make the right choice:
Your Skin Tone
When choosing a concealer shade, go for one that's slightly lighter than your natural skin tone. This creates a luminous highlight that beautifully complements your brows.
You want your concealer to blend seamlessly with your skin to create a harmonious canvas.
Don't hesitate to swatch different concealer shades on your wrist or jawline. Natural lighting is your best friend here.
Creamy Texture
Opt for a concealer with a creamy texture. Creamy concealers are easier to work with and blend seamlessly to ensure a natural finish.
Avoid overly thick or cakey formulas that might overwhelm your brows.
Staying Power
Look for concealers with long-lasting properties.
You want your brow enhancement to stay put throughout your day's adventures, from morning meetings to late-night outings.
3 Best Concealers for Eyebrows
Here are three top-notch concealers that are perfect for highlighting your eyebrows!
1.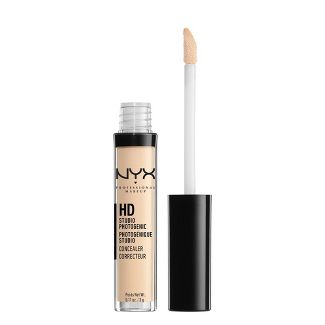 This concealer wand is an everyday essential for achieving naturally sculpted brows.
Primary Benefits: Natural-looking coverage; covers imperfection while highlighting the brows; resistant to creasing
Features:
Doe-foot applicator

Cruelty-free

Matte finish
Unleash your natural beauty and accentuate your brows with NYX Professional Makeup HD Studio Photogenic Concealer Wand that's as versatile as you are!
Available in a range of shades to match your skin tone, this concealer provides natural coverage on all skin types and tones.
NYX Concealer Wand contains the following key ingredients:
Alumina has anti-caking properties to ensure a matte-finish
Glycerin has emollients and protective and moisturizing properties
Here's how to apply this concealer:
Use a thin brush and trace the outline of your eyebrows.
Apply the concealer over the makeup.
Blend it with a concealer brush.
2.
This product is your secret weapon for achieving perfectly sculpted brows that steal the spotlight. The dual-ended pencil offers versatility with its shimmer and matte highlight options.
Primary Benefits: Soft and creamy texture; convenient to use; easily blendable
Features:
Dual-sided

Non-wax formula

Available in two shades
Achieve stunning, dimensional brows that capture the light and add a dash of glamor to your gaze with Anastasia Beverly Hills Highlighting Duo Brow Pencil!
Due to its dual-sided feature, this concealer offers versatility with its shimmer and matte highlight options.
This product contains the following star ingredients:
Microcrystalline wax that provides water-repelling properties
Myristyl myristate, a vegetable-based wax that gives a soft texture
To apply Anastasia Beverly Hills Highlighting Duo Brow Pencil, refer to these steps:
Line the brow from arch to tail using the shimmer side.
Apply the matte end from front to tail.
Blend it with the flat end of Anastasia Beverly Hills Brush 20 for a seamless finish
3.
This concealer has a long-lasting formula that stays put throughout the day, ensuring your makeup looks fresh and vibrant from morning to night.
Primary Benefits: Crease-proof formula; super-blendable; matte finish
Features:
Paraben-free and gluten-free

Vegan and cruelty-free

Waterproof
Use Tarte Shape Tape Concealer and elevate your makeup routine with luminosity and well-defined brows that turn heads!
With a clinically proven 16-hour wear and 12-hour crease-proof feature, this product provides a flawless matte finish on your eyebrow highlights.
Some of the ingredients of this concealer include:
Mango butter that conditions and moisturizes skin
Licorice root provides skin-brightening effects
Follow these steps to successfully apply Tarte Shape Tape Concealer:
Draw a line under the eyebrows with the concealer
Blend it along the eyebrow bone
Frequently Asked Questions
What Should I Do if I Ran Out of Concealer?
There are many products you can use if you run out of concealer. You can use your liquid or cream foundation or an eyeshadow primer.
These can work wonders around your brows. A lighter shade eyebrow pencil can softly highlight under your brows as well.
Consider maintaining a backup supply to dodge this situation in the future.
Embrace these quick fixes, and your brows will stay on point even without your trusty concealer!
Do You Put Concealer on Before or After Eyebrows?
It's necessary to put concealer on your eyebrows after you fill them in. This allows you to trace the shape of your brows cleanly.
Applying concealer before could smudge or distort the eyebrow's outline and the overall look.
Applying Concealer on Eyebrows: Should You Do It?
Applying concealer under the brow is a clever technique that elevates your brow game. It can help create a clean and polished look by concealing stray hairs and defining the brow's edges.
This step highlights the brow bone and enhances the overall appearance of the eyes, be it a more defined edge or a clean finish.
While it may not be necessary in every makeup routine, using concealer on eyebrows can contribute to a well-defined and neat makeup look.
Embrace the art of concealed eyebrows to create arches that frame your face flawlessly to accentuate your natural beauty!
Want More Makeup Routine Guides?
Check out these articles: