This post may contain affiliate links, which means I may receive a small commission, at no cost to you, if you make a purchase.
Summertime means superheroes, and many people flock to the theater to see the latest super-hyped movie. I, on the other hand, can't be crowbarred out the door if it means I'll have to sit through yet another display of superhuman strength, X-Ray vision or Spidey-sense. Yawn.
On the other hand, the brand new IT Cosmetics Superhero Palette ($42) is a creation so full of beauty power, I would jump in the car and speed to the store just to find it.
Does it take a very special superhero to impress you, too? Well, how about this? An eye palette that makes eyes appear younger and brighter, with 12 all-new anti-aging shades that smooth skin and last all day. Super-smooth, super-saturated color…that got my attention!
The oversized, slim Superhero palette has a cool hourglass shape that hints at something unusual inside. The inner lid holds a high-quality, generously-sized mirror with an inscription in the corner from IT Cosmetics' co-founder Jamie Kern: "You're a #RealSuperhero!"
Like Wonder Woman's outfit, the palette's design is really pleasing, but the shadows are the "Lasso of Truth"—the real weapons of beauty. Developed with plastic surgeons, each anti-aging shadow contains hydrolyzed collagen, silk, peptides and antioxidants, plus what IT calls "Superhero Pigment Power Technology." They pack a punch of color which really does last all day.
Across the top are what I like to think of as the building blocks of beauty power: Superhero Eye Foundation Eyeshadow Base shades in three versatile neutrals, each one buttery smooth:
• Confidence – matte
• Pow – matte
• Magical – satin
Just a swoop of color blends away imperfections and makes lids look bright. You could stop right here and look polished. But why stop when the Superhero palette gives us these color options.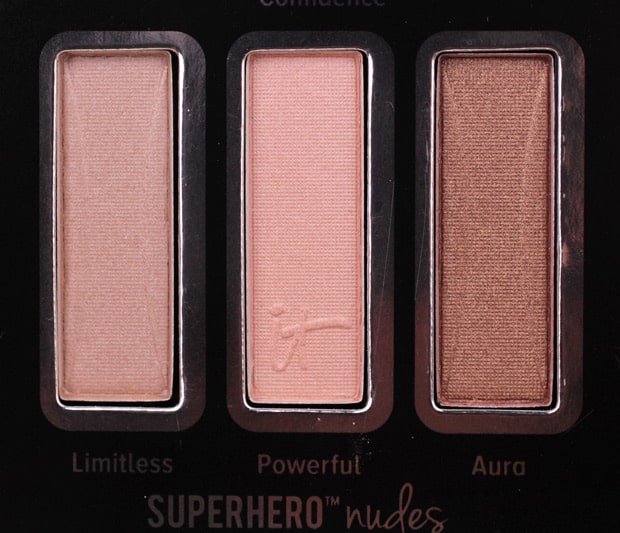 Superhero Nude:
• Limitless – matte
• Powerful – matte
• Aura – satin
These subtle shades are perfect for a "no makeup" look when worn alone; they're also beautiful for highlighting.
Superhero Neutrals:
• Unstoppable – gold satin
• Superstar – taupe satin
• Fearless – bronze satin
The neutrals are more dramatic shades that work alone, and also blend beautifully with the nudes.
Superhero Liners:
• Bold – navy matte
• Daring – wine matte
• Superhero – black matte
Wet or dry, used as liners or in the crease, these colors are so creamy and blendable. It's easy to get a whisper of color or a full-on dramatic line, depending on your brush and heaviness of application.
The shadows are the "Lasso of Truth"
I've had so much fun creating new combinations. My favorite so far is a daytime look using Pow from lash to brow; Powerful on the lid; Superstar in the crease; and Bold as a liner.
If all this color isn't enough empowerment, check out the palette's perfect companion: IT Cosmetics Heavenly Luxe No-Tug Dual Eyeshadow Brush #5 ($24). Between the large fluffy brush and the dense, short fibers of the other end, you can easily create any look you desire. Developed with plastic surgeons, this brush is billed as the "first ever anti-aging and age preventative shadow brush."
This makes sense—the brush picks up just the right amount of pigment, and glides color across my lids. No tugging or pulling. Bristles are 100% synthetic and vegan.
I've been reaching for it every day.
I love the whole vibe of this company, whose promo materials urge us to "believe in the power of your own beauty!" Harnessing this power is a little easier thanks to products like the universally-flattering Superhero Palette and versatile Heavenly Luxe brush.
Now if someone would just make a movie about IT Cosmetics, I'd head to the theater without a fight.
Melissa loves road trips, bargain shopping, drive-in movies, lip gloss and rock 'n' roll. She lives in Baltimore with her precious pups Zeus and Bellarina.
skin tone: NC25
skin type: dry to normal
favorite beauty product: skincare
Latest posts by turboterp
(see all)