This post may contain affiliate links, which means I may receive a small commission, at no cost to you, if you make a purchase.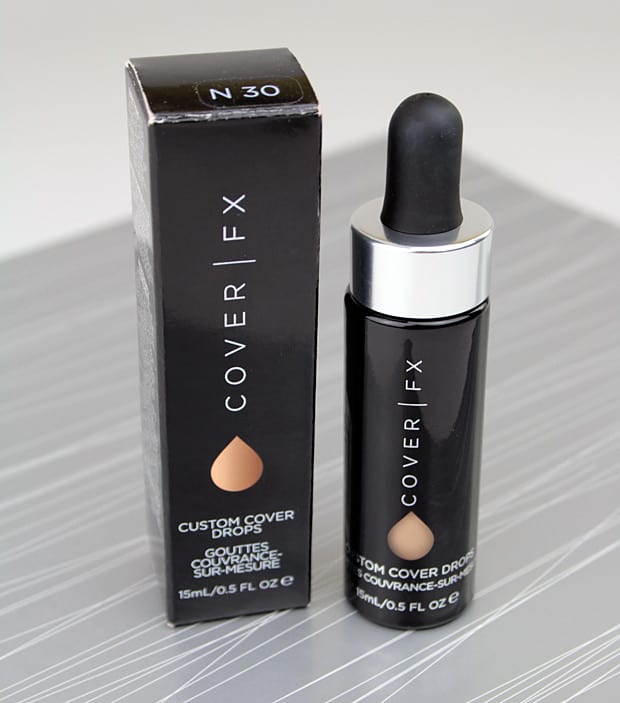 sponsored post
Customizing makes life better, am I right? Tell me you don't love drinking out of a mug with your name on it. And those paper towels that let you tear off the exact size you need? Genius. But if you think those things are fabulous, get ready to have your mind blown.
Cover FX Custom Cover Drops ($44) allow you to customize the coverage of your makeup. Go on. Take that in for a minute. I'll wait…
You read it right: Custom Cover Drops is customizable color for your face. Mix them with any liquid product not only to adjust to the coverage you need, but also to utilize the delivery medium your skin needs. Looking for a sheer finish? Try one drop in a lightweight serum. Need a bit more moisture and coverage? Experiment with a moisturizer and three drops.
Here's what each drop provides:
One drop: sheer coverage

Two drops: medium coverage

Three drops: full coverage

Four drops: total coverage
Are you wrapping your mind around this? One drop with sunscreen for a day at the beach, four drops with an illuminating primer for a night out. You can even mix it with a foundation when your skin REALLY needs some help. The possibilities are as endless as the moods of my skin!
Of course, none of this may be news to you. Cover FX Custom Cover Drops did just win an Allure Best of Beauty Breakthrough award. And with good reason.
Don't worry about whether they have a shade for you. They do! Twenty-five shades broken into three categories (pink, neutral, and golden). My shade is N30, for light to medium-light skin with neutral undertones, and it's a total match.
They blend like a dream, too, thanks to the pigment being coated with something called lecithin, an ingredient that is biochemically similar to skin which makes it silky to blend and smooth to apply.
Most days, I use a water-based serum as a mixer, with either one or two drops depending on my mood, or skin, or my skin's mood! That's what I used in these swatches.
But on a day where I want to be a bit more glam, I love three drops for a bit more coverage. Like so…
Forget buying multiple products for the coverage you want. This is all one product utilizing what you already have. It's pigment you can control to create the look you want. It's all up to YOU. See? I was right. Customizing makes life better.
It is time to seize your #dropportunity with Cover FX.