This post may contain affiliate links, which means I may receive a small commission, at no cost to you, if you make a purchase.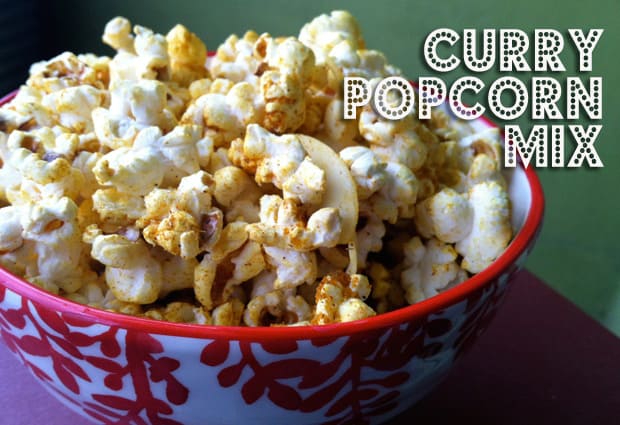 Press Sample
Spice Up Your Popcorn (and more) with Kitchen Curry Master!
Curry can be a daunting prospect in the kitchen. There are so many different types, each involving a multitude of spices, and it can be hard to figure out the magic combinations that result in the perfectly balanced, boldly flavorful dishes we love to order from our favorite Indian restaurant but haven't been able to recreate at home.
photo: Kitchen Curry Master
Neena, a passionate home cook with roots in Indian cooking, realized this common hesitation when it comes to making Indian food at home and created the Kitchen Curry Master ($59.99), a kit to equip home cooks with the 12 essential spices of Indian cuisine and step-by-step instructions for over 25 recipes.
The round spice box includes a window in the lid to view the eight bowls of spices inside, each arriving individually packaged to maintain freshness. Unpacking and setting up the kit is the perfect way to get acquainted with each of these spices on their own before learning how they work together. Since ground cumin and coriander are two of the base spices in many Indian dishes, the kit also contains a refill of the cumin and coriander mix for when you run out.
photo: Kitchen Curry Master
The Simple Cooking Guide included with the Kitchen Curry Master kit explains the background and flavor profile of each spice in the box and gives recipes that you can make with the kit. There is a good mix of both vegetarian and meat dishes, ranging from sweet potato, cauliflower and eggplant curry to steak and ale vindaloo, and every recipe is also gluten-free.
The book does a fantastic job of breaking down each recipe with two sections, one of ingredients you'll need and another of spices from the spice box, and gives notes on the heat level and how to moderate it to your taste. Even the most kitchen-shy are in great hands with these step-by-step cooking instructions.
After giving a couple of Neena's recipes from the book a whirl, I decided to take a shot at creating my own curry recipe. I always enjoy using flavors in nontraditional ways, so I decided to put my own spin on a curry popcorn mix. I recently learned what a snap it is to make popcorn on the stovetop. You don't need any special equipment, and it tastes so much better without all of those crazy additives in the pre-packed bags!
My curry popcorn mix is savory and a little spicy, with just a hint of sweetness from brown sugar and roasted coconut. It certainly didn't last long in my house! This is my new go-to for an easy party app or movie night snack.
Curry Popcorn Mix
Ingredients:
•
•
•
1 tsp ground cumin & coriander mix
•
•
•
•
3 tbsp grapeseed oil (coconut or canola work well also)
•
•
•
1/4 c roasted coconut chips
•
Directions:
1. Mix together the spices, salt, and brown sugar in a small bowl.
2. Pour grapeseed oil and popcorn kernels into a large pot with a tight-fitting lid (I like to use a 12-quart stock pot) and swirl around to make sure all of the kernels get coated in oil.
3. Place a lid on the pot, slightly ajar to allow steam to vent, and turn the heat to medium-high.
4. Once the first few kernels begin to pop, turn the heat down to medium. This helps keep the early poppers from burning.
5. Keep a close eye on the pot, as timing can vary and popcorn can start to burn very quickly. Once the popping starts to slow down turn off the heat and with the lid still on, give the pot a few good shakes to encourage any holdovers to pop.
6. Remove the lid, taking care not to get burnt by the hot steam. Pour the popcorn into the largest bowl you can to make it easier to mix.
7. Pour the melted butter and curry spices over the popcorn and stir to coat the popcorn evenly.
8. Add the roasted coconut chips and cashews and mix in.
Tip: This Curry Popcorn is best served while still warm, but it keeps well for a couple of days in a tightly sealed container
The Kitchen Curry Master is the perfect intro into Indian cooking and a great gift idea this holiday season. Not only does it keep the spices fresh, the brushed steel box looks gorgeous in the kitchen to boot. With over two pounds 2 of spices, do yourself a favor and have it sent wherever you need it to go!
we heartsters – Are you a curry fan? And how do you spice up your popcorn?
photos: Heather for we heart this
Heather is a midwesterner living in Los Angeles and enjoys concocting weird flavor combinations and exploring delicious ethnic foods. She blogs at foodforfunandpleasure and knows her way around the spice cabinet like nobody's business.