This post may contain affiliate links, which means I may receive a small commission, at no cost to you, if you make a purchase.
Looking for Skin + Pharmacy Anti Aging Reviews? We've got you covered!
sponsored post
I'm a proud beauty junkie, but not a beauty snob.
My teenage years were spent trolling drugstore aisles and I still get that same thrill when I discover a fabulous and reasonably priced product.
These days much of my drugstore beauty shopping happens at my local CVS.
Not only is there a CVS within walking distance to my house, I'm also a fan of their Beauty Club which offers over 18 million beauty fanatics some fabulous benefits and savings.
In fact, just this month I received a few ExtraBucks® Rewards (which can be spent on yes, more beauty!) on my account to celebrate my April birthday.
Skin + Therapy Advanced Anti-Aging Therapy Review
As a CVS fan, I was happy to check out a few items from the Skin + Pharmacy Advanced Anti-Aging Therapy collection (available here).
These products, available exclusively at CVS, are part of an "innovative line of dermatologist-tested skincare products that help reduce the appearance of fine lines and wrinkles and brighten and improve tone and texture while hydrating skin."
The Skin + Pharmacy Anti-Aging Therapy line features both glycolic and retinol products, but lately, my skin has been looking and feeling a little dull and dehydrated, so the glycolic collection seemed like the perfect match for my specific skin concerns.
So first, let's take a look at the Advanced Anti-Aging Therapy Glycolic Cream Cleanser ($12).
Advanced Anti-Aging Therapy Glycolic Cream Cleanser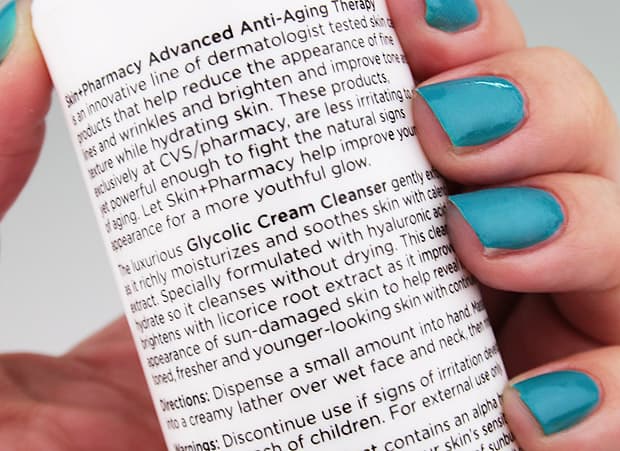 Honestly, I am not always a fan of cream cleansers, but this glycolic enhanced face wash hits all the perfect notes!
Just one pump from the sleek dispenser is the exact amount needed for a full-face wash.
The cream lathers into a milky foam that whisks away dirt and oil leaving a clean surface that isn't tight or dry.
Beyond washing away the grime, the glycolic acid helps to lightly exfoliate the skin.
The formula also contains licorice root extract, which helps to improve the appearance of sun-damaged skin.
After using this oil-free wash my skin is happy and healthy and ready to face the day (or night).
Advanced Anti-Aging Therapy Glycolic Day Moisturizer
During the daytime, I've been using the Skin + Pharmacy Advanced Anti-Aging Therapy Glycolic Day Moisturizer ($20) and I've been really happy with the results.
For starters, I love the simple and sleek packaging. Housed in a small jar, the unique push-top lid dispenses the perfect amount of product and keeps the moisturizer free from contamination.
It's fast, efficient and great for germaphobes!
I also love that this cream packs in the sun protection with an SPF 30 and manages to do so without a strong SPF scent.
I kind of love that scent, but for those who do not, the scent is only noticeable for the first few minutes and then fades away.
This fragrance and oil-free formula moisturizes well, but is not too heavy or greasy. It keeps my skin soft all day and is specially formulated with Microsponge technology that "sustain-releases" more of that glycolic acid to help brighten your complexion while improving texture.
Advanced Anti-Aging Therapy products: Glycolic Cream Cleanser left, Glycolic Day Moisturizer right
Advanced Anti-Aging Therapy Glycolic Peel Pads
Finally, my latest skincare favorite is the Skin + Pharmacy Advanced Anti-Aging Therapy Glycolic Peel Pads ($20).
I can be a little lazy with skincare extras and this is like getting a facial or peel in just a few minutes – in your home!
To use – just swipe a single pad over your face and neck.
Wait 10 minutes and rinse well.
The alcohol-free, fragrance-free and oil-free pads are formulated with glycolic acid to gently exfoliate the skin, while our beloved Calendula extract soothes skin.
After just one use, my skin was visibly brighter and just felt great! I've been using the pads every few days, and my dull, lackluster skin is now clear and bright!
All in all, as a beauty junkie I encourage my fellow product obsessed readers to check out the Skin + Pharmacy line at your local CVS. Great, effective products at a fabulous price? You can't beat that.
Have you tried any Skin + Pharmacy products?
Share your favorites in the comments.
Disclosure: This post has been sponsored by CVS. For more info, or any questions, please see our disclosure policy.