This post may contain affiliate links, which means I may receive a small commission, at no cost to you, if you make a purchase.
Dermelect gives back – 20% of proceeds benefit breast cancer charity.
photos: we heart this
Every October we are delighted to see so many beauty companies involved in Breast Cancer Awareness Month (BCAM). It's great to see corporations give back to their community, especially for such a worthwhile cause, yet it can also be a little daunting. There are so many pink products on the shelves, asking me to buy – but just what does that bow mean? And just how much of the proceeds will really be going to help others? Often times it's not so clear.
Which is why we were thrilled to see one of skincare's most buzz-worthy companies, Dermelect offering a BCA themed version of their latest Resurface Stem Cell Reconstructing Serum – promising 20% of proceeds to Young Survival Coalition (an organization that helps young women in the fight against breast cancer). You can pick up this skin stimulating serum ($75) knowing that a full $15 will be going to this worth while organization.
As for the Resurface Stem Cell Reconstructing Serum serum, this advanced formula uses plant stem cells to "stimulate skin's protein production and boost facial skin stem cell activity". Sounds good, but what does that mean for you face? That preservation and production of cells can lead to smoother, brighter and clearer skin. Oh and not only can this help to ease the appearance of the fine lines and wrinkles you have, it can also help slow down the appearance of new ones.
According to Dermelect the secret is comes from the Swiss Alpine Rose (or Alpen Rose), a flowering evergreen found in the Alps. Surviving among such harsh conditions means the stem cells of this pink flower are resilient and always working overtime. So the smarties at Dermelect have harnessed their power and infused their serum with the plant stem cells.
I've only been using this serum for about a week, but I'm already liking how my skin looks – and loving how the serum feels.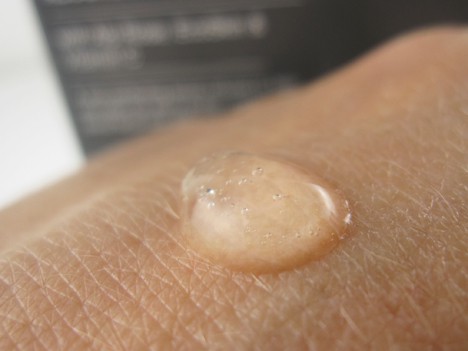 This lightweight, non tacky serum is a dream to use at night. The pump dispenser means no mess and the clear, gel like serum soaks almost instantly soaks into my skin. There's absolutely no tacky feeling and I could not feel the product on my face as I drifted off to sleep (heavy serums distract me when going to sleep).
While I normally steer clear of scented face products, I adored the super light rose scent. It's fresh, not heavy, and slips away long before I tire of it. Best of all, the yummy scent has me looking forward to using the serum – which means I'm more likely to remember to apply it at night. A win-win situation.
So if you have been looking for a reason to check out the goods from Dermelect, now's your chance. Pick up the Resurface Stem Cell Reconstructing Serum to help fight those wrinkles while giving young women with breast cancer a fighting chance.
Pros:
• Super light, non tacky formula.
• Elegantly and softly scented.
• Get it now and $15 of the price goes to breast cancer fighter Young Survival Coalition.
Cons:
• Pump dispensers can make it hard to reach every last drop of serum.
Disclosure: This review includes products that were provided by the manufacturer/PR firm for our consideration. For more info, or any questions, please see our disclosure policy.