This post may contain affiliate links, which means I may receive a small commission, at no cost to you, if you make a purchase.
Snuggle up with this How To – No sewing required!
photos: mackenzie for we heart this
In November, it seems like the cold and snow flies in from out of nowhere and all you really want to do is cuddle up in a warm blanket instead of going out into the chilly weather. For this very reason, I was so glad when the poncho came back in fashion – so that I could brave the cold in a cozy layer that was still stylish.
Today's DIY is a poncho that is so cozy that you'll be dying to wear it all winter and when you only need to cut some fleece ~ why not make a different one for every outfit?
DIY: Cut Fleece Poncho
Supplies:
• scissors
• fleece fabric
Tip: I used about 1 1/3 yards – you want the fabric a little bigger than the finished size
1. Fold the fabric twice. Once vertically and a second time horizontally.
2. Cut around the corner where all four corners meet. Don't worry if the edges aren't perfectly cut or rounded.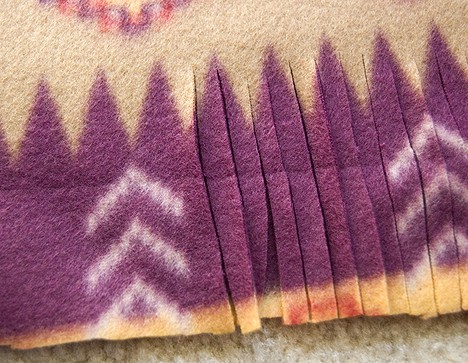 3. Unfold and cut some fringes around all the edges. You can make the fringe as long and wide as you would like. Again, don't worry about making it perfect – it's fringe, right?
4. For a poncho (that will slip over your head): fold fabric in half and at the center of the folded side, cut a slit through both sides that's wide enough for your head. For a wrap (this is what I did): fold fabric in half and starting at the fringed side, cut straight up one side to the folded center.
5. Throw the poncho over your shoulders and stay warm and cozy all winter!
we heartsters – do you have a cozy blanket that would make a cute poncho?
Latest posts by Mackenzie Gelina
(see all)