This post may contain affiliate links, which means I may receive a small commission, at no cost to you, if you make a purchase.
Make this super cute t-shirt – No sewing skills required!
photos: Hannah McKenzie Photography and Mackenzie for we heart this
Hey there we heart this readers! I'm the new girl on the block, Mackenzie and I'm so excited to be joining the team. Word is we have a few crafting fans around here, so I'll be offering a monthly DIY project for all you crafters. (That's right, with Kirsten already on the team, that's TWO DIY projects per month ~ Tyna) For my first project, I have a clothing DIY for you to try; no sewing required.
I have been obsessed with feathers lately (lately being about a year) so I was super excited to do this DIY. It's quick and easy but puts a little spin on your everyday outfit. Best of all, the base of this DIY is that classic wardrobe staple – a cotton T-shirt. You can use a brand new tee or a well worn favorite already in your closet.
Supplies:
• T-shirt of any color in your size
• Aleene's Fabric Glue – I used Sobo but Aleene's is washable!
• Two feather pads*
• Scissors
*Feather pads are basically feathers glued to a piece of fabric. I bought mine at JoAnn Fabrics or you could make your own.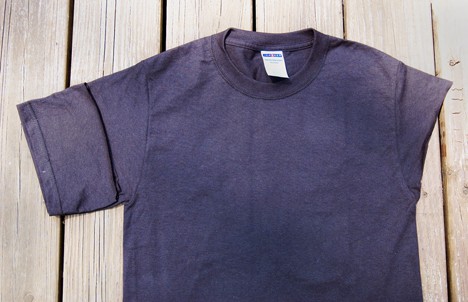 1. Lay your t-shirt out flat and cut the sleeves to desired length. I went with a cap length sleeve on my tee.
Tip: You can cut one side and use the waste piece as a pattern for the other to get the same length. Also, try not to cut the arm seam – as later, when you wash it, it may unravel.
2. Cut the neck to desired shape. I wanted a boat neck for this DIY. (You can use the same pattern trick as above by folding half the piece over.)
3. Flatten sleeve – so there is no other fabric underneath it.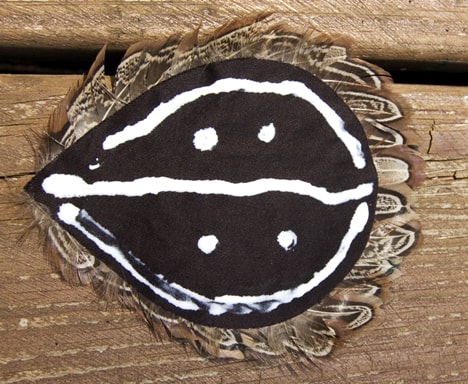 4. Put Sobo glue on the back of the feather pad.
Tip: If you use a lot of glue, the fabric will get really stiff, which is why I used a few thin lines and dots as opposed to covering the whole thing.
5. Line up center of the feather pad with the shoulder seam and press down.
6. Let dry flat. It sets fairly quickly but I let it sit for about an hour before I threw it on.
7. Throw it on and enjoy your new shirt! I wore my shirt with jeans and short boots on a cool summer day.
Washing: Hand wash gently in warm water. Try to avoid the shoulder area where the feathers are but if you do get the feathers wet just lay them back into place. Let dry flat.
we heartsters – what you wear with this? Meet me in the comments to discuss the Feathered Shoulder Shirt DIY or ask any question.
Latest posts by Mackenzie Gelina
(see all)