This post may contain affiliate links, which means I may receive a small commission, at no cost to you, if you make a purchase.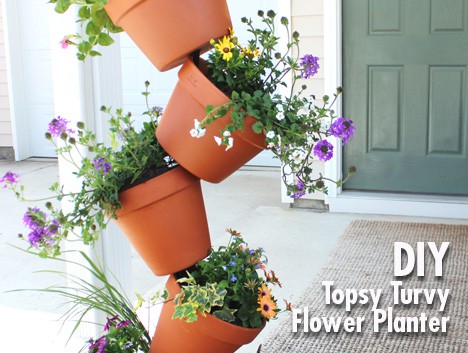 The season of gardening and flowers is upon us! Looking for a striking DIY garden project that you can whip up in an afternoon? Add some height and visual drama to your landscape with this easy-peasy, topsy-turvy planter.
Supplies:
• rebar – about 6 feet
• Sledge hammer or mallet
• 1 large clay pot for base
• 4 or 5 medium size clay pots for middle
• 1 small clay pot for top
• Potting soil
• A variety of flowers and/or herbs
Tip: Rebar is easily found in large home improvement stores, or hardware shops for approximately $10.
Directions:
1. Pound rebar into the ground at least 1 foot deep. If you want your stack shorter, you can buy a shorter rod, or hammer it deeper in the ground.
2. Place rebar through the drainage hole of the large clay pot.
3. Fill pot with dirt.
4. Take your medium sized pot, put the rebar through the bottom hole, and rest it on top of the soil of the base planter.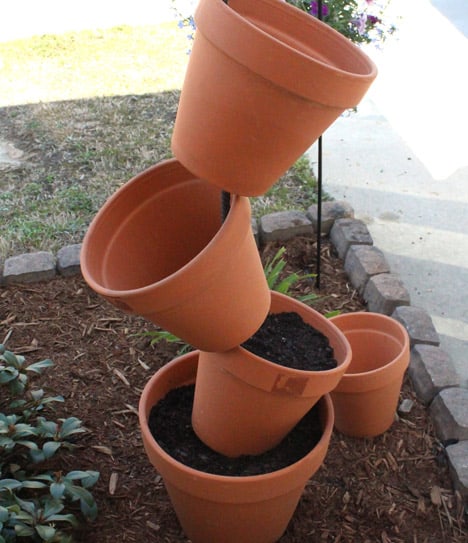 5. Continue placing rebar through the Terracotta pots. Stack each pot on the edge of the pot below it. End with the smallest pot.
6. If you have any rebar sticking out above the top, hammer it further into the ground.
7. Fill all of your pots with potting soil. Do not overfill, or your angled pots will lose too much dirt, when watered.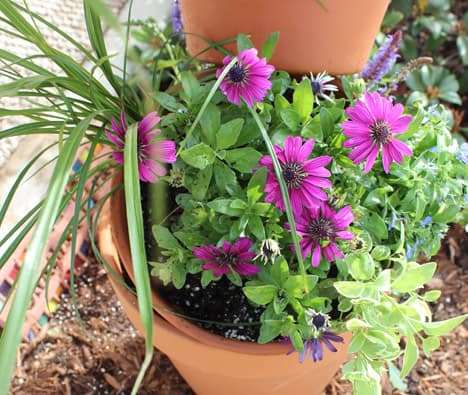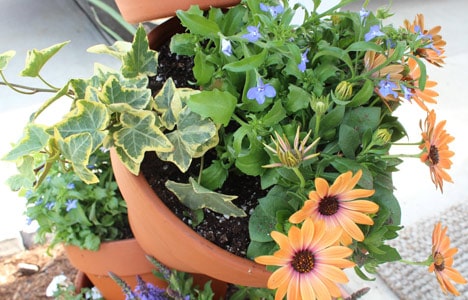 Tip: To add extra "Wow" factor, plant a variety of flowers in each pot. A good rule of thumb is to include at least one trailing flower or plant (such as Ivy, variegated Vinca, Creeping Phlox, Petunias, or Verbena), a taller accent plant for added height (Spike Dracaena or Steel Blue Meadow Sage are both perfect for this), and a bright pop of color in between the two!
Complimentary colors (like purple and yellow or blue and orange) look fabulous next to each other if you are looking for a good starting point. You may need to fiddle with your plants a bit, to get them to stand up straight, and create an equal balance.
8. Once you are happy with what you've planted and the locations, fill any holes with more potting soil. Then give those babies a good drink of water. (If you are using naked clay pots, as opposed to painted, they will dry out quicker, since water seeps through the dried clay.)
Now stand back and admire your fast, flowery and fun DIY!
we heartsters – what plants and flowers are you growing this year?
All photos: Rachel for we heart this
Rachel is a stay-at-home Mom that never seems to be home. She's a military wife, mother to The Danger Boys and a self-proclaimed craftaholic that enjoys photography, knitting, baking and all things handmade.
Latest posts by rachelshay
(see all)