This post may contain affiliate links, which means I may receive a small commission, at no cost to you, if you make a purchase.
Stud earrings in your favorite initials or lucky numbers are everywhere lately. Unless you know how to work with metal – and have a soldering torch – they're pretty tough to mimic the look. However! This DIY jewelry project lets you fashion your own facsimile for a fraction of the cost using some alphabet pasta and Mod Podge
That's right, I said pasta. Alphabet pasta. Let's get started!
Supplies:
• Alphabet pasta
• Glue-on post earrings with pads
• Earring backs
• Gold spray paint or gold gilding liquid + paintbrush
• DazzleTac jewelry glue
• Pliers
• Mod Podge Dimensional Magic
• Toothpick
• Small piece of clay or styrofoam (not pictured)
Directions:
1. First, choose your pasta letters and/or numbers to make into earrings.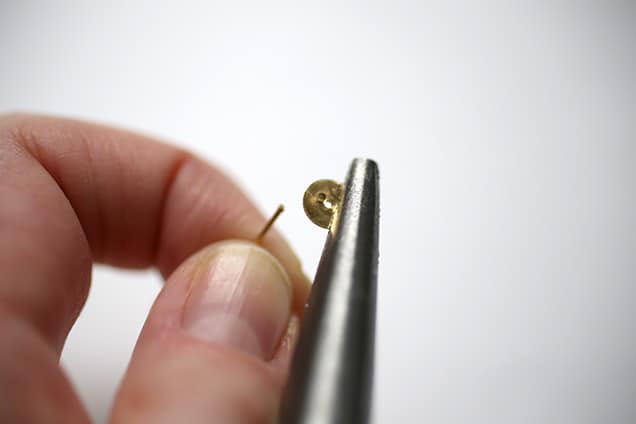 2. Use the pliers to hold the earring pads, and twist the earring posts from the pads. Since the pasta is so thin, any earring pad will look obvious, so they must be removed.
3. Paint the pasta gold, covering both sides and the back with the paint. Allow to dry.
4. Use a generous dab of DazzleTac to glue the earring posts to the backs of the pasta pieces. Make sure that the glue is both beneath, and around, the earring post to secure it.
Tip: You may have to hold the posts in place for about 5 minutes until the glue has hardened enough to keep them standing upright.
5. Allow to dry FULLY without disturbing.
6. Once the glue is dry, spread a generous layer of Mod Podge Dimensional Magic onto the back of the pasta, using a toothpick to pop any bubbles and spread it out. Make sure that you surround the earring post with the Mod Podge so the head is completely submerged. Allow to dry FULLY without disturbing.
7. Once the Mod Podge is dry on the back, flip the earrings over and embed into a small roll of clay or styrofoam. Spread a layer of Mod Podge Dimensional Magic onto the tops of the earrings and allow to dry.
Handle with care: If you have successfully covered the earring posts in both a layer of glue and a layer of Mod Podge, they should not come out easily. But they are made of pasta and metal, so you definitely want to treat with care.
When worn, they could easily pass for the real thing – and you could make hundreds from all the pasta in one single package!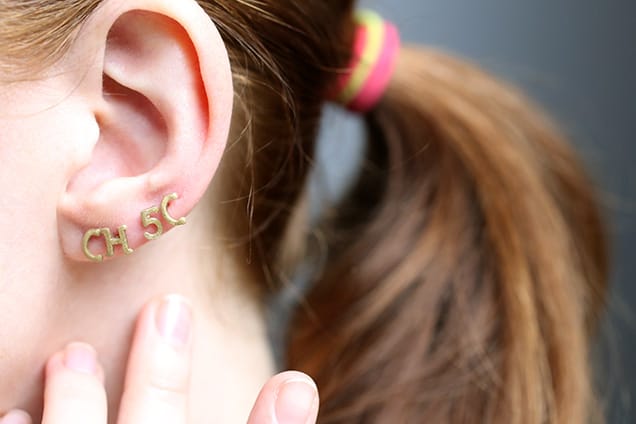 Spell out your name, your initials, your pet's name, a funny saying – but no matter what, these earrings will look understated and elegant dotting your lobes.
If you make your own version of this DIY, I'd love to see! Happy DIY'ing!
we heartsters – What letters and/or numbers are you using when making this DIY?
Latest posts by carlyjcais
(see all)