This post may contain affiliate links, which means I may receive a small commission, at no cost to you, if you make a purchase.
Are you guys gearing your closet up for fall weather? If you're like me, you are just waiting for the cold front to strike so you can whip out outfits you've been creating in your mind while you are supposed to be concentrating on other things – like school and work and oh, did I forget to pick up the kids?
Today I have an easy DIY to spice up your fall wardrobe. As many of you know, knotted headbands were recently popularized by Blair Waldorf of Gossip Girl. Even if you are not a pop culture fanatic, you may have heard of Blair's delightful headgear. Her headbands made that much of a splash.
Knots are generally associated with a nautical theme and thus, heavily utilized in the spring and summer. However, I fully believe the knot headband can make it into your fall and winter wardrobe with a bit of tweaking.
Today I will show you the most basic technique for creating your very own knotted headband. You can build upon this basic headband with your individual creativity (and supplies!) photos: katie g. we heart this
Supplies:
• rope or cord (I bought mine from Hobby Lobby – an entire spool for .99!)
• a flame or tape (to finish the ends of your rope)
• glue gun
• scissors
Optional:
• ponytail holder
• dye
Step 1: Cut your rope an appropriate length. I started with 3 feet and then cut the extra off. You could probably work with 2 feet, depending on the size of your knot and your head.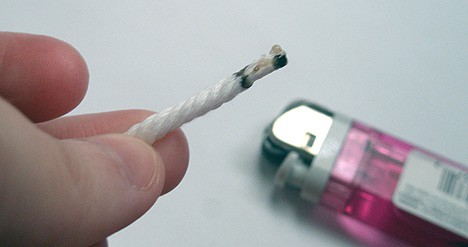 Finish your rope ends by holding them over a flame, hot gluing them a bit, or taping them – they're all good options.
Step 2: Time to create the knot, the focal point of your headband.
This may look complicated at first, but if you follow the photographed steps exactly, you will quickly see how easy it is. I bet you could make it without looking the second time!
A) Double up your rope and then fold in half, as shown in the first photo.
B) Bring the side closest to you (with two loose ends) over the looped side.
C) Bring that same side (loose ends) back under the looped side.
D) Pull the same side (loose ends) through the big loop.
E) Tug on your knot to position it where you want it on the headband. Flatten the knot out a bit so it doesn't just look like a plain knot.
The main work is done!
Step 3 (Optional): You only need to do this step if you want to add variety to your headband. If you put the knot in the middle of your headband and you like it, skip to Step 5.
I wanted to have thick rope on one side of the headband and thin on the other to make it more interesting. Cut the rope ends just after your knot. Fold over to the back of the knot and glue down.
Step 4: Loop your other rope (thin rope, in my case) through the rope that you just glued down and knot it.
This should all be on the back of the main knot.
Step 5: You can just tie your strands at the base of your neck, if you like. But if you want a more finished look, use an elastic ponytail holder.
Cut your rope a bit too short, then create a loop at the end of each rope. Place an elastic ponytail holder through the loops and glue down. If you want, put a little ribbon over the folded down part for a more professional look.
Ta-da!
Now, here are a few more options for you if you're really feeling creative. This is the part that can really take the knotted look from summer to fall.
1. Dye or tea-dye your rope if it is plain white. A nice brown or cream is perfect for fall.
2. Use two or more different types of rope to make your knot more complex. I used thick and thin, following the same instructions.
3. Use fancy rope – metallics are good for any season!
4. Cut ends short for a bracelet. Or long for a belt.
5. Add sequins or a pretty brooch to your knot to dress it up.