This post may contain affiliate links, which means I may receive a small commission, at no cost to you, if you make a purchase.
Why pay for the season's hottest accessory? Make your own!
photos: mackenzie for we heart this
Whether real or fake, fur has been a big fashion statement this winter. We saw it on the runways and almost every other day, you'll see someone wearing fur on the street. I know that I've been dying to have a fur vest to wear this season!
As the new year begins, make a fashion statement by stitching up this easy DIY Fur Vest.
Supplies:
• Faux Fur (I used a piece that was about 24" x 52")
• Scissors
• Pins
• Measuring tape
• A needle and thread or a sewing machine
• A vacuum cleaner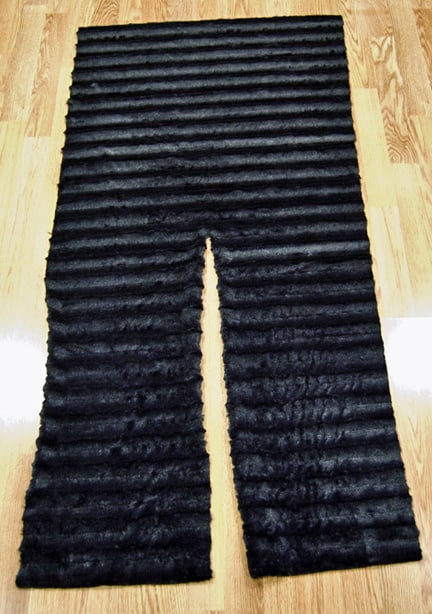 1. Lay the piece of fur flat and cut up the center about half way. You can use a measuring tape or you can just estimate.
Tip: Cutting faux fur gets messy because it sheds once it's cut – hence the need for the vacuum cleaner. Every time you cut it, shake it out to get rid of all the extra pieces.
2. Fold the fur in half, right sides together. Starting from the open bottom edge, pin both sides together a little more than half way up.
Tip: Use a few more pins than you think you need. Fur can get a little slippery sometimes.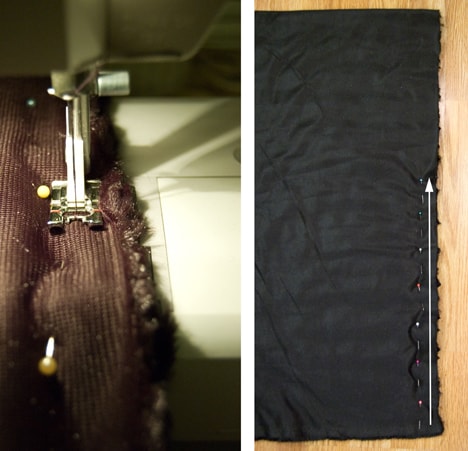 3. Using your needle and thread or sewing machine, sew a straight line up both sides where you pinned (see arrow in image) – a little more than half way up the material.
4. When sides are sewn, lay flat again and cut a curve that starts at the folded top edge and ends right above the sewn sides. The folded edge will be the shoulders. I left about 3" on each side.
Tip: Cut a little less off than you think you should – then try it on. You can always cut more if you want.
5. Wear your fur vest with your favorite long-sleeved tee or sweater all winter long!
we heartsters – are you dreaming of a Fur Vest of your very own? If you have any questions about the sewing, feel free to ask – there are no silly questions!
Latest posts by Mackenzie Gelina
(see all)