This post may contain affiliate links, which means I may receive a small commission, at no cost to you, if you make a purchase.
How to get turn a plain white tee into a super cute tank top!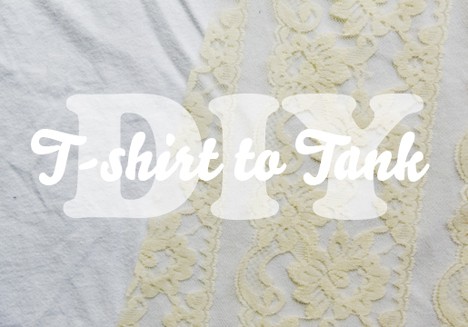 photos: mackenzie for we heart this
Spring is here and we all know that means pulling out those warm weather clothes that have been in hiding all winter.
A white t-shirt is the perfect lead into spring – but what happens when that t-shirt has embarrassing yellow stains under the arms?
We all have this problem, but this year, instead of tossing that shirt into the rag pile, let's make a new, cuter tank out of it that will last all through the summer!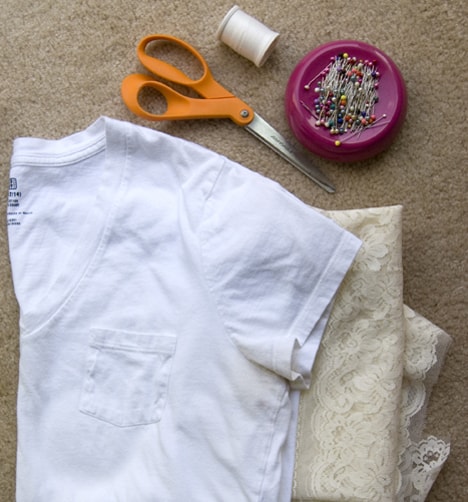 Supplies Needed:
• a t-shirt
• scissors
• lace or another fabric
• pins
• needle and thread or sewing machine (not shown)
1. Cut off the sleeves as well as the sides of the shirt. I tried to cut all the yellow stain off so it ended up being about two inches from each side.
2. Cut two pieces of lace that is longer than the side and wider at the bottom than the top.
3. Pin the lace and t-shirt together making sure the top edge of the lace lines up with the bottom of the armhole.
Make sure you only pin the t-shirt to the front edge and not through to the back as well.
4. Sew straight down edge. Repeat on the rest of edges.
5. Lay the shirt flat and cut a curve on the bottom edge.
6. Cut the collar off the shirt to create a scoop.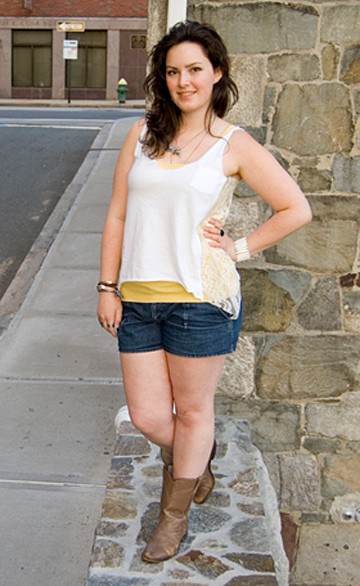 7. Throw on your new and improved shirt over a colored tank and enjoy all spring and summer!
Finally, there's no need to stick with just your white tees. Feel free to recycle any and all old tees with this simple DIY!
we heartsters – Do you have any projects or problems you would like to see me tackle in an upcoming DIY?
Let me know in the comments!
Latest posts by Mackenzie Gelina
(see all)