This post may contain affiliate links, which means I may receive a small commission, at no cost to you, if you make a purchase.
Who out there isn't looking for a low maintenance multi-tasking beauty product? It's summertime and we are all in need of something to perk up our bare face, or help out our sun-dried visage.
Today we bring you the quietly awesome, celeb and makeup artist touted, all-around multi-tasker Dr. PawPaw Balm. Dr. PawPaw is a relative newcomer to the beauty scene, hatching in 2011 as the brainchild of Johnny and Pauline Patterson. This UK based product soon found worldwide acclaim. The premise is simple: a petroleum-based balm with added natural ingredients such as Carica Papaya (that's the PawPaw!) to moisturize and reduce inflammation, as well as Aloe Leaf Juice to moisturize, repair and protect the skin.
Who among us does not have a jar of Petroleum Jelly for daily cosmetic hacks? That jar has been everyone's instant lip balm or gloss, cuticle conditioner, eyebrow tamer, chapped elbow elixir, or frizzy hair tamer at one time or another. So how about adding some good stuff and use it to do all these things? That's what Dr. PawPaw Balm has done. Add a couple of versions with tint (peach or red) and this is the perfect all-around staple to keep in your purse for every emergency. Simple brilliance.
I used the original, un-tinted version on my brows to set, and on my elbows to moisturize. I tried the Dr. PawPaw tinted peach pink balm version and found it works best on the lips (though I did find the color to be quite pale with an almost zinc-like quality).
Rubbed in well, lips are super soft with a smattering of pale peachiness about them. Layered, the color is quite bold, but isn't meant to wear long. I also used this as a highlighter on my cheekbones. The color was subtle, the shine was minimal, and the effect was very natural. For beach days, I'd use nothing else (besides a good sunscreen, of courseI The peach tint is perfect for a slightly glossy glow anywhere you'd use a blush or highlighter. I really think the red would be my best friend—gotta try that one next.
Dr PawPaw swatches in original clear, tinted peach pink, tinted red and a limited edition red sparkle
The Dr. PawPaw easy-to-carry tube is handy and the product is simple and smart. I'm quite sure this will stay a fixture in my bag from the pruney dog days of summer, straight through to the windblown winter nights.
we heartsters, what all-around beauty magic do you use?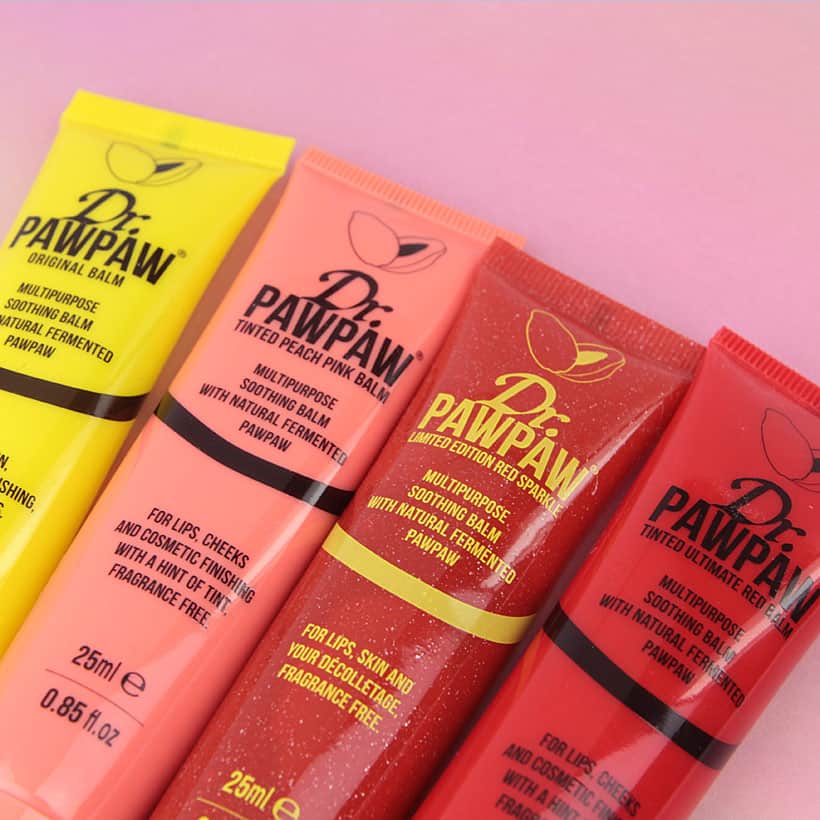 shop the post

Latest posts by sherrishera
(see all)