This post may contain affiliate links, which means I may receive a small commission, at no cost to you, if you make a purchase.
I'm the Resident Blush Expert (official title) at we heart this and I don't know that I've found a blush I didn't like. My rating scale is more along the lines of blushes I like and blushes I love. Now, there is a certain criteria I apply to a blush I love–it's got to be a flattering and preferably original shade, it has to be pigmented, the consistency needs to be silky, and it's got to last.
A nice surprise addition to the Blushes I Love column is the e.l.f. Light Blush Palette. This little drugstore beauty will only set you back $6 for four universally flattering shades of blush–that is a deal and a half, y'all! You have to love beauty on a budget.
The generously sized black compact opens to reveal a HUGE mirror and 4 large blush pans. The shades included are nameless but we'll call them plum, bronze, shimmery peach and rose. Plum, bronze and rose do read as having a slight sheen in the pan that does not convey upon application–so for those of you who avoid shimmer, those are your shades. The peach shade is fairly shimmery, but it's extremely complexion brightening and insanely flattering. It reminds me of a darker version of NARS Orgasm, so you know you can't go wrong.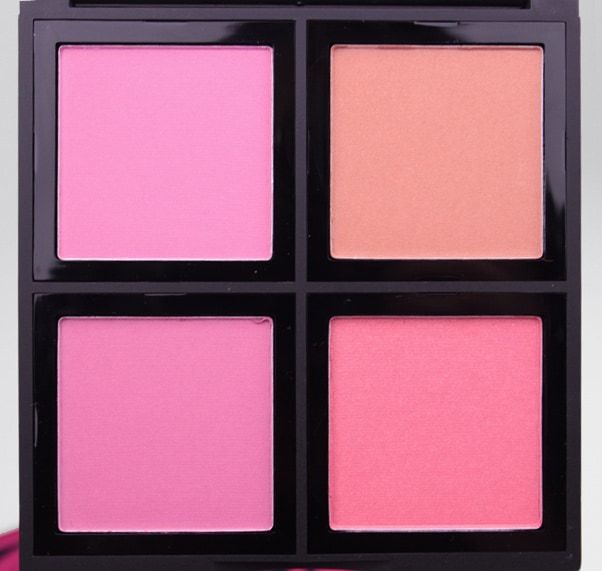 clockwise from top left: plum, bronze, shimmery peach and rose
These shadows are silky. They are incredibly pigmented. The shades hit every color family I tend to gravitate towards in a blush so this single palette would cover all the bases for those of you who prefer a streamlined makeup stash. Best of all: these last several hours on my oily skin.
For those of you on a budget who have a taste for more expensive cosmetic lines, here's the closest alternatives I was able to find in my considerable stash (and it was a struggle to find adequate duplicates):
Plum–This reads as a lighter rose shade in the pan, but it is more pigmented than the Rose shade beneath it and applies as a deeper plum shade. The closest alternative is Besame 1915 Rose with NARS Mata Hari as a runner up.
Bronze–Besame Sunkissed or NARS Me First from the Narsissist Unfiltered 1 palette.
Rose–This shade appears darker than the Plum shade above it, but it applies as a medium-toned rosy pink. The closest I can come up with is NARS Mata Hari applied with a light hand–that shade almost seems like it hits in the middle between the rose and plum shade of this palette.
Shimmery Peach–NARS Orgasm has a little more sheen and e.l.f.'s peach shade has a little more pinky coral to it, but they're definitely first cousins.
plum, bronze, rose and shimmery peach
I feel I should note that the fact that I had a hard time finding duplicates in my stash is indicative that these blushes are unique enough to warrant a try. Also worth noting–you can mix and match these shades to customize your own looks! You can contour, you can color, and you can really play with this palette! Honestly, for $6, what are you waiting for? I can't think of anywhere else where you could get 4 blushes for that price. It's a steal!
Have you tried any of e.l.f.'s Blush Palettes (it's offered in Dark, too!)? Is anybody out there as obsessed with blush as I am? What's your favorite e.l.f. product? I want to hear all about it in the comments!