This post may contain affiliate links, which means I may receive a small commission, at no cost to you, if you make a purchase.
With a special appearance by e.l.f. Velvet Matte Lipstick in Vampy Violet
e.l.f. (eye lips face) cosmetics has been a favorite at we heart this for years because of the variety of products that they offer at a really low prices (seriously, you can get things for $1.00!) I have a several e.l.f. products that are holy grails, such as their Shadow Lock Eyelid Primer, their Acne Fighting Spot Gel, and their Eye Crease Brush: purchasing all three would only set you back $7! I feel like e.l.f. just keeps getting better and better all the time.
And while I've been a fan of e.l.f. for years, I'm a little embarrassed to say that I haven't really tried to create a seriously vampy look with their products. When you want drama, you want really high pigmentation, and really smooth application, which you'd automatically assume means you need to reach for more expensive products. But you can totally it all without spending a ton of dough! Just take a look…
e.l.f. Velvet Matte Lipstick in Vampy Violet ($3) is a gorgeous blackened plum. The color is highly pigmented perfection, and the formula is just as fabulous–it applies smoothly thanks to argan oil and vitamin E, and keeps lips from drying out. I was really impressed by the look and feel of this lipstick, especially for the price! It's definitely as good as some $16 matte lipsticks.
Because of how much I liked it, I placed an order on the e.l.f. website to get myself a few other bold lip colors (e.l.f. Studio Matte Lip Color in Berry Sorbet and Rich Red), and a few nude lip colors for my mom.
e.l.f. Velvet Matte Lipstick swatch in Vampy Violet
e.l.f. Prism Eyeshadow palette in Smoke ($10) is a lovely collection of shimmery/metallic shades that are perfect for creating a smoky eye. The texture of these shadows is soft and buttery, and they apply smoothly onto the eyelid. When used dry, these shades have a slightly translucent quality to them. To intensify the color, they can be applied with a damp shadow brush.
I really liked the purple, green and blue shades–they're really gorgeous alternatives to the traditional smokey eye. To get the longest length of wear, apply e.l.f. Shadow Lock Eyelid Primer before applying shadow.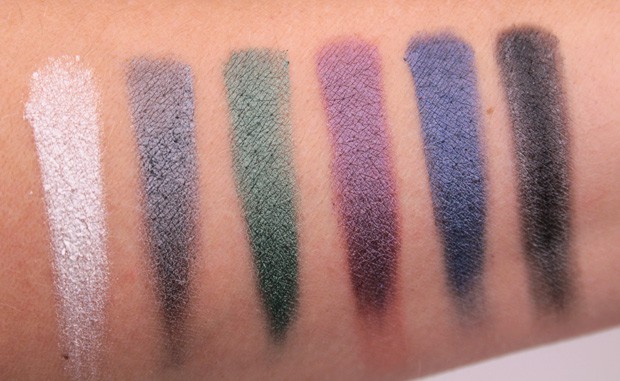 e.l.f. Prism Eyeshadow palette in Smoke swatches, applied wet
These two products pair beautifully together for a vampy look. Who would have thought $13 would bring this much drama?
From the Smoke palette; his is the white on my brow bone, the purple and grey mixed in the crease, black on the outer v and lower lash line. The Vampy Violet lipstick tops it all off.
we heartsters – are you loving e.l.f. as much as we are? What's your favorite product?
Marilyn is a makeup maniac and slow but stubborn runner. She loves color coding her day planner, reading celebrity gossip and drinking good wine. Marilyn blogs about makeup and fitness over at her blog, Lipgloss and Spandex.
skin tone: NC25
Skin type: oily, acne-prone
Favorite beauty product: eyeshadow
Latest posts by lipglossandspandex
(see all)