This post may contain affiliate links, which means I may receive a small commission, at no cost to you, if you make a purchase.
press sample
With minimal craft skills and some cute basics from Marshalls, you can DIY a fab holiday table
There's something so special about sitting down at a holiday table; surrounded by loved ones, a delicious meal set out in front of you. How can you make it even better? With a pretty table, of course! And you don't have to spend a bunch of money to do it.
With these three easy DIY projects you can set ANY holiday table. Seriously, you don't need a different tablecloth, set of napkins, etc. for each holiday. Buy one of each in a shade or pattern that will work for any occasion and simply change out the details on these crafts depending on the holiday.
You got this…
I found most of supplies at Marshalls, who always have a great selection of home goods at low prices.
1. Custom Flower Vase
Flowers make a table. You could almost just pop them in a vase and call it a day. But what fun would that be? With a smooth sided vase, (I personally like stubby ones that people can see over) paper and ribbon you can make it even more beautiful.
Choose paper and ribbon that matches your occasion. I went silver and red for Christmas. I got this adorable set of 24 retro Christmas ribbon rolls for $9.99. And if you're a gift wrap hoarder like myself, this is the perfect time to use those random little pieces that you can't throw away.
Measure halfway up the vase, cut your paper to fit and secure with tape. Cover the edge with the ribbon and you're set.
2. Flower Pot Place Settings
I like giving guests something to take home after the meal. You can be super clever and let this gift do double-duty as a place card.
I purchased a set of four mercury glass-looking candle holders for just $5.99 (Side note: I could spend all day in the Marshalls candle/knick knack aisle!) and miniature cactus. I could have dug these up from my own yard, but what would I have to step on when I foolishly walk barefoot? I like giving cactus as presents because it's like sending folks home with a piece of my desert. Plus, they're very hard to kill. But choose whatever is readily available in your neck of the woods.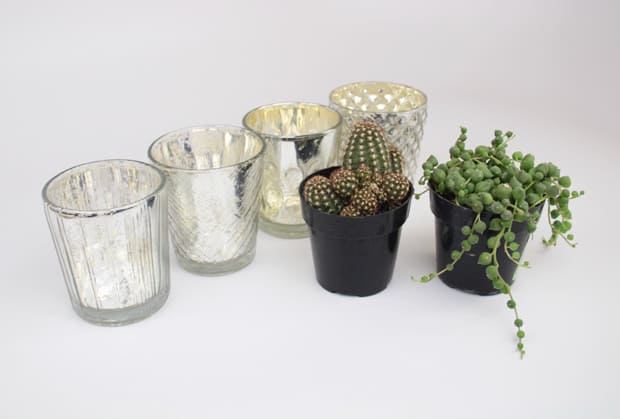 Hang a tag on them with the recipient's name or initial, and check out you and your multi-tasking!
I really like these!
3. Personalized Napkin Rings
Store bought napkin rings are for amateurs! Especially when you have so many beautiful (and free) ones in your very own yard.
Hunt and gather whatever bits of nature are plentiful at the time of year, paint them in a shade that accompanies your theme and tie them around your napkins (like these gold dotted ones which will work for any occasion.) I used piece of Cholla cactus, but twigs, leaves or buds would all work great.
There you have it: 3 customizable DIYs for a pretty holiday table. Use fall hues for Thanksgiving, bright festive shades for a birthday…the possibilities are endless, and will give you a completely different look each time. Visit your local Marshalls and see what inspires you.
Like it? Pin this image for later!
Happy holidays, no matter what the holiday may be!