This post may contain affiliate links, which means I may receive a small commission, at no cost to you, if you make a purchase.
Ever feel like your bedroom needs a makeover? Don't worry, we've all been there. Instead of taking on a complete renovation, try switching up the small things. You would be surprised at how much of an impact these simple changes can have. For starters, try making these Watercolor Pillowcases for a colorful, artsy touch. They're totally customizable and require little to no DIY skills…we promise!
Supplies:
Tarp or large garbage bag
Powdered fabric dye (2-3 colors)
Foam brush
White pillowcases
Plastic cups
Water
Large bucket or garbage can (optional)
Access to washing machine
Before You Start: Protect your workspace with the tarp or large garbage bag. We recommend working outside, if possible!
1. Prepare your first dye by mixing it with water. There is no right or wrong way to do this. Our first color was turquoise.
For a dark, saturated color, create a 1:1 mixture of powdered dye and water. For a lighter, subtle color, create a mixture of 1/2:1 powdered dye to water mixture. Of course, you can adjust these measurements to suit your preference. Just have fun with it and experiment.
2. Lay out a pillowcase on your covered work surface. Using the foam brush, randomly apply brush strokes to the pillowcase.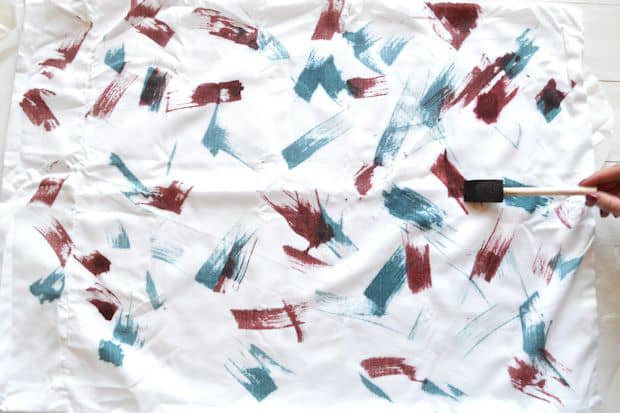 3. Prep the second dye and add this color to the pillowcase. Don't be afraid to let colors overlap. Our second color was maroon.
4. To make colors bleed together, press the wet brush in between brush strokes.
5. Continue until a majority of the pillowcase is covered. Make sure to leave some white space so the colors have room to move around.
6. Rinse the pillowcase(s) until the water runs clear. You can do this in a large bucket or a garbage can, or directly in the washing machine. When clear, wash in a washing machine for one cycle; check the directions on the dye's packaging for any special requirements. Hang to dry.
7. Once the pillowcases are dry, feel free to add even more brush strokes if you feel like something is missing. We decided to bring in a third dye – a dark navy blue – to add more "oomph". If you decide to do this, simply repeat Step 6 to rinse and wash.
This is the beauty of DIY; you can make a change whenever you want!
Once dry, your new pillowcases are ready. They're the perfect cross between functional and fashionable.
What colors would you choose for your DIY Watercolor Pillowcases? Let us know in the comments below!
Latest posts by kirsten-nunez
(see all)