Easy Picnic Recipes: Pineapple Coleslaw
This post may contain affiliate links, which means I may receive a small commission, at no cost to you, if you make a purchase.
With BBQ Season in full-swing and July 4th just around the corner, I thought now would be the perfect time to share my family's secret Pineapple Coleslaw recipe with you. With only a mere 5 ingredients, it whips up in a snap. And who doesn't love easy picnic recipes?
It's an adaptation of my Grandmother Kate's recipe. However, she really deserves most of the credit, because all I changed was the addition of golden raisins.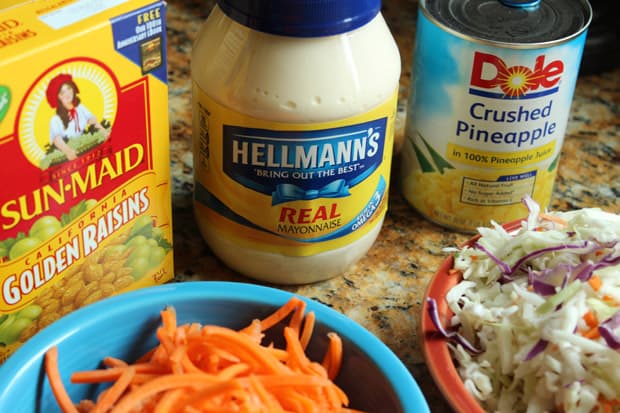 Ingredients
1 Bag Tri-colored Cole-Slaw Mix
1/2 Bag Shredded Carrots
14.5 oz Can Crushed Pineapple (in its own juice)
1 Cup Golden Raisins
1/2 Cup Mayo
The only measuring you need to do!
Directions
Mix together all 5 ingredients – including the juice from the crushed pineapple…and that's IT. Recipes couldn't get any easier. It's perfect alongside pulled pork or burgers.
Bring it to your next summer gathering and don't be surprised if they ask you if you know more easy picnic recipes. Because it will be obvious that you're the recipe guru of your bunch!
Tried it or want to try it? Pin this image!
we heartsters – what's recipe is your picnic go-to? Share in the comments.
Rachel is a stay-at-home Mom that never seems to be home. She's a military wife, mother to The Danger Boys and a self-proclaimed craftaholic that enjoys photography, knitting, baking and all things handmade.