This post may contain affiliate links, which means I may receive a small commission, at no cost to you, if you make a purchase.
The beauty community's obsession with essential oils still hasn't fizzled out — and why should it, anyway?
After all, these oils seem to have endless perks, from treating acne to providing cheap, chemical-free fragrances for DIY perfumes.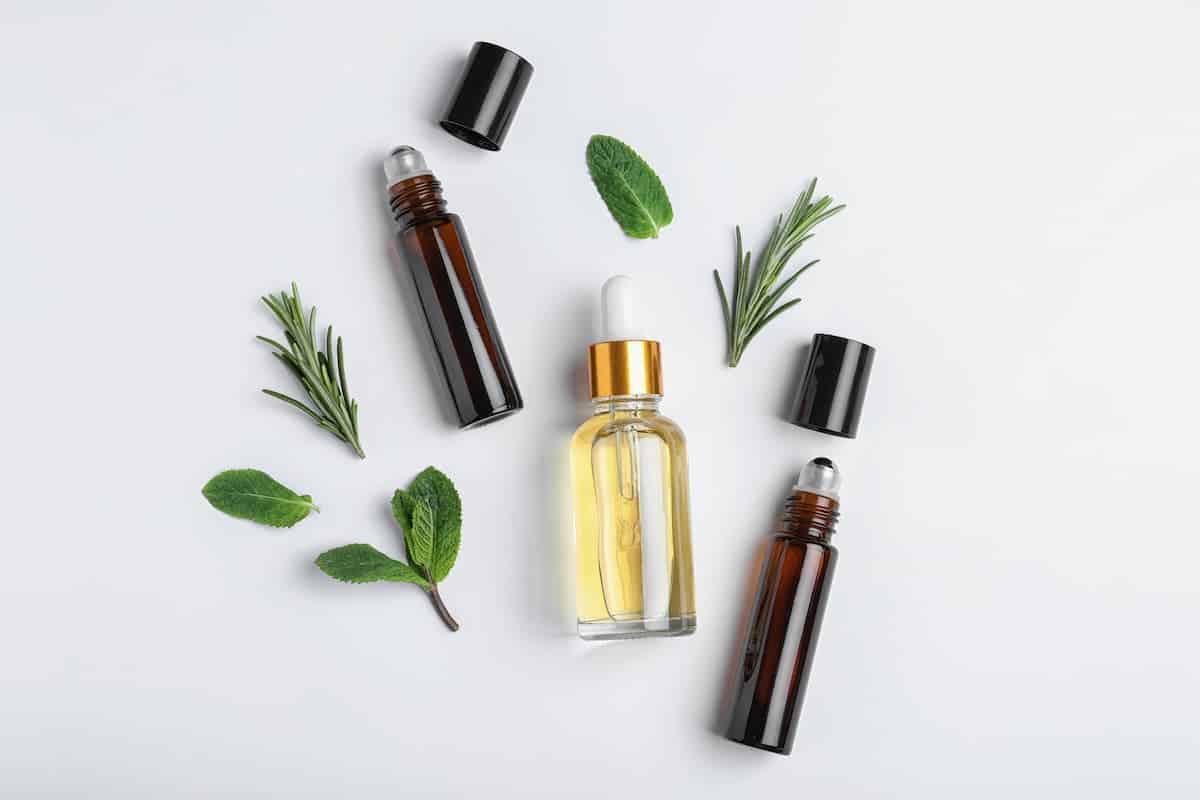 Beyond that, essential oils have also gained traction as natural strengtheners and growth boosters for curly hair. But what oils are actually good for curly hair? How do you choose the right one for your needs?
Read on as we give you a rundown of the best essential oils for curly hair and discuss the benefits of using them in detail.
How Do Essential Oils Benefit Curly Hair?
Think essential oils just make your hair smell nice? Well, they do, but their perks don't end there.
Take a look at a few of their most amazing benefits for curly hair.
Nourish, hydrate, and strengthen curls
The structure of curly or kinky hair makes it difficult for oils from the scalp to distribute evenly down the strands, which is why most curly-haired individuals struggle with dryness.
The good news? Plenty of essential oils have nourishing and moisturizing properties that improve the quality, texture, and appearance of dry, excessively coarse curls.
They also improve moisture retention to keep curls smooth and bouncy. This also helps reduce frizz, tangles, and dullness!
It also goes without saying that well-nourished curls are also stronger and less prone to breakage.
Treat and prevent hair loss
Curlies are not exempt from thinning hair or hair loss, whether brought on by age, stress, hormonal changes, autoimmune disorders, or just plain ol' genetics.
However, topical medications for hair loss may end up drying out curly hair.
The good news is there are several that can facilitate hair growth, offering a curl-friendly alternative to prescription formulations.
Relieve itch, dandruff, and other scalp issues
Did you know that folks with curly hair are more prone to dandruff than those with straight hair? This is primarily because they wash their hair less frequently to help their curls hold on to moisture.
Unfortunately, this often leads to itchy, flaky scalps. On the bright side, essential oils with antibacterial and antifungal properties can provide lasting relief for this issue by cleansing the scalp and inhibiting bacterial growth.
How To Choose Essential Oils That Are Good for Your Hair
In general, the best essential oils for curly hair are:
Rosemary oil
Tea tree oil
Jasmine oil
Cedarwood oil
Chamomile oil
Geranium oil
Lavender oil
Palmarosa oil
Ylang-ylang oil
So which one of these do you get? Follow the guidelines below to help you choose the right oil for your tresses.
Get 100% pure essential oils
Some essential oils contain fillers and artificial fragrances or preservatives so manufacturers can cut costs.
Not only can these additives potentially damage your curls, but they can also compromise the oil's overall quality and effectiveness.
So make sure to check the ingredient list of your chosen oil and see if it has a 100% pure, single-ingredient formula.
Look for vegan labeling if you're vegan
If you're looking for vegan oils, keep in mind as well that, oddly enough, not all essential oils are vegan.
While oils made from singular plant extracts are vegan on paper, the process used to produce them may not be so. In fact, traditional methods require the use of animal fats for extraction.
See to it that you choose a bottle labeled "vegan" instead.
Choose oils based on your hair's needs
Each essential oil has its own unique set of strengths, so it's vital to choose one that suits your specific needs as well as your curl type.
Below is a quick guide to the most common curly hair problems and the essential oils that can address them.
Issue
Rose-
mary
Tea tree
Jasmine
Ylang-
ylang
Cedar-
wood
Chamo-
mile
Geramium
Lavender
Palma-
rosa
Frizz
✔
✔
✔
✔
✔
✔
✔
✔
✔
Dullness
✔
✔
✔
✔
✔
✔
✔
Curl definition
✔
✔
✔
Hair loss
✔
✔
✔
✔
✔
✔
✔
✔
Hair damage
✔
✔
✔
✔
Fine or thinning hair
✔
✔
✔
✔
✔
✔
✔
✔
✔
Dandruff and itch
✔
✔
✔
✔
✔
✔
Carry out a patch test before application
Patch tests can help you determine whether or not you're sensitive to certain oils before using them on your hair, scalp, and skin.
Follow these steps to perform a patch test successfully.
Mix your chosen essential oil with your chosen carrier oil.
Apply the mixture to a gauze pad or the cotton pad of a Band-Aid.
Place the gauze pad or Band-Aid on the inner part of your elbow.
Leave it there for at least 48 hours.
Check if you have any adverse reactions to the oil, including itch, rashes, redness, or swelling.
Important note: if you're pregnant, make sure to consult your doctor before using essential oils.
How To Use Essential Oils on Curly Hair 
Not sure how to use essential oils on your curls? We've got you covered! Here are a few tips to help you get started.
Mix essential oils with carrier oils or hair products
Never use essential oils undiluted on your curls or any part of your body! These oils are highly concentrated and volatile, which mean they can irritate your scalp and damage your hair and skin.
Make sure to mix essential oils with carrier oils, which are lightweight oils for curly hair. A few of the best carrier oils include the following:
Argan oil
Coconut oil
Castor oil
Grapeseed oil
Jojoba oil
Alternatively, you can add a few drops of your chosen essential oil to your shampoo, conditioner, and other moisturizing products like aloe vera to make the most of their perks.
Massage into your scalp
Essential oils are good for the scalp in that they remove dead skin cells and bacteria, boost circulation, and balance sebum production.
Massaging them into your scalp can help you maximize their benefits and, most importantly, give you a luxurious spa-like experience in the shower.
Use as a pre-poo treatment
Before washing your hair, you can use a hair mask with your choice of essential oil to prevent your shampoo from stripping your hair of its natural oils.
9 Best Essential Oils for Frizzy, Curly Hair
1
Finally, an essential oil that's worth the hype. The Handcraft Rosemary Oil has earned the top spot on this list by targeting common curly hair woes and giving you stronger, healthier hair like never before.
Key benefits: Boosts healthy hair growth and combats hair loss; reduces frizz; relieves itch; prevents dandruff
Features:
100% pure therapeutic-grade oil
Strengthens hair follicles and improves blood flow to the scalp
Ethically sourced with no fillers or additives
Get the lush, frizz-free, buttery-soft curls of your dreams with this oil!
The ultimate multitasker in hair care, the Handcraft Rosemary Essential Oil hydrates curls, fights hair loss and breakage, and reverses hair damage all at the same time!
Among its key benefits is using rosemary's clinically proven ability to increase circulation in the scalp, which encourages blood and nutrients to flow to the hair follicles.
This stimulates the growth of stronger, healthier strands. Studies show that rosemary rivals the use of minoxidil — a topical medication for alopecia — in treating hair loss, making it one of the best oils for curly hair growth.
Armed with powerful antimicrobial, antioxidant, and anti-inflammatory properties, this oil also combats dryness, dandruff, sun damage, and product buildup.
2
Defy frizz and dandruff with tea tree oil, a powerhouse of cleansing, soothing, and moisturizing properties at a bargain price.
Key benefits: Cleanses scalp; fights itch, dandruff, and oiliness; encourages curl definition; promotes scalp and hair health
Features:
100% pure, USDA-certified organic oil
Boasts antibacterial and anti-inflammatory properties
Vegan and cruelty-free
An affordable solution to costly curly hair problems!
Good news for curlies who struggle with itchy, flaky scalps: Nexon Botanics Organic Tea Tree Oil can help you kick dandruff to the curb for good!
Wielding powerful antibacterial and antifungal properties, it fights dandruff at the source by inhibiting the growth of Malassezia, a type of yeast responsible for dandruff in most adults.
So if you tend to go longer between washes and struggle with flakes as an unfortunate side effect, tea tree oil can help keep your scalp clean and itch-free.
You can also use this oil to hydrate and moisturize your curls, soothe scalp inflammation, and boost hair growth!
3
Give your hair a well-deserved premium treatment with jasmine essential oil and watch dry, brittle ringlets transform into soft, silky, luscious tresses!
Key benefits: Clarifies the scalp; strengthens brittle hair; promotes healing of scalp infections; softens and detangles curls
Features:
100% pure therapeutic-grade oil
Cleansing, nourishing, hydrating, and strengthening properties
Versatile, multi-beneficial use for hair, skin, and body
Pamper your curls with this luxuriously fragrant, astoundingly powerful essential oil!
Lauded as one of the best moisturizing oils for curly hair, the Gya Labs Jasmine Essential Oil hydrates your tresses and replenishes lost moisture to tame frizz, fight dryness, and prevent tangles.
By penetrating the hair shaft and cuticle, it also strengthens each strand and promotes elasticity, making your curls less prone to breakage.
What's more, it has antiseptic and antimicrobial powers that rid the scalp of dirt and oil buildup and aid in treating dandruff and scalp infections.
As a bonus, this oil lends a soothing, delicate fragrance to your curls!
4
Nourishing and intensely potent, ylang-ylang is harnessed to its fullest potential in this essential oil. Among its many perks? Revitalizing dry, dull locks and restoring balance to the scalp.
Key benefits: Creates a healthy scalp environment; fights hair loss; keeps curls shiny and well hydrated
Features:
100% pure, non-GMO, USDA-certified oil
Works as a treatment for damaged, thinning hair
Vegan and cruelty-free
This essential oil takes your hair care regimen to a whole new level!
The core hair care principle of the Cliganic Ylang-Ylang Essential Oil is simple: healthy hair grows from a healthy scalp!
Ylang-ylang — a tropical flower used to treat various illnesses for centuries — nourishes and strengthens hair follicles while balancing oil production in the scalp.
As one of the best oils for frizzy hair, it also hydrates the scalp and encourages proper sebum distribution to moisturize coarse, brittle curls.
Even better, this essential oil can also be used to keep your hair thick and damage-free!
5
Finding a few too many strands on your brush or in your shower drain? Enter geranium oil, the ultimate solution to your hair fall troubles!
Key benefits: Prevents hair loss and strengthens hair; eases scalp irritation; enhances shine
Features:
100% pure, natural, and therapeutic-grade oil
Regularly tested for purity and quality
Comes in a glass bottle with an anti-UV coating
Now you can flaunt thick, well-nourished curls with one of the most exceptional essential oils for curly hair!
Curlies are no strangers to shedding. But if you're dealing with excess fallout, the Artizen Geranium Essential Oil can give you stronger, fuller curls!
A 2017 study found that geranium extracts promote hair growth with their antioxidant properties.
They do so by regulating growth factors (proteins vital to cell proliferation) and cellular responses (physiological responses to external stimuli).
Simply put, geranium oil can prevent hair loss caused by stress and other environmental factors. Plus, it can restore proper pH balance in the scalp and enhance curl definition!
6
An oldie but a goodie, you can rely on your trusty lavender essential oil to deliver on all the hair and scalp care essentials (pun intended) for curlies.
Key benefits: Reduces frizz; hydrates hair; relieves itchy scalps; controls dandruff
Features:
100% pure, GC/MS-tested
Multi-beneficial for curly hair
Cruelty-free
All you need for soft, fresh, healthy, and voluminous hair is here!
As it turns out, the Plant Therapy Lavender Essential Oil is as versatile in hair care as it is in, well, everything else.
This oil helps tame unruly frizz, battle dryness, reduce scalp irritation, and relieve scalp inflammation. Thanks to its antimicrobial properties, it also provides superior itch and dandruff control.
Curly-haired folks struggling with dull, thinning hair can also use it to restore shine and volume.
Hate the way your hair smells funky on hot or stressful days? Lavender oil can curb the growth of odor-causing bacteria on your scalp and leave a heavenly fragrance on your strands to boot!
7
Bid adieu to limp locks and get ready for voluminous and well-defined curls with cedarwood essential oil.
Key benefits: Improves curl definition; treats and prevents hair loss; promotes scalp health
Features:
100% pure, USDA-certified organic oil
Ensures proper blood circulation in the scalp
Vegan, cruelty-free, and non-GMO
Want your curls to pop? This oil is a must-have
Styling your hair with gel isn't the only way to highlight your curls. By keeping your tresses moisturized with the Cliganic Organic Cedarwood Essential Oil, you can achieve better definition effortlessly.
Cedarwood oil hydrates your hair and helps it retain moisture for that long-desired bounce, even when your hair is gel-free!
When used for scalp massages, it also boosts circulation in the scalp to improve hair health and stimulate growth.
8
Scratching your head all day? Your scalp may be inflamed. Use the Gya Labs Roman Chamomile Essential Oil to ditch that itch.
Key benefits: Soothes and treats inflammatory conditions that affect the scalp; moisturizes hair; revitalizes damaged hair
Features:
Fights signs of hair damage and scalp inflammation
Delicate, long-lasting fragrance
Superb anti-inflammatory and antioxidant properties make this one of the best oils for naturally curly hair!
Curlies with conditions like psoriasis and seborrheic dermatitis, which are characterized by itchy, inflamed scalps, often find it hard to get products that address their symptoms without damaging their curls.
Fortunately, essential oils like the Gya Labs Roman Chamomile Essential Oil can help! Chamomile has powerful anti-inflammatory properties that can calm your scalp and soothe itch, redness, and flaking.
The best part? It's also great for treating and preventing damage! This antioxidant-rich oil defends your hair against UV damage and keeps your strands moisturized.
9
An underrated hair care gem that packs a punch when it comes to moisturization, Palmarosa Essential Oil revives the vibrance of parched, brittle curls.
Key benefits: Provides hydration; enhances scalp health; adds shine
Features:
100% pure, GC/MS-tested oil
Delivers intense moisturization
Non-GMO and cruelty-free
The curly community's best-kept secret for ultra-silky hair!
Every curly's hair care routine — whether it's the Curly Girl Method or a modified version of it — is built on one key principle: hydration. Luckily, that's just what the Plant Therapy Palmarosa Essential Oil offers!
As one of the most effective essential oils for moisturizing hair, it keeps curls well hydrated to increase their strength and elasticity. The result? Soft, glossy, and frizz-free tresses!
Palmarosa also cleanses and removes dead skin from the scalp while nourishing the hair follicles and facilitating healthy growth.
FAQs About Essential Oils for Curly Hair
Should I oil my curly hair every day?
Nope! Oiling your hair too often can lead to excess dirt and grease buildup. It's best to oil your curly hair only on wash days.
What's the best leave-in oil for curly hair?
Carrier oils like almond, argan, coconut, and jojoba oils are usually the top choices for leave-in oils. However, you can mix them with rosemary or cedarwood essential oils for best results.
Get Soft, Healthy Locks with the Best Natural Oils for Curly Hair
Why pamper your tresses with a hair care routine that involves health-boosting essential oils for curly hair? Simple: it can help you bring the bouncy, beautiful curls of your dreams to life!
Keep in mind, though, that while all the products we've listed above are great for curly hair, it's vital to pick one that matches your needs and helps you achieve your unique hair goals.
So go ahead. Give your curls a little more love with essential oils!
Discover More Hair Care Hacks Here: