This post may contain affiliate links, which means I may receive a small commission, at no cost to you, if you make a purchase.
Wondering what are the best essential oils for curly hair?
A lot of women nowadays turn to essential oils for their hair health. The reason mainly is because of the chemical content in most hair care products, which can be damaging.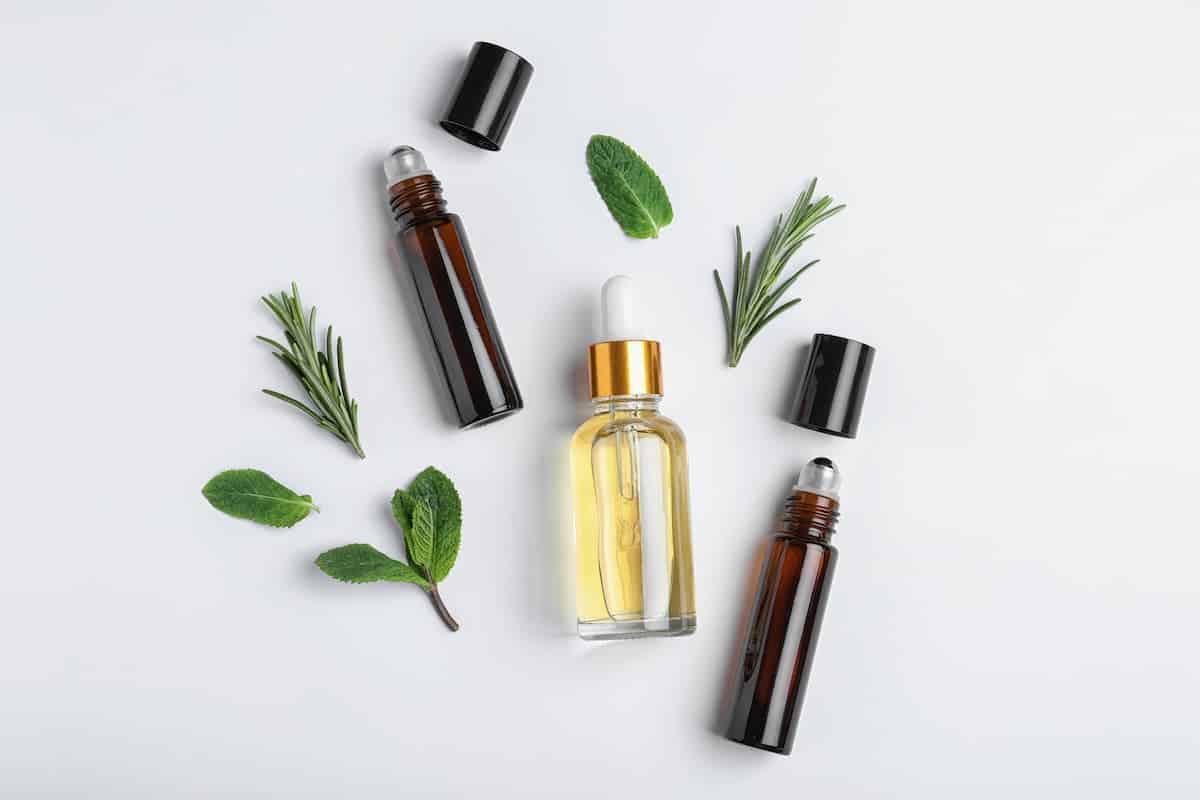 These oils contain nutrients that promote hair growth, giving it a soft, shiny, and silky feeling. They also improve the quality of your hair, making it more remarkably fabulous.
So if you're looking to try new products for your curly hair, you might want to check out these natural oils.
In this post, I'm going to share the best essential oils for curly hair and their benefits.
I'll also help you pick the right carrier oil to go with your essential oils.
So let's get to it.
These essential oils for curly hair can work wonders
Have dry and tangled hair?
Looking for a remedy to smoothen your frizzy locks?
These are just some of the usual complaints from women who have curly hair.
Do you have them too?
Fret no more.
These essential oils for curly hair can work their magic.
Extracted from plants, these natural oils contain nourishing properties that are the answers to your hair issues.
Here's how these oils work.
Each of these essential oils for curly hair can penetrate the cells of your hair in just minutes, promoting its strength and growth as well as giving it shine.
Benefits of essential oils for curly hair
Have you considered using essential oils for curly hair?
If you haven't jumped on the bandwagon yet, here are three main reasons why you should try them: strength, growth, and shine.
1. Let's start with hair strength.
It's important to improve hair strength. Especially when you have curly locks.
Breakage is common when you have curls. This usually happens when you brush your hair.
Having healthy and strong tresses is crucial to your overall hair health. And hair strength means there is less frizz and breakage.
This is where essential oils for curly hair can help. They can secure the fragile strands of your hair while protecting its ends from breakage.
Wondering what natural oils can give you this benefit?
Consider adding geranium oil or sandalwood oil. Personally, I like the sweet scent of sandalwood oil.
2. You can promote hair growth with these essential oils for curly hair.
Do you want longer curls?
Wondering what is the best oil for curly hair growth?
If you add them to your hair care routine, these three essential oils can boost hair growth: cedarwood, clary sage, and rosemary.
So what you do is simply add any of these natural oils to your favorite shampoo. Then using your fingers, gently massage it into your scalp.
Cedarwood oil is my top pick.
Rosemary oil is a great choice as well. If you add this into your routine, this natural oil can encourage the growth of healthy roots and improve the blood flow in your scalp region.
You should also try using clary sage oil. It stimulates the scalp, leading to increased growth of healthy hair. It also stimulates blood flow for your hair follicles.
3. Give your hair a smooth, silky shine with these essential oils for curly hair.
Dry hair looks bad. More so if you have curly locks.
But you can remedy that with these natural oils.
Give your wavy tresses a boost of shine with chamomile and lavender essential oils.
Try mixing chamomile essential oils with your favorite shampoo. You can also add it to your styling hair cream, gel, or leave-in conditioner.
Chamomile oil contains soothing properties that will soothe the frizz and smoothen the dry strands, leaving your hair shiny and silky. This natural oil also works best for scalp irritation.
The same goes for lavender oil.
Mix lavender oil with your shampoo or usual hair care products. As it penetrates the hair strands, this natural oil can give it a gleaming shine. It can also soften your curly locks and soothe your irritated scalp. Perfect for dandruff problems.
Related: How to Deep Condition Curly Hair + Deep Conditioning Tips
More benefits of essential oils for curly hair
I love natural oils not just for my hair but also for their calming effect.
The aromatic scent gives me a soothing relief, creating a peaceful and serene sensation.
Some of these essential oils contain germicidal properties. You can use it to kill fungi or bacteria on your skin and hair. Take chamomile oil and lavender oil, for example, which can eliminate the fungi that cause dandruff.
The strong chemicals in today's hair care products may cause itchiness or irritation. These essential oils can soothe your scalp and reduce redness or inflammation.
Did you know these essential oils for curly hair also contain antioxidants that fight free radicals that damage your hair follicles?
These natural oils can also increase cell rejuvenation, which is essential for hair growth.
Two types of essential oils for curly hair
You're probably wondering what oils are good for curly hair.
There are two types of natural oils for your wavy or curly locks.
First, sealing oil. This type of natural oil requires water to lock in the moisture.
The second is a moisturizing oil, which can moisturize your hair by itself.
Now, when picking essential oils for curly hair, you will have to consider the type of curly texture that you have.
Here's why.
Sebum is a naturally produced oil that generates from the scalp. Now, to bring it down to your hair up to the tips, you will need to brush your tresses; that's the only way to naturally "hydrate" your hair.
There are two obstacles to this; that is, why curly hair tends to be dry, dull, and fragile.
First, the curly hair pattern generally affects hydration. Because it's curly, sebum may not go down naturally and easily to the tips.
And second, curly hair is difficult to brush.
So what do you need to do?
The Best Essential Oils For Curly Hair
Do you have curly hair?
Let's look at the best essential oils for frizzy curly hair. They can be a girl's best friend. So consider adding them to your hair care routine every day.
1. Tea Tree Oil
This one is on top of my list of the go-to natural oils that I use almost every day.
Tea tree oil contains antibacterial and antifungal properties. So it's great at eliminating any undesirables in your hair.
You can even use it on your face if you're struggling with acne outbreaks. It can also help clear up acne spots and scars.
Back to its use for curly hair, tea tree oil helps stimulate hair growth. To apply the natural oil, gently massage it on your scalp.
Be warned. Tea tree oil tends to be strong and harsh, so you might want to dilute it a bit in carrier oil (you can use coconut oil).
2. Coconut Oil
Speaking of coconut oil, it's one of the most versatile essential oils for natural hair (curly or not). It's also great for use on your skin.
Coconut oil contains a good dose of healthy fatty acids. And even if it penetrates your hair and skin, it doesn't dry out or completely evaporates.
Did you know coconut oil also contains carbohydrates and other vitamins and minerals?
It's also great at protecting your skin from sun or heat damage. In addition, coconut oil supports healthy hair growth and prevents hair loss.
And if you have dry or dull hair, it's got a wonderful moisturizing effect, leaving your hair shiny and soft.
You will also love the beautiful scent of coconut oil, making your hair smell lovely.
3. Rosemary Oil
Like coconut oil, rosemary oil can smell fabulous on your hair.
Because of its fresh, lovely scent, it's long been used in aromatherapy.
What's rosemary oil for?
This essential oil is great at promoting healthy hair growth. To apply, just massage it gently into your scalp. Don't forget to mix it with its carrier oil before applying it.
Apart from coconut oil, sweet almond oil and olive oil are good options for carrier oil.
4. Argan Oil
Where does argan oil come from?
You get it from the nuts of the argan tree.
Argan oil is rich in vitamin E, fatty acids, and antioxidants. So it's great not just for your hair but also for the skin, fighting off free radicals that speed up the aging process.
Now, with your curly locks, argan oil can keep your hair smooth and moisturized, making it look amazing all throughout the day.
Do you have dry or frizzy hair?
Wondering what's a good remedy for coarse or brittle locks?
The answer is argan oil.
This natural oil will manage your hair and add a silky, smooth shine.
5. Lavender Oil
Known for its soothing effect, lavender oil contains calming and relaxing properties. This is why a lot of people use it to improve their sleep.
With its soothing nature, lavender oil is also great for your hair, scalp, and skin.
Are you suffering from dandruff?
Got a sensitive scalp?
You can soothe the irritation and redness with lavender oil.
To apply, add it to a carrier oil then gently massage it on your scalp or skin.
6. Geranium Oil
Are you familiar with this essential oil?
If not, I can't blame you.
A lot of people may not know about it. But it does have amazing properties that produce wonders for your hair, scalp, and skin.
Here's what you can expect from geranium oil.
When you apply it to your scalp, this natural oil can balance sebum production by regulating hormones. It's also great for combating hair loss.
Geranium oil can also make your curly locks look shiny and beautiful. It does have a lovely floral scent too.
7. Ylang Ylang Oil
Here's another essential oil that many people may not know about.
Known for its sweet scent, ylang-ylang oil is a wonderful conditioner. When you use it on your hair, it helps detangle it. This is why it's perfect for curly tresses.
Ylang-ylang oil also helps improve the growth and health of your hair, making it look shiny and fabulous.
And did you know it's also great for driving away anxiety?
Like lavender oil, ylang-ylang oil contains soothing properties that can help you relax. It's a must-have for days when you're stressed out.
8. Lemon Oil
Known as a hair tonic, lemon oil can boost the strength of your hair. It can also eliminate dandruff and other issues on your scalp. So if you're suffering from redness, inflammation, or flakes, this is the perfect essential oil for you.
Lemon oil is also great at making your hair look healthy and shiny. It also helps increase its thickness.
Apart from the benefits to your hair, you can also use lemon hair to cleanse your body. It also contains antioxidants that boost your health and immune system.
9. Palma Rosa Oil
Extracted from Palma rosa grass, this essential oil offers a wide range of health benefits; most notably is to your hair.
Palma rosa oil can keep your curly locks hydrated, making them look shiny and healthy. This is perfect for women who are struggling with dry, dull, or brittle hair.
10. Sandalwood Oil
Every woman should have sandalwood oil within her reach.
Not only is it good for your hair, but it's also a wonderful disinfectant that kills most germs and bacteria.
You can use sandalwood oil to treat dandruff and other scalp issues. In some cases, this essential oil work wonders against lice.
As an anti-inflammatory substance, sandalwood oil can reduce the redness or inflammation on your scalp and skin while stimulating healthy hair growth.
11. Jasmine Oil
This essential oil is great for skin, scalp, and hair care.
Applying jasmine oil to your dry scalp can instantly moisturize and hydrate it, effectively reducing dandruff and scalp infection.
The downside, however, to jasmine oil is that it is known to cause an allergic reaction. So you might want to check on that and see if you suffer from irritation after using it.
12. Neroli Oil
Derived from citrus fruits, neroli oil offers a wide range of benefits.
It works great for people with a sensitive scalp, helping clear up irritations or infections including dandruff issues.
Neroli oil also contains disinfectant properties as well as moisturizing effects.
I've mentioned carrier oils to go with these essential oils for curly hair.
Some essential oils need to be diluted before applying to your skin or hair. This is where carrier oils can help.
You mix the carrier oil with the essential ones so it gives a soft, soothing, and gentle feeling upon application.
Apart from coconut oil, sweet almond oil and olive oil are two wonderful carrier oils to complement these natural oils.
Sweet almond oil contains vitamin E and oleic acid. This essential oil is a great hair tonic, offering a non-greasy moisturizing effect.
Women with nut allergies, however, should take caution when using sweet almond oil.
On the other hand, olive oil leaves the hair and skin hydrated. However, it tends to leave an oily feeling.
What is your favorite essential oil for curly hair?
You may also like: