This post may contain affiliate links, which means I may receive a small commission, at no cost to you, if you make a purchase.
I know, it's only nail polish but I like it!
Some releases hint at a change of season, others yell it from the rooftop. Essie fall 2015 is the latter. If you listen closely, you'll hear its cry: "It's fall b*tches!"
In addition to being an unmistakably fall release, it also takes it cue from Rock 'n' Roll. Being a rock chick my whole life (to the extend of marrying a musician), I think they got the homage rather spot on.
Taking center stage this season is iconic rock 'n' roll royalty: the queen of the entourage, the unstoppable, impossibly stylish muse. the six new compelling shades of the fall 2015 collection capture the powerful allure of the ingénues of the rock era with intensely saturated hues.
To me, the Essie Fall 2015 collection is ALL about the three metallics/shimmers. They're unexpected and completely gorgeous. I mean, take a look at the above image and tell me you don't agree? The cremes are alright, but they don't excite me. And honestly, that red orange looks a bit out of place in this launch. But we'll get to that in a minute…Now, we're talking the fab sparkles!
*All swatches shown with two coats for consistency. All shades applied easily with no streaking or thickness. Essie's formula is a dream.
Essie Fall 2015 swatches
Leggy Legend – Alloyed bronze bombshell. I adore this shade, favorite of the launch! It's a rich bronze foil with scattered magenta glitter, almost to faint to notice but it's there. (You'll see them within the letters on the bottle in the above image.) It's autumn in a bottle to me.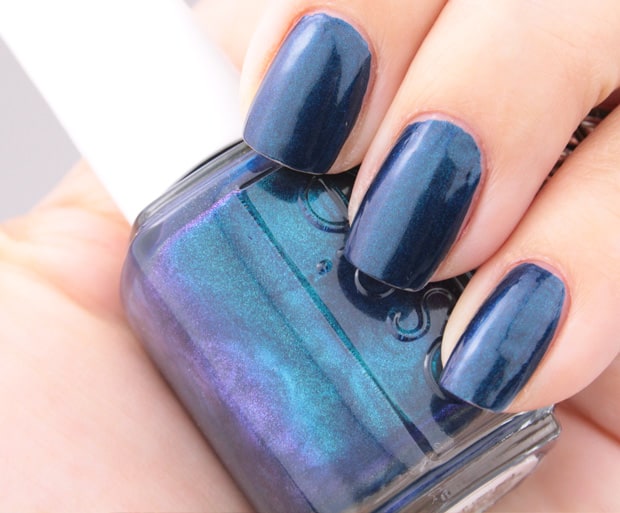 Bell Bottom Blues – Intense midnight indigo. Another stunner, a dark navy loaded with lighter blue-teal shimmer. I love that the shimmer doesn't get lost in the darkness either. It's always visible, shimmering away! It reminds me of the milky way on a clear night.
Frock 'N Roll – Shimmering rich espresso. I thought this was going to be the winner for me. But as pretty as it is in the bottle, a dark plummy grey heavy with silver micro glitter, it looked a bit bland on my nails. It looks great in sunlight (see below) but you don't always have the sunlight following you around.
On to the cremes! I'm sorry, but Color Binge just doesn't make sense to me…
Color Binge – Addictive orange red. Don't get me wrong, it's a gorgeous bright red orange. But it's so much more summer to me than fall.
With The Band – Toasted spice burgundy. This is a rich brick red. I'm pretty sure I had a pair of corduroys in this shade growing up! I get a vintage vibe, for sure.
In The Lobby – Exotic cinnamon plum. Hmmm, not getting any cinnamon in this vampy wine crelly formula. I can see reaching for this a lot as the weather continues to cool, though.
So we heartsters, what do you think about Essie's take on a rocking fall?
Stef is many things. Amongst them: editor of we heart this, photographer, condiment connoisseur, Philly girl in the California desert, borderline hoarder and a hardcore beauty junkie.
skin tone: NC 25/30
skin type: oily with a fear of rosacea
favorite beauty product: high end skincare and lip products