essie stylenomics for fall 2012 – review, photos & swatches
This post may contain affiliate links, which means I may receive a small commission, at no cost to you, if you make a purchase.
Plus a peek inside the glamorous essie Emmy Suite!
polish photos: we heart this
Nail polish aficionados love essie. The brand is a staple of beauty lovers everywhere, from drugstore divas to Hollywood royalty and even the Queen herself. (Her Majesty will only wear essie's iconic and very ladylike Ballet Slippers.) With their combination of high quality formulas and a never ending selection of on-trend colors, there's something for everyone to love.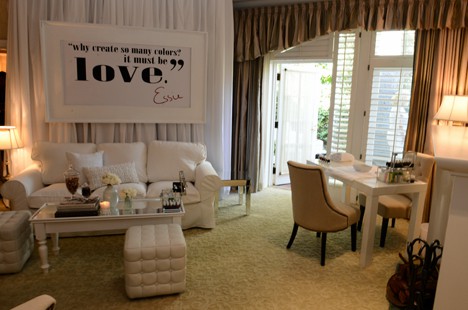 essie Emmy Suite photos: essie
Recently we heart this was invited to celebrate their fall 2012 collection stylenomics at the essie Emmy Suite at the glamorous Beverly Hills Hotel. Held in conjunction with the 64th Annual Emmy Awards in one of the hotel's legendary bungalows, the event invited Hollywood stars, as well as the media to "slip into something more colorful" – specifically one of essie's six new creme colors for fall.
I felt a bit like a Hollywood star myself as I was pampered with a top notch manicure and plied with mimosas, french pastries and espresso while luxuriating in the white flower filled, plush bungalow and listening to a live jazz pianist.
A "wall of fame" celebrated a few of essie's most iconic shades and after my manicure, I participated in one of Hollywood's most known traditions when I was asked to place my hands in a cement essie "star of fame" for a photo op. Anybody want my autograph?
Of course, no Hollywood suite is complete without a swag bag, and I was thrilled to get my hands (and feet!) on a dainty little bag containing the true star of the moment, the fall 2012 stylenomics collection.
As we're putting away the light clothes and sandals of summer and reaching for cozy sweaters, jeans and boots; so too are we waving goodbye to the bright pinks and corals and looking for nail shades with a bit more depth. Right in time, essie has released this collection of six, rich, deep hues to match the mood of the season.
skirting the issue, stylenomics, recessionista
head mistress, don't sweater it, miss fancy pants

As essie fans know, no matter which shade you choose, inside their squared off bottles ($8 each) you'll find a nail polish with the perfect consistency. The formula is not too thin and not too thick, and two coats of color from any bottle in this collection provides great coverage and a nearly opaque finish.
Let's take a look at the new shades!
skirting the issue
For my Emmy Suite manicure I choose skirting the issue described as an "exquisite, fashionable burgundy wine." This deep, rich red is gorgeous on both finger tips and toes and is shaping up to be my go to shade for fall. (This is the one shade that would have benefited from a third coat.)
stylenomics
The collections namesake hue stylenomics is described as a "rich and opulent dark green" and to my eye is more of a blackened teal. In the bottle it looks almost black, but on the nail and in the light, the deep greenish-blue color comes to life. All in all, this polish is a stunner.
recessionista
While described as a "savvy brick red" recessionista is more of a rich berry/plum hue that purple lovers will adore. To me, this deep cool color just screams 'fall' and should carry you deep into winter as well.
head mistress
For those that love a classic red nail, head mistress should move to the top of your list. This bright strawberry red is super glossy and a real eye catcher.
don't sweater it
Cozy up to the season with don't sweater it, a warm plummy taupe. Described as a "creamy mauve" this warm taupe straddles the line between neutral (and office appropriate) and bold (and club worthy).
miss fancy pants
Miss Fancy Pants is described as a "refined, chic greige" and is a great neutral for fall. To me this is the exact shade of grey cement (and I mean that in a good way!) with lots of shine.
we heartsters – what nail shades do you reach for when the temperatures start to dip? Are any of these essie shades on your fall radar?
Disclosure: This review includes products that were provided by the manufacturer/PR firm for our consideration. For more info, or any questions, please see our disclosure policy.