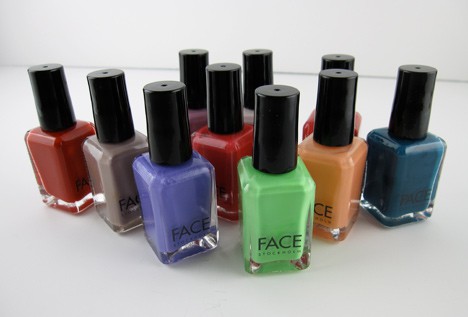 photos: we heart this
The first time I saw the words 'Face Stockholm' was in the mid 1990s on a now-defunct retail beauty website. I remember being intrigued by just the name alone, and when I saw the colors of the products in collection, my intrigue quickly grew into a mild obsession. I have used and loved many Face Stockholm products over the years (their eyeshadows are amazing!), and the wht review team gave a big stamp of approval to their precise eyeliner pencils. Yet, until I delved a bit more into the company for this review of their vibrant Non Toxic Nail Polishes, I never knew the story behind the name.
The founder of Face Stockholm, Gun Nowak, owned "three of the hippest fashion boutiques in Sweden in the 70's and 80's" (what a FUN time in history to own a fashion boutique, right?) and was into "crazy makeup". But Ms. Nowak had a hard time finding makeup in the colorful shades she wanted, so she decided to take matters into her own hands. She opened her first makeup shop in 1980, and then enlisted her daughter Martina Arfwidson (who was in the midst of launching a singing career in New York) for help. This mother-daughter team went on to create a brand that has really made a name for itself when it comes to sleek, modern products in cutting-edge colors.
See! Bright, punchy, fashion forward color – for women, not tweens.
The wht review team received a few of the latest shades from Face Stockholm's expansive Non Toxic Nail Polish, ($12) collection and when I saw the shades I would be testing, 106 (a beautiful, deep, hot pink crème) and 107 (a luscious lavender-purple crème), I was immediately reminded of the bright, vivid, bold shades of popsicles. Maybe it's the sweet tooth in me, or maybe it's because summer is in full swing here in Southern California, but whenever I look at these shades, I want to bite right into a popsicle. What could be better than that?
photo: Recessionista for we heart this
Beyond the sublime shades, these eco and body friendly polishes cost a reasonable $12. A bit more than a drugstore deal, but worth it for the of-the-moment shades and promise that these polishes are Big Three Free (that means they contain no DPT, Tulene or Formaldehyde) – yay! And all Face Stockholm products come in minimal and recycled packaging and are never tested on animals.
My sole complaint? The shades are numerically named without a color description, which can make colors hard to remember (trying to recall if own number 104 already is harder than recalling a name) and after some wear, the numbers are hard to read.
Back to the pluses (and this is a biggie), the formula; both 106 and 107 applied very smoothly and the texture of both crèmes is lovely (not thick and goopy, not too thin or watery). Both polishes required two coats for full opacity and while they did dry to a satin, almost matte finish, your favorite top coat can quickly transform the finish into a glossy one in no time. Ready to see some more shades?
More fab nail polish colors:

A patriotic trio:

I was able to get three days of wear out of both polishes before I saw any chips (and when I say "wear" I mean rough wear, like washing dishes and cleaning the house type of wear). A quality top coat (and better treatment of your hands) will lengthen that time a few more days.
Our review team received a collection of the newest shades of Face Stockholm nail color; so please check back to hear their thoughts on those colors (spoiler: there's a taupe, a blue and a green!). In the meantime, do you own any Face Stockholm products? Do you have any faves from this brand?
Disclosure: This review includes products that were provided by the manufacturer/PR firm for our consideration. For more info, or any questions, please see our disclosure policy.
G is the mastermind behind
Nouveau Cheap
, a blog devoted to finding quality products that don't break the bank.
Latest posts by nouveaucheap