FAB Face Cleanser review
photos: we heart this
I like to think of myself as a pretty tough gal. I can roll with the punches, keep my cool and not let too much bother me. My skin, however, is a different story. While overall I have a pretty good complexion, my skin is very sensitive and will noticeably react to strong or harsh products. Everyday items with their laundry list of chemicals often strip my skin of natural moisture leaving it dry, itchy and splotchy. Yet when I try to use the "gentler" products, I feel like my face doesn't get clean!
How does one combat the endless battle between chemical versus natural, clean versus feeling not so clean? How about a fantastic product called FAB Face Cleanser
($18) by First Aid Beauty? This simple little gem will not only clean your face, but also do it without using any scary ingredients.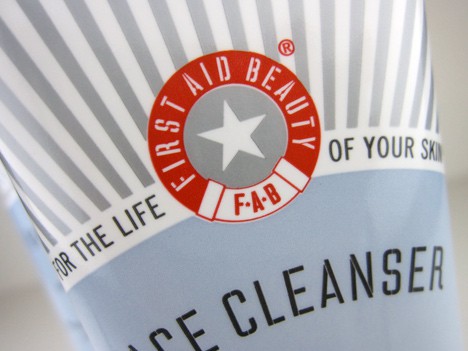 Started in 2009 by Lilli Gordon, First Aid Beauty does just as its name suggests: provides nourishing, healing products that are good for your skin and actually do what they promise. Rich with natural ingredients like allantoin and aloe barbadensis that calm and soothe skin, glycerin to provide moisture and protection, and FAB's own antioxidant booster, a yummy mix of licorice root, feverfew and white tea.
Not convinced yet? Each FAB ingredient is tested by a dermatologist to ensure your skin is getting the best treatment while removing dirt and grime, calming and soothing, all the while maintaining the skin's natural balance.
I have to say that I was very impressed with the FAB Face Cleanser. I immediately noticed the very simple scent. Not medicine-y and not flowery or fruity either; this cleanser just smells…well, clean! It comes in an easy to use flip top tube with appealing, simple graphics.
I used the recommended dose (about a dime size portion) and when I rubbed this airy, whipped, pearly white cleanser onto my dampened skin, it blended easily into a thick, creamy consistency.
A quick rinse and voila! Not only did my skin feel refreshed and clean, but the fact that there are no harsh chemicals meant my skin felt soft and moisturized too. I've been using the cleanser both in the morning and at night and I definitely feel like my skin is more balanced, less splotchy, and generally looking healthier.
Pros:
• Paraben free
• No harsh chemicals or colorants
• Dermatologist recommended
• Allergy tested
• Sensitive skin friendly
Cons:
• $18 for a 5 oz. tube (but you really don't need to use much, so this can last a while)
So, if you're looking for a gentle facial cleanser that actually cleanses while protecting and nourishing your skin, look no further. First Aid Beauty's FAB Face Cleanser is here to make you and your skin feel and look better.
Testers – did FAB cleanser provide complexion rescuing results?
Disclosure: This review includes products that were provided by the manufacturer/PR firm for our consideration. It also may contain an affiliate link, a link that gives us a small commission if you purchase the item. For more info, or any questions, please see our disclosure policy.
Kari is a Minneapolis based artist who drinks too much coffee and enjoys taking pictures of the strange foods she eats. She's always running 10 minutes behind despite her clock being an hour fast.