This post may contain affiliate links, which means I may receive a small commission, at no cost to you, if you make a purchase.
This post has been sponsored by Crest. All opinions are my own.
sponsored post
When fall comes around each year, there are a few things that come to my mind without fail:
• I need a new pair of boots.
• I want a pumpkin spice latte, I don't care if that makes me basic.
• Time for a beauty revamp!
Today we're going to talk about the beauty revamp portion of that list (boots, latte, I'll see you later.) A slick of lipgloss and some blotting papers may be all you need in the summer, but in the fall things get a bit more serious. Concentrate your look on these key beauty elements, and with the help of products that deliver, you'll be ready for fall in no time.
Five Fall Beauty Must Haves
Smooth Skin
Falling temperatures can do a number on your skin. Moisturizing is super important, but if you don't exfoliate, none of that moisture is going to do any good. And, it just so happens that one of my favorite exfoliators also smells like fall in a jar!
June Jacobs Perfect Pumpkin Peeling Enzyme Masque ($65, 4 oz) is a potent pumpkin powerhouse. With a light gel consistency, the masque detoxifies and exfoliates surface skin cells, giving you smoother skin in just one use. In addition to the pumpkin, there's a slew of other vitamin, minerals and extracts that combat the visible signs of aging. I've been a fan of this masque for YEARS, and there's no sign of that changing.
If you're looking for more of a physical exfoliant, look to June Jacobs Perfect Pumpkin Enzyme Polish ($58, 3.8oz). Added to the pumpkin is crushed bamboo and jojoba micro beads, making it a creamy scrub that you can use on your face or body with the same intoxicating pumpkin scent.
bottom to top: June Jacobs Perfect Pumpkin Peeling Enzyme Masque and Polish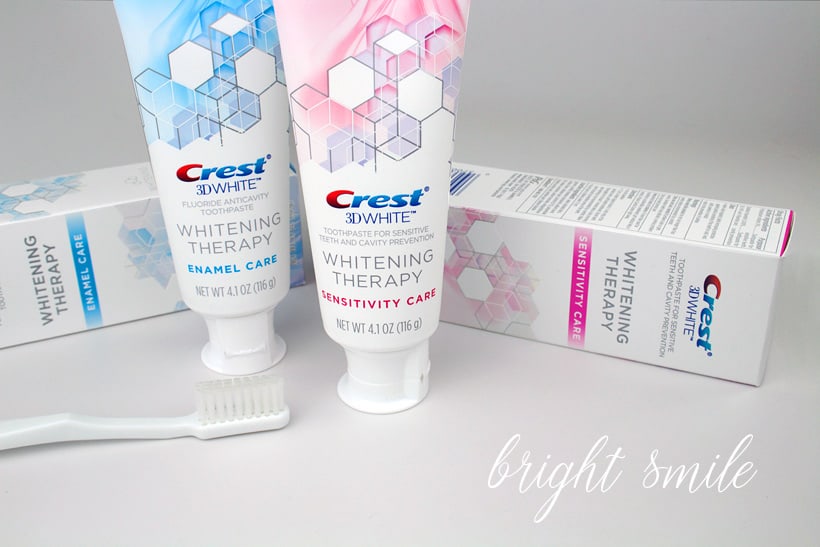 Bright Smile
Shades get bold in the fall, but nothing can dull them quicker than a drab smile. Crest 3D White to the rescue! Specifically, the two new toothpastes in the Whitening Therapy Collection: Crest 3D White Whitening Therapy Enamel Care and Crest 3D White Whitening Therapy Sensitivity Care ($6.99 each).
There's double and triple duty happening with these. Both immediately begin to whiten teeth, but they also nourish teeth to help strengthen enamel. Sensitivity Care has the added bonus of potassium nitrate which helps soothe sensitivity pain. Because that's a growing issue for me, that's the paste I've been using for the last week.
I was instantly impressed with this toothpaste. My teeth looked brighter after just one use. That's right, ONE. After three uses, even my friends noticed. But equally impressive was the lack of pain. Even people who don't have sensitivity issues can feel a bit sensitive when using a whitening product. That didn't happen with Crest 3D White Whitening Therapy Sensitivity Care; no pain, no pangs, just whiter teeth that are totally ready for any shade fall throws at them.
Soft Lips
Lips need a bit of TLC in preparation for fall. Exfoliation and moisture is key (they're skin too, after all.) I'm loving the upcoming Sara Happ Perfect Pout in a Box ($58). Hitting shelves 10/15, the aptly named release gives you three pots that are key to lip happiness.
Exfoliate them with The Lip Scrub in a new limited edition flavor that is very fall: caramel latte. Pamper them with the creamy Sweet Clay Lip Mask. Then top them with a ton of moisture via The Lip Slip.
Bold Lips
Smooth skin, bright smile, soft lips; those are the building blocks for your fall color. Your bold, rich fall color. And, it doesn't get much more bold and rich than Tom Ford lipstick. I love Ben, a warm, deep brown-based brick red with a creamy matte finish. It's from the Boys and Girls collection, in the "miniature clutch size" (i.e. a tiny lipstick you'll pay $36 for and won't care one bit.)
Strong Brows
The perfect match for bold lips is strong brows. And there's a trio of new products from IT Cosmetics that will make that easy (all $24). Brow Power Powder comes in the same universal taupe shade as their famous pencil in a formula that builds volume and never looks phony or flat. Apply it with the Heavenly Luxe Brow Power Universal Transformer Brush #21, a thin slanted brush on one side and a spoolie on the other. Then set it with Brow Power Pomade, a clear waterproof gel applied from a tiny brush that coats every lash.
Tom Ford Ben lipstick and IT Cosmetics Brow Power Powder
Fresh face, bright smile, bold color, ready for fall!
we heartsters – what products are you loving for fall? And which of my picks do you need?