This post may contain affiliate links, which means I may receive a small commission, at no cost to you, if you make a purchase.
Get them this weekend for 20% off with the Sephora Rouge Holiday Bonus Coupon!
It's official: I have gone palette crazy. I now own more eye shadow palettes than I have room for in my vanity and vanity adjacent (the storage stack next to my vanity that I set up when I officially went lip gloss crazy). But is this fact going to prevent me from buying more? I think we all know the answer to that.
Especially when there are so many epic ones on the market right now! So without further ado, here are the 5 luxury eye shadow palettes that this beauty-junkie thinks you need…
Natasha Denona Gold Eyeshadow palette – $129
My internal convo with myself over the Natasha Denona Gold Eyeshadow limited edition palette went like this…
Oh. Wow. That's really pretty. Hmm, like, SUPER pretty. But I really don't need another palette. And that's way too much money. I think I can skip this one.
*Spends 5 minutes imagining life without this palette in it.*
You know, you've had a really tough couple of weeks. You kind of deserve this palette, if you think about it…
And so, this beauty is now mine.
Natasha Denona eye shadows are the upper echelon of formulas. They are insanely good. Pigment and color pay off that you can't even believe. And that's true no matter the type; matte, metallic, sparkling, duo-chrome; all amazing. You'll find all those in the Gold palette, 15 of them in hues of golds and browns, with a couple of dashes of green to up the lux.
I don't regret this purchase for one second. And I was totally right; it DID make my life better.
If you just can't with that price, the Natasha Denona Mini Star Eyeshadow Palette is only $25. It's a good primer into the brand.
BUY IT HERE: Sephora or Beautylish
Pat McGrath Labs Mothership V Eyeshadow Palette, Bronze Seduction – $125
We're going to roll straight into another heavy hitter with the Pat McGrath Labs Mothership V Eyeshadow Palette; Bronze Seduction. Like Natasha Denona's, a Pat McGrath shadow is a thing of utter beauty. Literally buttery to apply with shocking color in one swipe. I still gasp when I put them on! I may swear too.
Where I think Pat McGrath palettes gain the upper hand is in the packaging. Shiny and black, with gold accents and a beveled mirror; they are the epitome of high-end. (The photo at the top of this post is the her earlier Decadence palette, check out that mirror!) Even the boxes are gorgeous; with opulent imagery and a button and string closure. They're boxes too pretty to through away.
The metallics in Bronze Seduction are stunning; champagne, rose gold, glittery bronze and a molten red (among others), with a few deep matte browns and an divine aubergine for leverage. There are 10 shadows in all.
Worth noting: this same palette is being sold by The Met (yes, as in The Metropolitan Museum of Art!) It's the first beauty brand they've ever featured. So, THAT'S how good it is…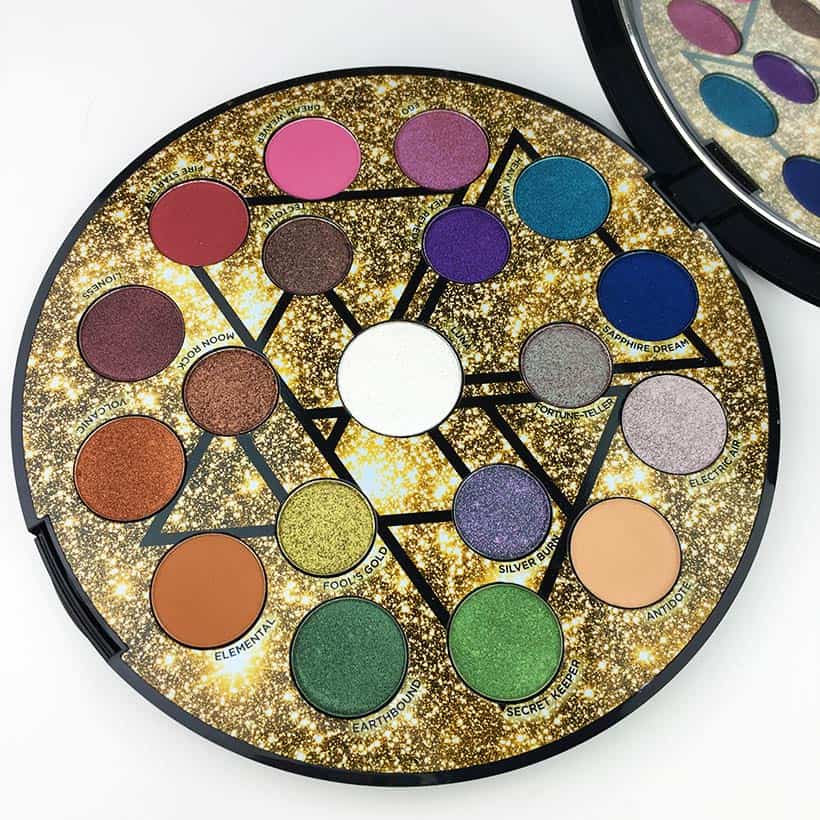 Urban Decay Elements Eyeshadow Palette -$52
Urban Decay's most luxurious 2018 release hold its own next to the upper high-end names on this list. And at a MUCH more affordable price.
The limited edition Elements Eyeshadow Palette has 19 shadows in it inspired by the elements: air, earth, fire, and water. All new, too. And as you'd expect with a celestial-based palette; they're all heavy on the twinkle scale.
Its packaging has some perks and one quirk. The perks are obvious. I mean, look at it. It's divinely beautiful. The glittery UD on the front is inset, like you're peering into a glitter-tomb (FYI, my burial plans), and it's set upon a prism-like background. The extra-large mirror that covers the interior is perfection. I love seeing my whole face when I apply shadow.
The quirk comes with its shape; circles are not very user friendly. They take up a lot of space and they're impossible to stand or lean (if that's how you display your palettes). That's not a deal-breaker for me, but it's worth mentioning.
But the circle also lends itself to the feature I really love about this palette; the layout. The shades within each element flow into each other. So, if you're someone who often wonders how to get different colors to work together, they've made it easy for you. The bright blues in water, lead to the fiery pinks, which flow into the bronzes of earth, and round back into the lush gold and green in air.
The Urban Decay Elements palette is as everything should be; one big beautiful harmony…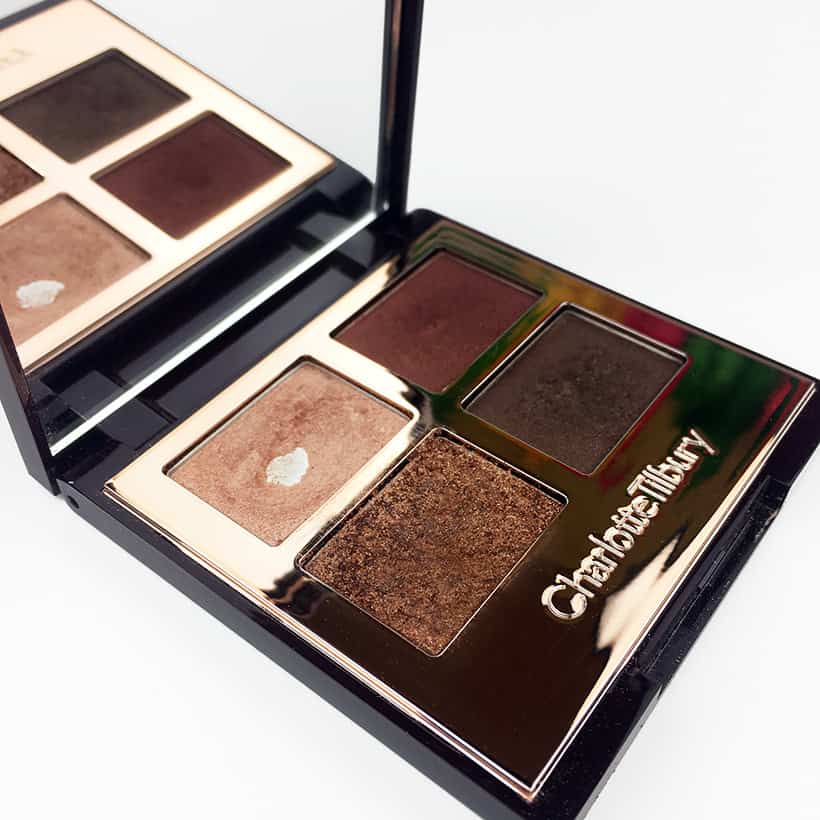 Charlotte Tilbury Luxury Eyeshadow Palette in Dolce Vita – $53
The smallest palette on this list; weighing in with just four shadows. But I'll tell you what, in my near reaching 100 palette collection, this one gets worn EVERY week. (That's my well loved Dolce Vita above.)
Dolce Vita is the very first Charlotte Tilbury product I ever bought. And what made me a bone fide fanatic for the brand. I don't know how she does it (talent, I suppose) but she really gets what women want. Wearable, pretty shades that you'd never EVER think of calling basic.
And if you've never tried a Tilbury Pop eye shadow shade before (that's the uber-glittery one in all the Luxury palettes) you really should. There's like a suspension of glitter in a bouncy base that stay exactly where you put them with zero fallout.
photo: Beautylish
Viseart Libertine Eyeshadow Palette – $49
Have you ever seen a palette more regal than this? It's like a monarchy was melted into palette form! I will admit, I do not have this palette, nor have a swatched it. But would you look at what Temptalia crafted with it? I'm DYING.
If you read that review that accompanies the gorg look, you'll see it takes a bit of work. A few of the shades are meant to be worn wet, as liners. So you're not going to get buttery texture in the whole palette. But I think we can agree; it looks very worth it.
Plus I can attest as I own the Viseart Paris Nude palette; this is a quality line without a doubt.
BUY IT HERE: Sephora or Beautylish
SEPHORA COUPON DETAILS: Shopping at Sephora? Get all these beauties for 20% off from Friday, November 2 through Monday, November 5 with code: ROUGEBONUS. CLICK HERE TO SHOP.
we heartsters, which luxury platte will you be picking up? Share in the comments below!