This post may contain affiliate links, which means I may receive a small commission, at no cost to you, if you make a purchase.
Hourglass Immaculate Liquid Powder Foundation review
photo: we heart this
Shh…I've got a makeup junkie's secret to share, I've never liked foundation. The combo of feeling heavy, then virtually slipping off my oily skin made me abandon it years ago with the advent of tinted moisturizers. Lucky for me, that same oily (Italian) skin that I curse most times has actually blessed me with pretty nice skin. Still, I do get pangs for full coverage.
Meet the product that can send the pangs packing: Hourglass Immaculate Liquid Powder Foundation
.
This little miracle in a sleek bottle takes care of a whole bunch of my needs with just one pump. First of all, it's oil free so I don't have to worry about adding anything to my existing slick. But not only is it free of oil, it actually absorbs it and leaves behind a matte finish. Pretty impressive right? Oh, honey – it's just getting started!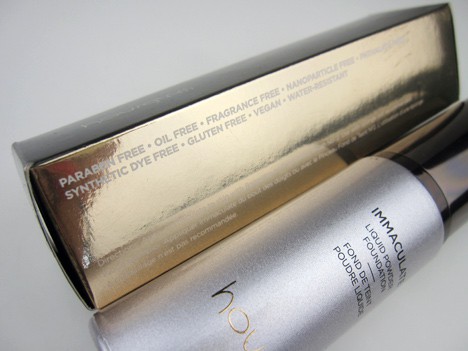 Call this the little foundation that could, because it's also anti aging. It has "clinical levels" of two of nature's wrinkle busters. Phytostem Edelweiss comes from a Himalayan plant and is said to slow collagen loss and reduce wrinkle depth by 15% after 20 days of use. And Lavandox, an ingredient extracted from Spanish lavender, that not only reduces the appearance of wrinkles by 11% after 24 hours of application, it inhibits muscle contractions that lead directly to fine lines and wrinkles (nature's botox maybe?)
Finally, there's the coverage. Immaculate Foundation has a liquid to powder finish. It glides on with the light as air feel of a primer. Then, dries quickly to a velvety, matte finish (rather quickly actually, so either work in sections or very fast). What you're left with is full coverage that doesn't feel like it at all. AND, it eliminates the need for powder. So it's a multi-tasker too. A good one at that, I get through a work day without a touch up or even a pat of powder!
shown in Shell
On the con side: there are only eight shades, so some might find trouble matching. It's also $55, which is an ouch of a purchase. But if you have a oily or blemish-prone complexion Hourglass Immaculate Liquid Powder Foundation
may just make you say hallelujah!
we heartsters, have you tried this? Share your thoughts! Or, let us know what Hourglass product you think is miraculous…
Disclosure: This review includes products that were provided by the manufacturer/PR firm for our consideration. It also may contain an affiliate link, a link that gives us a small commission if you purchase the item. For more info, or any questions, please see our disclosure policy.