This post may contain affiliate links, which means I may receive a small commission, at no cost to you, if you make a purchase.
photos: we heart this
Don't they look scrumptuous? Milani has added three shades of baked eyeshadow to their collection. Each beautifully and perfectly domed shadow has been sun-dried onto Italian terracotta tiles, allowing them to be used wet or dry.
Used dry, baked shadows give a sheer wash of shimmery color, and used wet, the pigmentation and shine are intensified. This versatility has made baked shadows very popular, in addition to the fact that they're quite pretty to look at!
I was lucky enough to sample the following Marbleized Baked Eyeshadow, which features multiple infusions of colors swirled together ($7.49):
Must Have Fuschia – bright metallic fuchsia
Copper Excess – shimmery warm peachy copper
Green Fortune – marbleized copper, green, teal, and purple that mixes to become a shimmery golden green
Must Have Fuchsia is BOLD, and therefore a little hard to wear. I used it as an all over lid color and threw on some black liner and it was too intense, even for going out. Used in a thin stripe on the upper lashline looked a little better, but honestly, I felt that this color worked best as a blush! It would be a very difficult color for those with fair skin to wear.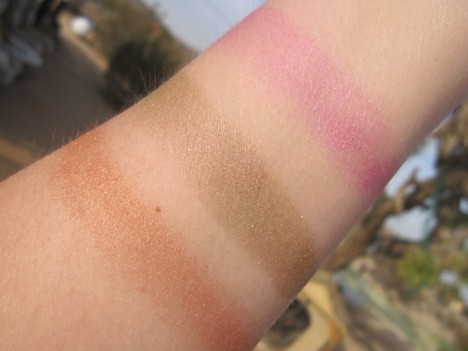 Left to right: Copper Excess, Green Fortune and Must Have Fuschia
Copper Excess is quite warm-toned, and the texture of this one is my favorite of the three–it's softer and goes on more smoothly, even when used dry. The color may be too warm for some, but it could also double as a blush.
Green Fortune is a lovely yellowy-green shade, but I found it the most difficult to work with of the shades. The texture was harder, and didn't seem as pigmented, especially when used dry.
On the traditional shadow side, there's the Runway Eyes Eyeshadow collection, which features satin-finish eyeshadows with a glitter overspray ($6.99). This thin layer of glitter is meant to temporarily add sparkle, since it doesn't go all the way through the product. The three new colors in this collection are:
Golden Touch – gold satin champagne pearl with gold/iridescent glitter overspray
Peaches & Cream – satin peachy pink with silver/iridescent glitter overspray
Antigua – antique golden taupe with gold glitter overspray
(don't fear the glitter, the majority of the overspray comes off with the first swipe)
left to right: Antigua, Peaches & Cream and Golden Touch
Antigua is great as an all over lid color, good for the office (minus the glitter). Golden Touch and Peaches & Cream are gorgeous as highlight shades, or even all over lid color.
There is a LOT of glitter fall-out for all of the shades even when used wet, although it's reduced as the overspray layer is worn off. The texture on all of these is incredibly silky, and they work equally well wet or dry.
Antigua shown wet and dry
Pros:
• Versatile
• Inexpensive
• Several nice shades, some even comparable to higher end brands of shadow
Cons:
• Staying power was short, even with primer
• Quality varied from color to color
I'd say these shadows are a great inexpensive way to try some fun shades that you might not wear that often, like fuchsia. Plus, the Marbleized Baked Eyeshadow are a good chance to try baked shadows without spending a lot of money. You definitely get a good feel for this type of shadow in terms of texture and application.
we heartsters – are you ready to turn up the heat with Milani's latest shades?
Marilyn is a makeup maniac and slow but stubborn runner. She loves color coding her day planner, reading celebrity gossip and drinking good wine. Marilyn blogs about makeup and fitness over at her blog, Lipgloss and Spandex.
Disclosure: This review includes products that were provided by the manufacturer/PR firm for our consideration. For more info, or any questions, please see our disclosure policy.
Latest posts by lipglossandspandex
(see all)