This post may contain affiliate links, which means I may receive a small commission, at no cost to you, if you make a purchase.
As part of my whirlwind trip on behalf of Clariol and Natural Instincts to the opening of Giada De Laurentiis' new restaurant in Las Vegas, I was able to interview the star and talk décor, food and beauty.
But first, 3 things you should know…
Giada is even more beautiful in person.
She held my eye contact the ENTIRE time we spoke.
I've been lucky to visit quite a few celebrity chef restaurants. And I must say, Giada Las Vegas is easily among my favorites.
Touching on that first point, isn't the Natural Instinct hue that her stylist chose pretty on her? It's Amber Shimmer, a light golden brown. It's so pretty that this blonde right here is thinking about giving it a go! And since it's non-permanent (it washes out in about 28 shampoos) and actually contains ingredients that are good for your hair (like aloe, vitamin E and coconut oil), why shouldn't I?
Ok, on to the interview…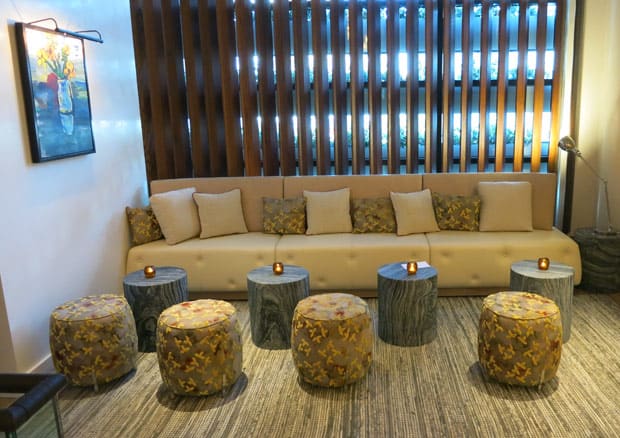 Before I even sat down with her, Amber from Beauty Junkies Unite and I were ogling her ring, a beautiful rose gold and diamond stunner. Turns out, rose gold was a design element she knew she wanted to incorporate in the restaurant. She told us how much she loves the rosy tone and when she relayed that love to her design team they asked "You want the restaurant to be pink?"
Giada told us she explained "No, not pink, but I want accents of it that speak to that glamorous time that I feel Vegas is coming back to…Sinatra, old school Hollywood. Also, I feel like it's a color that makes everyone look pretty and feel really pretty." I continued with more décor talk…
we heart this: I read somewhere that a lot of the décor in the restaurant is based on your style. Is it like your house?
Giada: I would say the design of the hotel is very much like my house; quite comfortable, modern, warm and inviting but not too rustic. All the fabrics we used were Missioni inspired. (I literally cooed.) I wanted prints, but nothing too overwhelming. There are so many things to keep in mind with a restaurant. At home, I have a lot of neutral colors, a lot of creams and warm colors, but then pops of red and yellow. But in a restaurant you can't have tons of light colors, because hopefully a lot of people will come through! I think we did a really job of mixing patterns and warmth of wood, with the rose gold accents.
All the artwork is by the same artists I have at my house. Darren Quinn has done pieces for my show and is a friend of my husbands for over 20 years. There are also paintings by Aldo Luongo, whose daughter I've been best friends with since I was a young girl. Then there are three graphic design, Warhol-esque inspired pieces of myself, my grandfather and my grandmother, and those were done by my cousin. I wanted this to truly be an extension of my home and I felt the only way to do that would be to include things you'd find there. So people would feel like they were coming over for dinner.
Giada then becomes my new BFF because she tells me she likes my dress. I thank her and told her it was very important to me to find a dress that stretched, because I was very excited to eat that night! "I had to think about that too. I didn't want anything that I was going to have to suck it in all night!" she told me.
wht: That brings me to one of the things I wanted to ask you, how do you stay thin around all this food?
Giada: Small amounts of food is the key. In fact, the lights in the dining room say "Eat a little bit of everything and not a lot of anything." At the end of the day, that's what it is. I taste food all day long. But you just can't eat too much.
lights with words to live by
wht: I have to thank you because you are the creator of my go-to "company's coming" meal, Straccoto. (I butcher the pronunciation of the Italian Pot Roast with Porcini mushrooms.)
Giada: Oh yeah, Straccoto! (She says so much prettier than I.)
wht: So, what's your go-to meal?
Giada: I love my Lemon Spaghetti. It's super fast. You can add any protein to it, it can sit at room temperature and literally it's something I can make at the last minute. It's so bright and flavorful, it's one of my favorite go-to's.
wht: What are your favorite dishes at the restaurant?
G; Well, I have my lemon spaghetti. (I believe I squealed in delight.) I also love my Pea Pesto Tortellini. And my antipasto bar is one of my favorites. I love to be able to see all the colors in my food. And I think when people walk in the door and see all the food, and smell the aromas of the food, it's so visual, it connects them to the food and connects them to me.
That's what I wanted. There's so many wonderful restaurants on the Strip, somehow I had to find a way to stand out, to make it my own and make it different. I wanted people to walk in and say "oh yeah, I know exactly where I am."
the antipasto bar
wht: Ok I'm a beauty blogger, so I have to get some beauty questions in here. If I were to look in your purse right now, what beauty products would I always find in there?
G: Lipstick (she says in a heartbeat.) Always. Some color, some version of lipstick.
wht: Are you a nude girl?
G: I am not a nude girl.
wht: You're not? You look pretty in the peachy nude you have on now…
G: Well, I do have a light shade on now because I have so much eye makeup on! In my regular life I don't wear so much eye makeup so I like to make my lips a little bit more vibrant.
wht: What else is in your purse?
Giada: I always have a small Evian Water Spray because I travel a lot and that helps to keep me hydrated. Aveda cream. Almonds, because I never know how long I'm going to go until I eat again. Perfume. And a bit of bronzer just to give myself a bit of color.
wht: You have great skin, what kind of skincare do you use?
G: I use Janet Sartin, which is a line my grandmother used to use. But my key is that I exfoliate every single day.
wht: Well, I could sit and talk to you all night, but I know you have a lot of people to speak to…
Giada: Thanks for coming! I hope you enjoy the food!
And oh, did I…
Stef is many things. Amongst them: co-editor of we heart this, photographer, condiment connoisseur, Philly girl in the California desert, borderline hoarder and a hardcore beauty junkie.
skin tone: NC 25/30
skin type: oily with a fear of rosacea
favorite beauty product: high end skincare and lip products