This post may contain affiliate links, which means I may receive a small commission, at no cost to you, if you make a purchase.
If you're looking for a way to add a little festive sparkle to your nails, choosing to wear nails with glitter ombré is a fantastic option.
This type of nail design features a really unique and pretty look that adds fun and shimmer to your hands, making them glow!
If this sounds like your cup of tea, we've compiled 46 styles featuring fabulous and lovely sparkly ombré nails that you can choose from.
Wearing gradient nails with glitter is truly fashionable this year, so why not have fun with your appearance and add a bit of pizzazz to your everyday look?
What Are Glitter Ombré Nails?
First, let's look at what ombré nails are.
ombré nails are a type of style or design on your nails where a gradient of colors is created by having a shade of color from one side gradually blend with another color from the other side.
The result is a seamless, dreamy look that looks more varied and playful than wearing just one color for all your nails.
Glitter ombré nails take that look and elevate it to the next level by adding a glittery overlay on top of your colored nails, though not enough to cover the entirety of it.
You can choose what type and color of glitter to sprinkle on your nails, so it's up to you whether you want glitters that complement your ombré nails or use glitters with colors that clash dramatically with them for an even funkier look.
Your nails, your choice!
What Makes Glitter Ombré Nails Pretty Unique?
With so many nail designs out there, what is it about glitter ombré nails that can make them stand out from the rest?
First, they add a dash of sparkle to your everyday look. Even if you wear plain-colored clothes, having shimmery nails will bring a bit of cheer and lightheartedness to your appearance.
Second, it elevates the look of your nails. Adding a glittery overlay to your ombré nails will always look stylish and chic, no matter the occasion.
Lastly, they just look so fun! Wearing glittery nails adds a sprinkle of joy to your beauty routines while also paying homage to the inner child in all of us who greatly enjoy all things sparkly.
46 Glamorous Glitter Ombré Nails To Enjoy
Sparkly, swoon-worthy, and scintillating, these 46 looks, all classified according to nail shape, are our favorite designs for glitter ombré nails.
Boring nails just scream sad and old-fashioned. Here, we're all about fun and youthful excitement!
Almond-Shaped Glitter Ombré Nails
1. Gray Almond Glitter Ombré Accent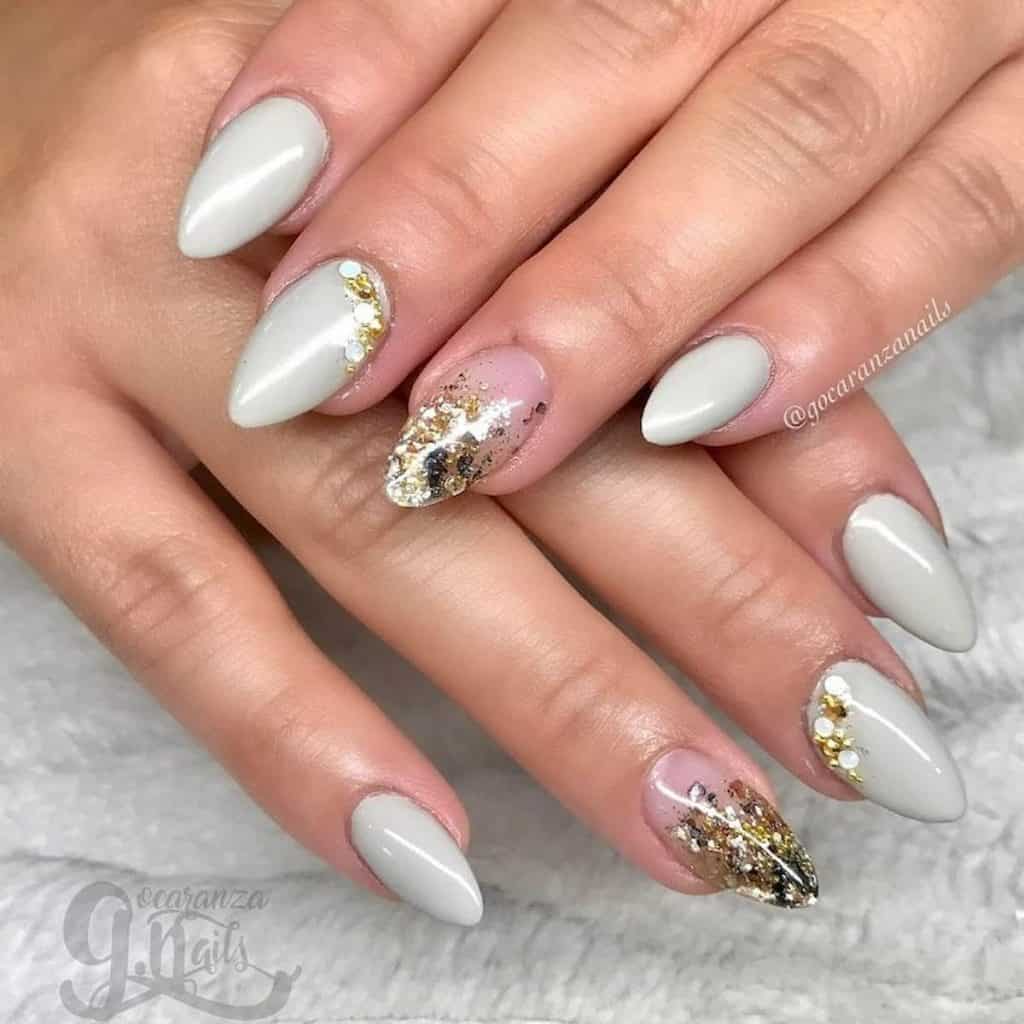 This look showcases just one nail with glitter ombré, one with glitters, and the rest with simple gray nail polish. The plain gray makes the nails with glitter ombré stand out!
2. Glitter French Ombré Nails
With the little finger covered in glitter, the ring finger in glitter ombré, and the rest in French ombré, this look dramatically transitions from romantic to fun — all with just your nails!
3. White on Black Glitter Tip Ombré Nails
Bold and dramatic, the combination of black nail polish with silver glitter at the tips makes it seem like the hands have just been dipped in sugar! Now that's a sweet treat.
4. Holographic Shimmer Ombré Nails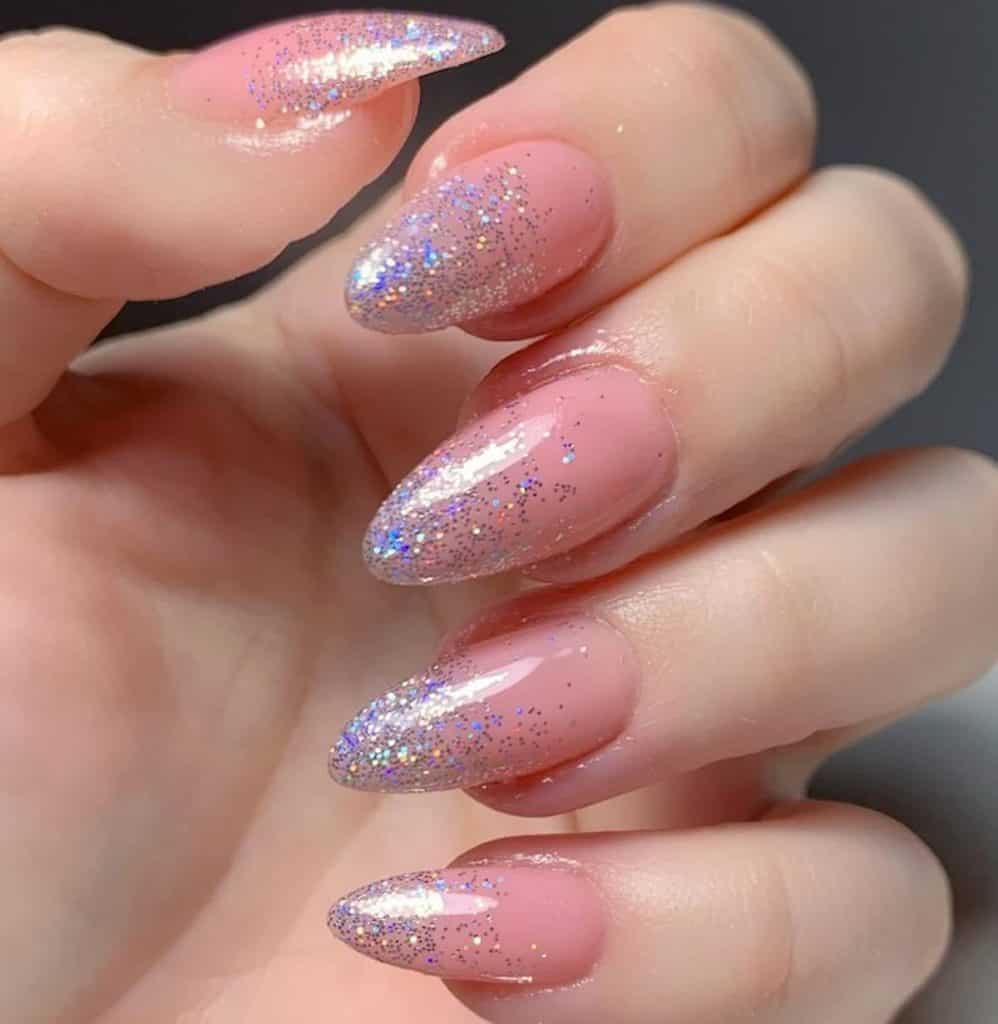 The lovely shade of baby pink just blends really well with the bold colors of blue, silver, and gold flecks in holographic glitter. This really calls to mind fairy tales and princesses!
5. Dark Sparkle Ombré Nails
The abundance of dark-colored glitters against pale pink nails makes it look more striking, even theatrical, considering the contrast of colors.
6. Silver Ombré Sparkle Nails
Combining neutral glossy polish and silver glitters makes this look magical. The addition of black midnight stars, however, really just elevates the look to a whole new height.
7. Flawless Half 'n' Half
Beige-colored nails may look plain to some. Well, the addition of silvery-blue glitter ombré nails makes the combination look anything but!
8. Rocky Silver Glitter Ombré
Definitely not for the faint of heart. The silver rhinestones really make this nude and silver ombré three-dimensional and bold.
9. Glitter Ombré Nails Almond
Pinkish-white nails with silver glitters in various styles really do make this design sparkle. It's very clean-looking too, which is perfect for those who don't want a style that's too loud.
10. Multicolor Glitter Ombré Nails
If you're up for experimenting with your nails, you may want to do it by wearing different styles per finger — they can really make anyone do a double-take! Try soft white and rosy polish, rose gold glitter, black accent lines, and rhinestones!
11. Verdant Glitter Green Ombré
A very rich, lovely look for those who want to wear their favorite colors on their nails. The variation of glitter designs per finger makes it look more creative too!
12. Pinks and Gold Dip Glitter Ombré
Accenting the tips of your pale peach-pink fingernails with gold glitter really makes this look effortlessly luxurious. It's like you dipped your hands in jars filled with gold!
13. Dots and Lines
The golden lines across the ring fingernails really make this nude-polish-and-blue-glitter look striking and unique from other glitter ombré nails. Definitely a good style to try.
14. Clear Glitter Ombré Nails
This look is a stylish, clean variation of most glitter ombré nails. Wearing clear, neutral colors makes white and pale blue glitters pop out.
15. Gold and Stars Glitter Ombré Nails
We love just how the addition of stars per nude-colored nail makes the design very fun and playful — perfect for teens to wear. But even older ladies can rock it!
16. Hot Pink Glitter Ombré Nails
The addition of strikingly rich hot pink glitter over silvers and a neutral base just turns it into the glamorous highlight of the design. It's definitely pretty!
Coffin-Shaped Glitter Ombré Nails
17. Silver Glitter Coffins
Coffin nails are dramatic enough on their own. But for the contrasting effect, the innocent-looking pinks and silver glitters really temper this design.
Oval-Shaped Glitter Ombré Nails
18. White Hearts and Blue Souls Glitter Ombré
We adore the white hearts that adorn these otherwise blue-and-bare ombré nails. They definitely add a playful punch to an already classic look!
19. Gold Flecks Glitter Ombré
Chunky glitter ombré on nude nails looks fantastic when you're going out for a candlelit, romantic dinner with your partner. Or hey, even on a night out with friends!
20. Starry, Starry Night
We can't say enough good things about this look! It's eye-catching in a very subdued way, and the addition of big white stars against gold glitter on nude nails makes the nails seem twinkling.
21. Cherry Red and Gold Glitter
A generous sprinkle of gold glitter on these cherry red nails makes you look more effortlessly dramatic and bold. Definitely a powerful design choice.
22. Soft Pink and Cherry Red Glitter Ombré
To counter the earlier look, here we have cherry red glitters on the tip of soft-pink-colored nails. The combination just screams flair and drama!
23. Fuchsia and Reds Glitter Ombré
Wearing three designs just looks very interesting, doesn't it? Adding fuchsia glitter on nude nails makes these glitter ombré nails pop out from the plain reds.
24. Holographic Stars and Rose Gold Glitter Ombré
Instead of drawing the stars, using holographic glitter with stars in them is definitely an option to pursue. Use rose gold glitter on pale pink glossy polish, and the result is no less stunning!
25. Sky Blue Tipped Glitter Ombré
A bold choice of sky blue over pale nails makes this look even more unique and one-of-a-kind. You can also try it on different colors of your choice!
26. Slate Blue and Silver Glitter Nails
Choosing a solid color like slate blue gives your nails a professional appearance. However, adding an ombré of silver glitter makes others see you're more than just business matters!
27. Bloody Reds with Blue and Silver Glitter Ombré
Blood red is often a color chosen by mature people. The unexpectedness of silver and blue sparkles on it, however, makes the look anything but dated.
28. Pink and Purple Princess Glitter Ombré
The pink and purple hues of the glitter over pale pink nails scream pretty princesses and porcelain dolls to us. Definitely has that dreamy look!
Round-Shaped Glitter Ombré Nails
29. Boldly Gold Round Glitter Ombré
This design proves that you can wear your gold glitters in any way you want, whether covering all the nails or half of them. They still look flawless, however.
30. Glitter Ombré Nails Short
Baby blues and pinks are a tried and tested combination. Wearing them both on your nails in a glitter ombré will make them look visually stunning.
Square-Shaped Glitter Ombré Nails
31. Nude and Silver Squares Glitter Ombré
A classic combination that will never go out of style. The silver highlights the fingertips to give them a more classy, sophisticated edge!
32. Golden Glitter Ombré on Nude
A combination of looks that still end up looking glamorous and fun on your hands. The varying amounts of glitter and white star nail art on middle fingernails will make your nails shine!
33. Aquamarine Glitter Ombré
This mix of pink and blues is always a great, playful design. We don't know about you, but these shades remind of beautiful mermaids!
34. Sparkly Side Glitter Ombré
This pretty style looks amazing. The dazzling holographic glitters on the side of taupe nails will make them sparkle like crazy, especially under the light!
35. Ocean Greens and Pale Blue
The pale blue-colored nail sprinkled generously with holographic glitters is a shocking break from the bold colors of solid ocean green nails. A great choice for those who want to leave an impression.
36. Gradient Blues and Lavenders
Why choose just one color of nails when you can have more? The addition of glitters on blue and lavender makes them look like each nail differs from the rest!
37. Pink Squares with Pink Flair
The generous dusting of darker pink on light pink nails makes this manicure look very layered. The glitters also give the nails some texture and pizzazz, which is hard to emulate without them.
Squoval-Shaped Glitter Ombré Nails
38. Gold Glitter Ombré on Nude
We love how subdued and elegant this looks. The addition of gold glitter on nude square nails really makes the hands sparkle and shimmer.
39. Holographic Glitter Ombré Nails Long
We're obsessed with just how gorgeous holographic glitter ombrés look on long nails! So much of the soft pink nails is covered with glitter, yet there's also enough space to admire the rest of the polish.
40. Romantic Pinks
Look at just how that white heart draws the eyes to these glitter ombré nails! It's definitely a fantastic focal point to an already lovely pink-on-pink ensemble.
41. Snowflakes Glitter Ombré
Glitters alone is festive enough. But add a Christmas-flavored theme to your nails like snowflakes, and this glitter ombré set will make even St. Nicolas jollier than usual!
42. Shiny Happy Stars Ombré Glitter Nail Art
Now, this is a work of art. The various ways this manicure incorporated a splash of gloss, glitter, and white nail art on each nude-colored nail definitely has us hooked!
43. Sparkly Fairy Glitter Ombré
Just look how dazzling this style is! Its various shades of blue glitter on pink polish really call to mind fairy dust, godmothers, and even Cinderella before the strike of midnight!
44. Pure White Shimmer
White on white shouldn't work this exceptionally well. But the white sugary glitter and the cool-toned chunky glitter really give white polish a more multidimensional look!
45. Snowflakes in March Glitter Ombré
This snowflake rendition truly makes purple glitter on nude polish look unique. Who cares if it's no longer winter?
46. Midnight Sun Glitter Ombré
This ombré transition from dark and sparkly to pale and neutral is simply stunning. This would look chic and dramatic on anyone!
Frequently Asked Questions
How Long Does Glitter Ombré Last On Your Nails?
Similar to other ombré styles, glitter ombré nails and how long they will last on you will depend on the type of nail polish you use.
Acrylic nail polish may give you three to four weeks' worth of wear. Gel nail polish will last about two to three weeks. Regular nail polish may look fantastic for about a week or two.
Can You Do Glitter Ombré Nails At Home?
There's nothing wrong with attempting to do glitter ombré nails on your own! It's a cheaper alternative than going to the salon every time you want something sparkly and shimmery with your nails.
You can check out this video to see just how to do ombré nails with loose glitters for beginners:
How Do You Make Glitter Nails Look Good?
You might think it's easy to mess up achieving good glitter nails. You're not alone. The process can be frustrating even to the most experienced of us!
This is a good video to check out for a few tips and tricks on how to rock glitter nail polish:
Glitter Ombré Nails for a More Glamorous You
Who says you can't show just how fun and festive you are with your nails alone? Glitter ombré nails are the perfect way to show your more lighthearted side to the world.
The styles we compiled for you range from clean and simple to bold and dramatic, all of which you can effortlessly rock anytime, anywhere.
The designs you choose to wear will ultimately depend on how vast your imagination is, especially if you decide to learn and do glitter ombré nails at home.
Glitter ombré nails are definite proof that anyone can glam themselves up — with the help of a more glamorous nail style!
Want more fabulous nails?
Check these out: