This post may contain affiliate links, which means I may receive a small commission, at no cost to you, if you make a purchase.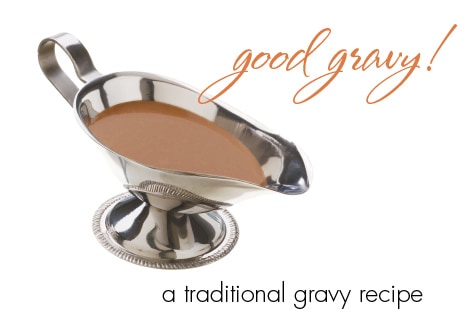 We've really covered Thanksgiving here at wht! From How to Brine a Turkey Gravy and to-die for stuffing, to more sides than can fit on your plate! But the one thing we've never covered is gravy. Personally, it's always scared me. I have visions of lumpy, tasteless paste and I've always skipped it. Not this year! Christy assures me (and you) that you CAN make gravy ~Stef
Gravy….few things are better, especially when it comes to smothering your turkey and stuffing! 'Tis the season, so I thought I would share a gravy recipe passed on to me from my Mother. Her Gravy is so good you want to put a straw in the gravyboat. Growing up my Dad would always compare it to his Mother's, who he said was the master of Gravy. I don't remember the exact date but I can tell you this, my Father said my Mom had taken over the title and I can proudly report there is a new Gravy Master…my Mom!
Here is how-to make amazing gravy, every time…
1. Once you've roasted the bird, remove it from the pan, plus any potatoes or veggies, and let them rest or cover with foil. You'll be left with brown bits of heaven and liquid. If it's more than several teaspoons of liquid, I usually dump some out, because you'll be adding more.
2. In a large bowl prepare your gravy mix. Roughly 2-4 cups stock, depending on how many people will be eating, a 1/4 cup white wine, one tablespoon spice mix* and if you have it; a dash of Kitchen Bouquet for color. Worchester sauce works too, but just a splash.
3. Put the roasting pan on your burner and turn on the heat. (If you'd like to add even more levels of flavor, before adding your gravy mix simply add a pad of butter, a splash of olive oil or a couple of sautéed garlic cloves or shallots to the pan.) Add the Gravy mix and bring to a boil, all the while scrapping off the bits of bird and goodness on the bottom of the pan with a spatula or wooden spoon. Once it boils, keep tasting, and add your desired salt and pepper to taste. Pour into a gravy boat and voila, you have gravy! It's that simple.
4. If you want thicker gravy, have a mix of flour and water handy. Add roughly 1/4 cup flour to a coffee mug, and add water in small batches until it's almost full – stirring with a fork as you go. Make sure it's thick, but not so thick it's like a paste. Mix well to avoid lumps! You can also pour the flour through a small strainer- forcing it through by swirling a fork in it. Once your mix comes to a boil, add in the flour and water, (roughly 1/8 of a cup at a time) until it gets to the desired thickness.
* We sell a "Mom's Gravy" spice mix by the ounce in store at the Spice Station (and soon to be added online). I promised not to give away the whole secret recipe but you can make your own version by mixing equal parts of parsley, thyme, rosemary and marjoram, with a dash of sage and chile powder. But I hate to say it won't be as good. Her extra secret ingredients are few, but boy do they make a difference. Wish I could tell you but Mom would have my head!
Gravy is so good, and really easy. It just takes some extra time, but believe me, it is well worth it. Happy Eating!
Anyone have any more gravy tips to share?