This post may contain affiliate links, which means I may receive a small commission, at no cost to you, if you make a purchase.
Enjoy the taste of warm apple pie without all the calories!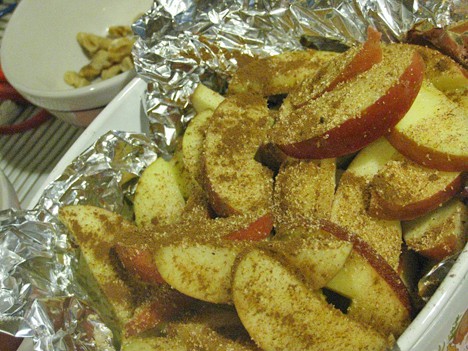 photos: irene for we heart this
Everyone is looking for ways to cut back on calories and still enjoy a treat. Recently I was on a very strict, doctor supervised, reduced calorie diet. While searching for ways to satisfy my sweet tooth, and stay within my dietary restrictions, I invented this dish I call Skinny Baked Apples with Walnuts. Well, it was so good that I still make it even though the diet has ended.
The dish calls for stevia, the chemical-free, zero-calorie, natural sweetener. I used to wonder what I could use stevia in other than drinks or cereal, and after some experimenting, it has found its way into many of my favorite dishes and recipes. If you're looking for a low calorie and tasty treat, try this dish using fall's fresh apples.
Skinny Baked Apples with Walnuts
(Makes Two Servings)
Ingredients
• 3 large tart apples, cored and sliced into wedges
• 1 lemon (juiced)
• 1 teaspoon of freshly ground nutmeg
• 1 teaspoon freshly ground cinnamon
• 1 cup walnuts, broken up in pieces
• 1/8 teaspoon of 100% pure stevia
• 1/3 cup filtered water
Directions
1. Preheat oven to 425˚
2. Place apples in a 2 quart baking dish with cover. Tip: Line dish with tinfoil to avoid a messy cleanup.
3. In a small separate dish, add the juice of one lemon and water. Add stevia and mix well together. I use a small hand whisk to froth it up and blend well.
4. Add the nutmeg and cinnamon directly over the apples and toss them together with a spoon. I like to freshly grind my nutmeg and use a microplane spice grater to do this. If you don't have either, ground spices are fine.
5. Pour the lemon, water and stevia mixture over the apples, cover and bake for 40 minutes. You can see if they are done by poking them with a fork. The apples should be soft but not mushy. If they are too firm, bake for an additional few minutes.
6. Remove from oven. Spoon apples and juice into dishes and top with walnuts.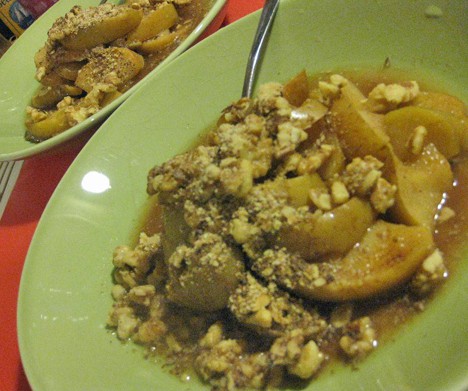 Serving Tip: While I have served this dish as is, you can also top it with a frozen treat, such as frozen yogurt or ice cream.
we heartsters – what are you favorite low calorie ways to satisfy your sweet tooth?
we heart this review team member Pamela Irene, our kitchen guru, lives with husband David in Orange County, CA and works in the management office at the 'happiest place on earth' – South Coast Plaza. She can also mix a mean cocktail and is the owner of the largest bath & body collection we've ever seen.