This post may contain affiliate links, which means I may receive a small commission, at no cost to you, if you make a purchase.
Looking for Budget Beauty? Look no further, this gloss will only set you back $6!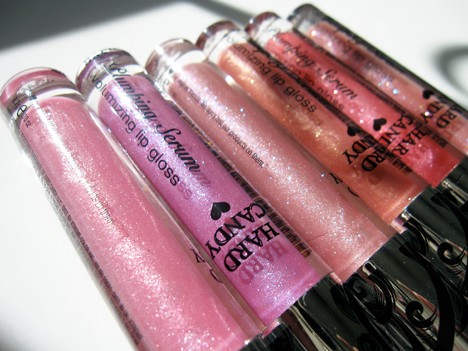 photos: we heart this
I'm a lip product fiend. FIEND, I tell you… I have an everyday gloss and a back-up gloss in my purse, an assortment of glosses on my counter, a lip balm near the computer, one on my nightstand and one downstairs in the kitchen in case there is a lip emergency.
I may not know lipstick, but balm and gloss? I can tell you a few things. And one of those things is that, Hard Candy's Plumping Serum – Fat Pout Lip Gloss – it's a great little product to have in your beauty arsenal.
I mean, LOOK at it!
I was able to try the Plumping Serum in Cake Walk (a gentle pink with blue-purple micro-glitter) and Nude Beach (a pink-beige with gold micro-glitter) and I can say that I love them both equally. Balm and lipstick lovers, be aware; this is a Gloss with a capital "G".
It's got a thick consistency that is a tiny bit sticky. There's a sugary vanilla scent that I love, but it's very light and fades quickly. The micro-glitter is tiny and you can't feel it at all if you rub your lips together (a pet peeve of mine.) The color is subtle; I used both Cake Walk and Nude Beach it over my berry, dark coral AND wine lip stains and it worked with them all.
Pink Lady, Jellyfish, Dune
Life Preserver, Nude Beach, Cake Walk
"But what about the plumping part?" you ask (and rightly so). Well, that part is not so great. There is a nice little warming sensation when you apply it that lasts for quite a bit. But I cannot say that I noticed any plumping effect that couldn't be attributed to the fact that pretty much all thick glosses make your lips look a little bit fuller. However, I have fairly full lips as it is, so I'd love to hear how my thinner-lipped review ladies thought of the Plumping Serum.
Pink Lady, Jellyfish, Dune, Life Preserver, Nude Beach, Cake Walk
Pros:
• Color – Very wearable and suitable for all skin tones.
• Glitter – It's loaded, but it's micro-fine so it's not gritty.
• Packaging – Large size and doe-foot applicator. Everything I love in a gloss.
• Price – Retails for $6 at Wal-Mart.
Cons:
• Texture – This gloss does not play around. It's thick, which may not be for everyone, plus the warming sensation may be a turn off for some.
• Promised outcome – I did not notice a change in the fullness of my lips at all.
I give Hard Candy's Plumping Serum – Fat Pout Lip Gloss 4 out of 5 stars. I'd give it 5 just based on my experience, but if you have a plumping gloss that you claim gives "the biggest, sexiest lips possible without a doctor's visit," then you better deliver. A solid, affordable gloss that I'm glad to have, but if you're looking for serious plumping, look elsewhere.
we heartsters and Review team, what about you – did this gloss find a place in your heart and stash?
Disclosure: This review includes products that were provided by the manufacturer/PR firm for our consideration. For more info, or any questions, please see our disclosure policy.
Latest posts by lyssachelle
(see all)