This post may contain affiliate links, which means I may receive a small commission, at no cost to you, if you make a purchase.
Theme parties are the best. They really are. Anyone who disagrees might be secretly be a robot who is dead inside. Who doesn't love an excuse to go all out and play time traveler or a different person for a day?
One of the great things about theme parties is that they really help narrow down your decision on what to bring. I was recently invited to a luau and while excitedly researching ideas on what to make, I started to notice a common theme. Ever notice how almost every recipe for Hawaiian or luau-themed food involves pineapple? We get it, they grow them. I love pineapple! They are a huge part of Polynesian cuisine, and they are delicious. But I don't necessarily want to bake with it, and you can never have too many desserts at a party! So if not pineapple, then what? Macadamia nuts, of course! And coffee. And coconut, because I didn't want to stray TOO far from the theme…
I put this sweet Hawaiian twist on the timeless classic – the chocolate chip cookie. Cookies are great to bring to party because they show you care without going too over the top. Bring a few extra in a separate container for the hosts to enjoy for themselves once the dust has settled and you're sure to get an invite to the next party!
Hawaiian Chocolate Chip Cookies – Makes approximately 4 dozen
Ingredients
2 sticks of butter, softened
1 c granulated sugar
1 c brown sugar
2 eggs
1 tsp strong coffee
3 c all purpose flour
1 tsp baking soda
1 tsp sea salt
1 tbsp freshly ground coffee
1 c shredded sweetened coconut
3/4 c dry roasted macadamia nuts, chopped
1 c dark chocolate chips
Directions
*Note: this recipe requires the dough to chill for 4 hours, so plan accordingly.
1. Put the butter, both sugars and eggs in the bowl of a stand mixer and beat on medium until creamy. (approximately 2 minutes)
2. Add the teaspoon of liquid coffee and mix to incorporate.
3. In a separate bowl, whisk together flour, baking soda, salt and ground coffee until thoroughly mixed.
4. Add the flour mixture to the butter mixture in three increments, scraping down the sides of the bowl in between.
5. Stir in coconut, macadamia nuts and chocolate chips.
6. Cover the bowl and refrigerate for 4 hours to chill completely.
7. Preheat the oven to 350°.
8. Line 2 baking sheets with silpats or parchment paper and place 1 tablespoon scoops of dough at least 2 inches away from each other.
9. Bake for 13-15 minutes until the edges crisp and are slightly golden.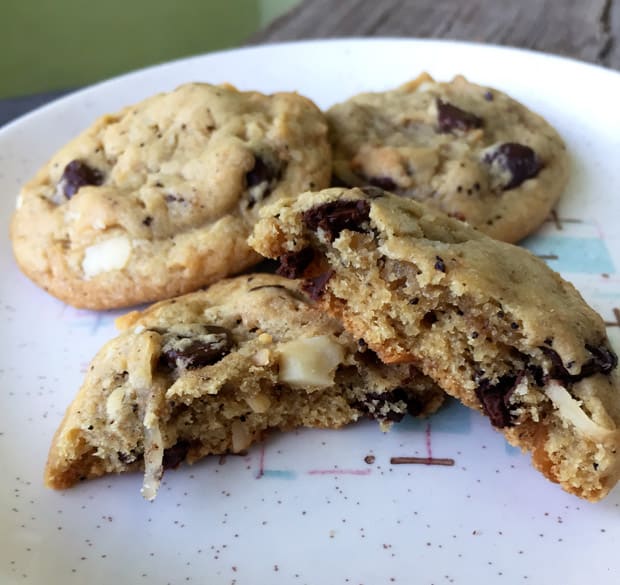 10. Cool cookies for 4 minutes on the sheets and then transfer to a wire rack to cool completely. Repeat with the remaining dough.
Store cookies in an airtight container. They will keep for approximately 5 days. (Ha! Like cookies stick around for 5 days…)
Like this recipe? Pin this image for later!