This post may contain affiliate links, which means I may receive a small commission, at no cost to you, if you make a purchase.
Affiliate Links
Unless you had a brain tumor for breakfast, then you probably already know and love Heathers
the cult black comedy full of murder, suicide attempts, teenage cruelty, and eminently quotable dialogue. It pretty much has everything you could want in a flick: Winona Ryder, Christian Slater, and scrunchies.
The storyline revolves around Ryder as Veronica Chambers, a newly inducted member of the Heathers – the prettiest, meanest power clique at Westerberg High. When Veronica hooks up with new kid J.D., (Slater) the adorable-loner-who-turns-out-to-be-a-total-sociopath, she gets sucked into a whirlwind of killing off the popular people, making it look like suicide. I know that sounds really bad, but she's a good person, you guys, and J.D. is just so damn cute.
Now, most people adore this movie for its superb dialogue and bitingly nihilistic humor, but you know what else is pretty great? THE FASHION. It came out in 1989, so of course the style is all blazers with padded shoulders and zany prints and body-con dresses, but even those fashion tropes have a freshness about them – color combos that are striking, or an interesting mix of silhouettes and fabrics. And even though my prime teen years were more of the mid-90's grunge ilk (Doc Martens and Manic Panic, holla), I revere the following looks:
http://www.youtube.com/watch?v=hf6OhBKksKg
Perfect ensemble to subtly show dominance over, well, everyone: Don a Red Scrunchie of Power and match it to your cherry-red Swatch. Not just any size scrunchie, though – this isn't just a simple way to hold your hair back, but rather a signifier of power and class. MAKE IT BIG.
Appropriate work out wear for those strenuous games of croquet: If you are not wearing cute flats and super-bold tights
and leggings, you're doing it wrong. That's the only way you're going to coordinate perfectly with the stripes on the mallets, after all.
Cutest outfit to wear to the convenience store and later totally vom upon at a lame college party: Duh, go with sleek heather gray and black, accented by a sweet little broach pinned just so. This looks vaguely American Apparel to me, which is normally not my bag, but Veronica is pulling it off here, right? Licorice stick and mega-slushy optional but totally recommended.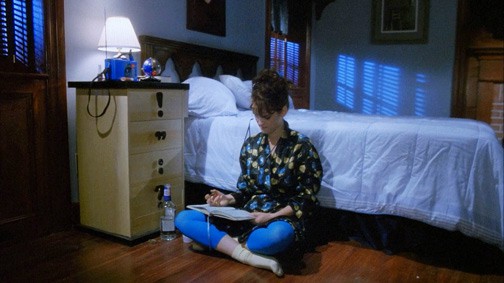 How to be adorable and comfy whilst scribbling pure vitriol in your diary to the various Heathers in your life: Obviously, a jewel toned kimono is the only way to go. Just because you're furious doesn't mean your evening attire should be sloppy, people. Plus, to really see your burn-book style entries, add a monocle -functional and sweetly pretentious.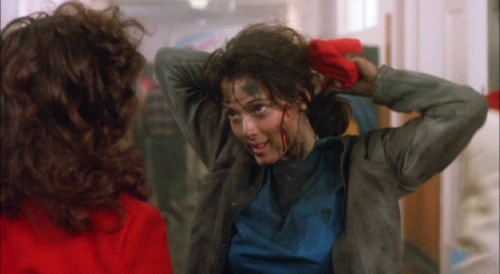 Reclaiming hero territory after dethroning all the Heathers, taking care of that pesky ex once and for all, saving your entire school, AND rekindling valuable friendships: Here, you really need to show what you've just been through; make sure ash and soot is smeared generously on your face, rat out your hair, and definitely go with cobalt as your power color. The crucial ingredient, of course, the thing that makes this outfit, is…yep, the Red Scrunchie of Power. Sure, it's a little bedraggled at this point, but there's a new sheriff in town, and this is how new sheriffs accessorize.
we heartsters – What is your favorite line of Heathers dialogue? (For me, it's a toss-up between "Bleep me gently with a chainsaw" and "You want to bleep with the eagles, you have to learn to fly.")
Amity writes and teaches in Central PA. Her obsessions include: Rodarte (she can't afford any Rodarte, mind you, but a girl can dream), espresso, books, vintage/thrift fashion and fountain pens. She thinks you should dress like a weirdo once in a while, just to shake things up.