This post may contain affiliate links, which means I may receive a small commission, at no cost to you, if you make a purchase.
T'is the season for cocktails! From now until let's say January 2nd, you will be creating and accepting all sorts of bubbly, sparkling holiday cocktails. For the cocktail aficionado it is truly time to be merry! If you have a lover of mixology on your list, our Cocktail Aficionado's Gift Guide is here to help you find a unique gift they will love!
Snap Liquor by Art In The Age ($38)
What could be more festive than a spirit inspired by the traditional German lebkuchen cookie? These fresh ginger and blackstrap molasses cookies were popularized in America by the Pennsylvania Dutch, and Art In The Age has created an organic spirit that manages to retain these flavors without verging into the saccharine territory. At 80 proof and 40% abv, it's not fooling around. Plays well with (or in place of) whiskey.
Death & Co: Modern Classic Cocktails
book ($27)
Death & Co is a New York bar that helped usher in the contemporary craft cocktail movement. They win industry awards left and right and finally put their knowledge together into a comprehensive reference that made waves across the cocktail scene this year. Far from being hoity-toity, this is a gorgeous guide to not just recipes, but cocktail education itself, from understanding spirits to techniques of drink making. It's available on the Kindle and can easily be ordered on Amazon
while picking up the last of your holiday shopping list!
Champagne Bubbles Highball Glasses ($58 set of four)
Beautiful glasses make even the simplest cocktails seem elegant. This gilded set found at Anthropologie evokes the joy in entertaining and also makes the perfect gift for that friend with a penchant for creating Instagram-worthy displays of deliciousness.
Holiday Cheers Gift Set from Farm To People ($100)
Set the adventurous one up with new ingredients to play with. The Farm To People Holiday Cheer set includes unique flavors like Hudson Standard's Apple Coriander Maple Shrub and Hella Bitter's Salt and Pepper Bitters, Spicy Onion Pearls from Ep!c Pickles, and the super versatile Ginger Syrup from Morris Kitchen, as well as a set of slate coasters and some salted cashews, because after all that cocktail experimenting they'll need a snack, of course.
Triangle Love Tray ($47.99)
This bold tray makes for a classy way to serve up drinks to guests. Trays are also great for organizing bottles and bar supplies in lieu of a bar cart. Give this to the cocktail lovers who believe home bars should be all about fun.
The Homemade Gin Kit by W&P Design ($49.95)
W&P Design's Homemade Gin Kit from Sur La Table lets the DIY-er get hands on with all of the tools necessary to create their own concoction. This kit shows them how to turn vodka into gin, so you're basically giving the gift of magic.
Luxardo Maraschino Cherries ($15.96)
For that person who always asks for extra maraschino cherries. These all-natural cherries available at Williams Sonoma are the real deal, and once you have tasted them you will never be able to look at those radioactive red ones the same way again. While one might balk at the price when supplying these babies for their own home bar, this is a true luxury that would make a much-appreciated gift for the garnish-lover.
Dinosaur Drink Stirrers by Gnome Sweet Gnome ($16.95 for 10)
Drinking doesn't have to be so serious! Gift these dinosaur stirrers from Brit + Co. to the cocktail fan who appreciates a little whimsy and humor while imbibing.
Mixology Candle from Paddywax ($16)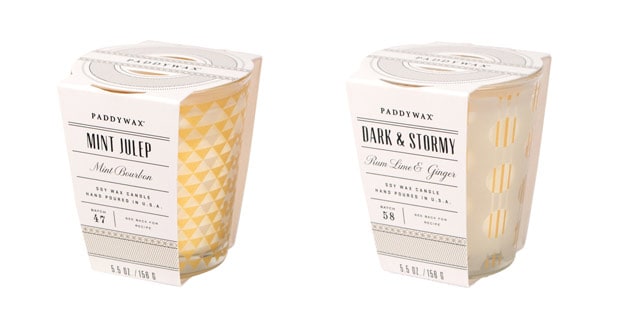 For the times when you aren't exactly sure of one's drink of choice, give one of these Mixology candles from Paddywax. Available in French Gimlet, Sazerac, Negroni, Old Fashioned, Mint Julep, and Dark & Stormy, the graphic patterns and delicious scents make attractive gifts.
Subscription to Imbibe Magazine ($20 for 1 year)
For the person who wants to stay on the cutting edge of cocktail culture, a subscription to Imbibe magazine is the gift that will keep on giving all year long. It features gorgeous photography, recipes, and interviews with heavy hitters ranging from top bartenders to craft distillers.
A great hostess gift, Eppa Sangria contains superfruit juices (think pomegranates and blood oranges) and organic grapes and takes all the hassle out of Sangria. The hard work has been done for you! Just add a splash of seltzer, ice and a slice of fruit, and you have a fabulous Sangria cocktail to celebrate the season. Even better? Eppa boasts nearly twice the antioxidants of standard red wines – so it's good for you, right?!
we heartsters – What are you gifting the cocktail lover in your life this year?
Heather is a midwesterner living in Los Angeles and enjoys concocting weird flavor combinations and exploring delicious ethnic foods. She blogs at foodforfunandpleasure and knows her way around the spice cabinet like nobody's business.