This post may contain affiliate links, which means I may receive a small commission, at no cost to you, if you make a purchase.
Today's gift guide is perfect for your girly BFF and is guaranteed to impress her with your impeccable taste!
Buxom Lip Gloss Roulette ($59)
If you know a lip gloss lover, RUN (seriously, no walking) to the closest Sephora to pick up this set. It *just* sold out online and you do not want to miss it.
The Buxom Lip Gloss Roulette is 15 mini lip glosses; 4 creamy Full On Lip Creams named after drinks and 11 shimmery Full On Lip Polishes named after girls. All of them have Buxom's tingle, shine and plush feeling that makes them my favorite gloss formula in the land (and there is no bigger gloss lover than me.)
Click through on the gallery below to see the swatches (click on the large photo to see the next image.) And if you did miss the boat on these, pick up a couple of full size Buxom glosses ($19) at Sephora to gift. There are 100 shades to choose from!
Mini Full-On Lip Cream: Lavender Cosmo (lilac pink), Mai Tai (vivid coral), Mudslide (petal pink), White Russian (nude pink)
Mini Full-On Lip Polish: Clair (starry plum haze), Dominique (glittering ice), Isabella (perfectly plum), Jennifer (flirty fuchsia), Julie (juicy watermelon), Karen (confetti pink), Katie (pink lemonade), Megan (caramel dream), Rebecca (golden glitz), Sophia (sweetheart pink), Zoe (dazzling orchid)
Lamo Resort II Flip Flops
($32.95)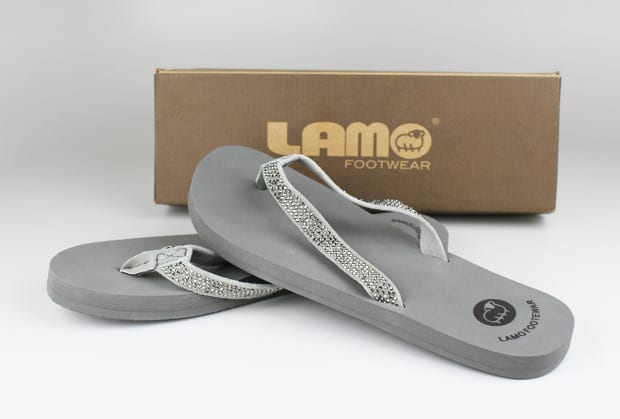 For most of the country, a pair of flip flops in the winter is just crazy talk. But here in California, it's standard. So is it any wonder that the California company Lamo knows how to make a fabulous flip flop?
Take the Resort II model
($32.95), they're incredibly soft, super blingy and haven't left my feet in weeks. And if you're buying for someone from another state, get ready for a lot of kudos come spring when they break them out to wear for the first time!
Fab Fit Fun VIP box ($39.99, including shipping with code: WeHeart10)
This is the gift likely to invoke the biggest response and it's one of the least expensive items on the list! It seems like I am always gushing about the seasonal Fab Fit Fun VIP boxes, and with very good reason. They're like a treasure trove for the product obsessed.
You always get at least $200 in product per box, usually more (That's the fall 2014 box shown above.) The upcoming Winter 2015 box has $384 in booty in it! Beauty products, jewelry, candles, cookies mixes; they're all things I've discovered in mine.
Get your friend just one box, or splash out for a longer membership if you really want to be friend of the year!
Ellis Faas Hot Lips ($35 each)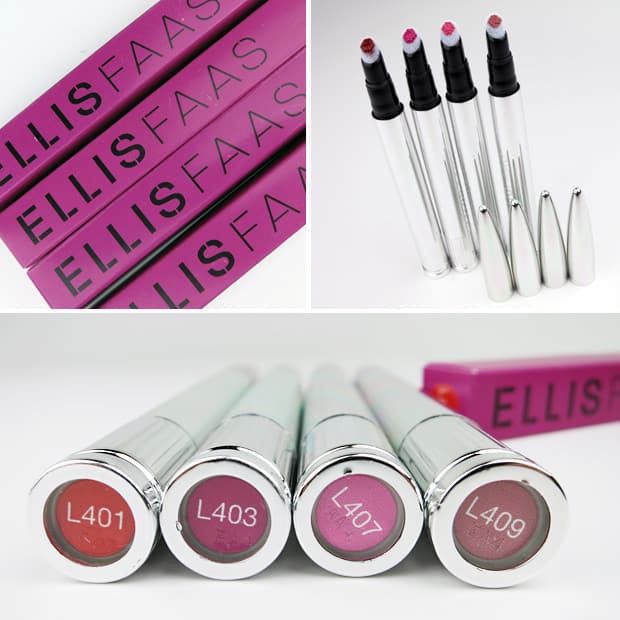 If you know a beauty junkie, get them the latest from European taste makers Ellis Faas. The high-end beauty company's Hot Lips boasts some of the most beautifully packaged and pigment rich lip color. Housed in a sleek chrome package, Hot Lips offer paraben-free, matte-satin lip color loaded with nourishing vitamin E and moisturizing candelilla wax.
Ellis Faas Hot Lips, L401, L403, L407, L409
And did I mention they are pigment packed? Just look at that color! Available in nine shades running the gamut from not-quite-nude to bright fuchsia, there is sure to be a color or two that anyone will love. They offer a creamy texture with a non-drying finish that feels light, even moisturizing, on the lips!
i smell great ($28-$68)
While a single perfume or body product may not be considered indulgent, it's also not what I'm suggesting here. I'm suggesting you get this whole line in a variety of scents! Because i smell great is simple, different and and will do exactly what is promised for your giftee – make them smell freakin' great.
The line is the brainchild of Randi Shinder of the Clean line (a favorite of we heart this) and Jane Daly, blogger and "perfume whisperer." The two gurus developed something truly different; products in four scents that can be mixed and matched to create personalized fragrances.
The scents are:
Angel Cake – pink icing, powdered sugar, candied almond
Candy Crush – candied flower petals, rose syrup, icing sugar, candy hearts
Wild Honey – honey, brown sugar, tahitian vanilla and sweet nectar
Beach Babe – tropical breezes, coconut cream, golden suntan oil with a touch of sunshine
The fun never ends with these. Angel Cake + Candy Crush = Candy Cake, and so on. And the scent never ends either. They contain a something called "self renewing scent spheres." Which mean that even up to 6-8 hours later, you can rub or pat the fragrance to reactivate it. Genius (and it works!)
In addition to EDP, there's Hair Fragrance, Wellness Water Mist (sort of a toner for your bod), Soft Body Whip and Reactive Lip Lush.
Love. Them. ALL. And so will she.
Tory Burch Kerrington Makeup Case ($115)
You might not be able to afford to gift a designer handbag, but you can afford a designer makeup bag. I love this Tory Burch Kerrington Makeup Case. I usually think of the line as pretty traditional so it's fun to see such a quirky pattern from her. It's sure to both make your recipient smile and be the center of attention every time they pull it out.
we heartsters, what's the biggest indulgence you ever gave or received?
Stef is many things. Amongst them: co-editor of we heart this, photographer, condiment connoisseur, Philly girl in the California desert, borderline hoarder and a hardcore beauty junkie.
skin tone: NC 25/30
skin type: oily with a fear of rosacea
favorite beauty product: high end skincare and lip products