This post may contain affiliate links, which means I may receive a small commission, at no cost to you, if you make a purchase.
And, get it all at a discount at the Shopbop Sale!
Who doesn't love a holiday shopping hack? Think you can't tackle all of your shopping list with just ONE purchase? Think again! Shopbop offers items that work for EVERYONE on your list.
As if that wasn't good enough new on its own; it's also Shopbop sale time! So not only can you take care of your whole crew in one swift purchase, you'll save a ton of money too.
First things first: CLICK HERE TO CHECK OUT COMPLETE SHOPBOP SALE DETAILS
Here's what you'll save (on full price and sale merchandise, AND at East Dane, so you can shop for your beau too!)
15% off orders of $200+
20% off orders of $500+
25% off orders of $800+
Use Promo Code: MORE18 | Sale ends Sunday, November 25 2018, 11:59pm PST
With code in hand, we recommend you head over and pick up the items for the following folks on your list…
For your favorite couple
Jonathan Adler Elephant Match Strike ($42)
Whether they're newlyweds or have been together forever, you will make their bathroom infinitely cooler with the addition of this Jonathon Adler match strike. I have one of these and let me tell you, it's so much fancier than just a boring pack of matches! Fill the basket on the elephant's back with strike anywhere matches and smile in the knowledge that you are their favorite friend.
For your secret santa pick
Phenomenal Women Mug ($26)
This is perfect if you work in an office of rad women (which, I hope you do!) Though, it would even work for a particularly rad guy. This mug has illustrations of phenomenal women throughout history. Marie Curie, Frida Kahlo, Maya Angelou…I can't think of a better bunch to have your morning coffee with.
For your mom
LAFCO New York Winter Balsam Candle ($65)
I love giving my mom gifts that make her say "You shouldn't have!" Things she wouldn't buy for herself. Like an UBER FANCY candle. Which is exactly what this LAFCO New York one is. Bonus points for the festive holiday scent of fir balsam, oud wood and amber.
For your dad
Herschel Supply Co. Tile Mate Bluetooth Tracker Key Chain ($50)
This may be for your mom just as much as it is your dad. How happy will she be to never hear "Now, where did I put those keys" ever again? This rugged Herschel Supply Co. Key Chain includes a Tile Bluetooth tracker with find functionality for locating lost keys.
For tweens
Paint By Stickers: Music Icons ($15)
Instantly skyrocket yourself to "cool aunt" status with this Paint by Sticker book filled with music icons. Images of Elvis, Beyoncé, David Bowie, Prince, Kurt Cobain, Madonna and more, are pixelated and color blocked, allowing the user to paint the image as they fill it with numbered stickers. I'm not going to lie, I want this for myself.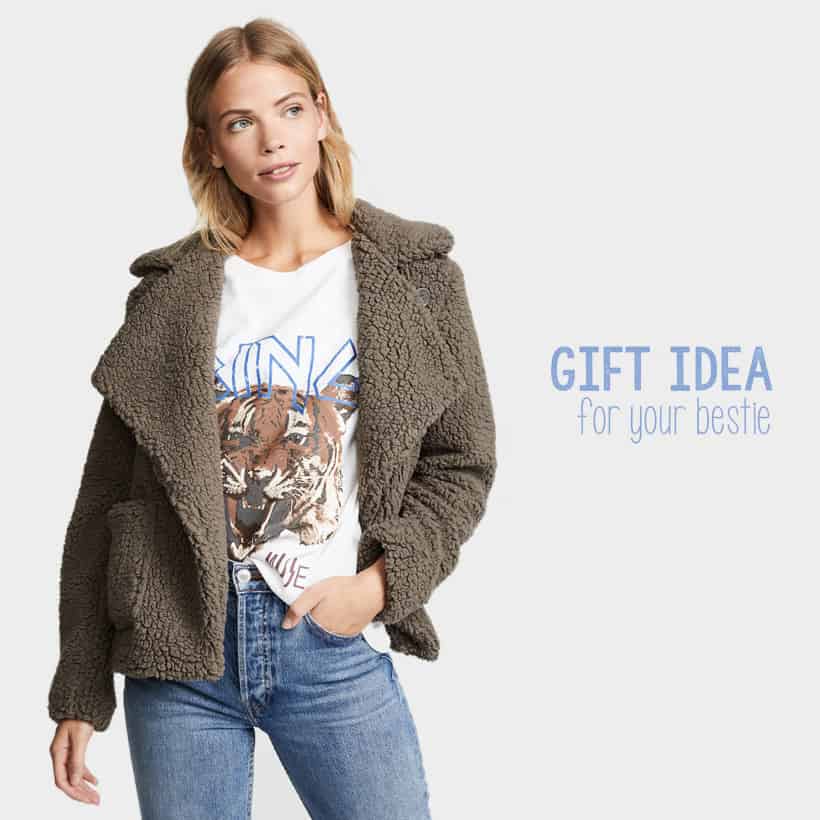 For your bestie
Jack by BB Dakota Speak Now Sherpa Jacket ($80)
Your bestie is just like you; she wants to be cozy, but she wants to look cute doing so. This BB Dakota jacket will do just that. And at a prize this great, pick up one for yourself too and you can be twinning!
Act quick, this sale is over Sunday, November 25. Plus, how great would it be to go into December with ALL of your shopping done?
CLICK HERE for sale exclusions and complete details. Happy shopping!
shop the post